Apple Music now has 50 million paid subscribers
On September 28, 2017, Apple Music executive Jimmy Iovine revealed to Billboard magazine that Apple's music streaming service now has 30 million paid subscribers, climbing from 27 million subscribers in June. In April 11, 2018, Apple Music hit a new milestone as it officially reached 40 million paid subscribers across 115 countries. And on May 17, 2018, Apple Music surpassed 50 million paid subscribers. However, Apple Music's biggest competitor, Spotify has now 83 million paid subscribers and a total of 180 million users signed up for the free tier of service with tolerable advertisement. However, Spotify doesn't provide a three-month free trial of its premium service while Apple Music does offer to any users. In the meanwhile, Apple still sells millions of tracks or albums you can pay on demand, you will have permanent access to those songs while you will lose access to Apple Music if you cancel the subscription.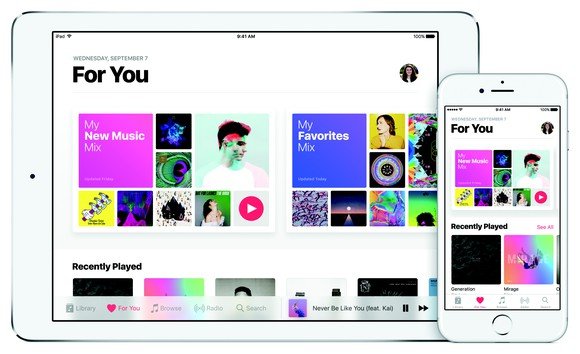 Apple Music is one of the focal points that Apple plans to promote in the works of October. iPhone 8, 8 Plus and upcoming iPhone 8X will surely be the most important part, but Apple also make a new advertisement to promote its music streaming service. A current television spot for Apple Watch is also all about Apple Music. As Apple noted during the September 12th unveiling of the Series 3 Apple Watch, giving the time piece 4G LTE standalone cellular capabilities means that the Apple Watch Series 3 offers its users 40 million songs right from their wrists.
Jimmy Iovine doesn't think that streaming "is enough as it is"
"I believe we're in the right place, we have the right people and the right attitude to not settle for what exists right now. Just because we're adding millions of subscribers and the old catalog numbers are going up, that's not the trick. That's just not going to hold. I just don't think streaming is enough as it is."
"I don't agree that all things are going to be OK just because Apple came into streaming and the numbers went up. Look at the catalog: It's a matter of time before the '60s become the '50s and the '50s become the '40s."
"The people that are listening to the '60s will die - I'm one of them. Life goes on. So you have to help the artists create new stuff that they would never be able to do on their own."
Apple Music will soon be integrated into the Apple Watch Series 3 model and new playlists created for Apple Music will automatically be made available to subscribers' Apple Watch Series 3 timepiece.
Apple Music's increase milestone
Apple Music was announced on June 8, 2015, and launched on June 30, in over 100 countries worldwide.
In December 2015, Apple Music has surpassed 10 million subscribers.
In December 2016, Apple Music has surpassed 20 million subscribers.
In September 2017, Apple Music has surpassed 30 million subscribers.
In April 2018, Apple Music has surpassed 40 million subscribers.
In May 2018, Apple Music has surpassed 50 million subscribers.
Previously, we predicted that Apple Music would have 50 mollion subscribers in January 2019, but the fact was that it came much earlier. Apple Music subscribers will definitely surpass 60 million milestone before 2018 ends.
Tips on enjoying Apple Music on any device
So far, Apple Music is available on Windows, Mac, iOS, tvOS and Android. As long as you have an Apple ID and subscribe Apple Music service, you can enjoy Apple Music on following devices:
iOS 8.4 or later on your iPhone, iPad, or iPod touch
iTunes 12.2 or later on your Mac or PC
An Apple TV (4th generation) with tvOS 9.0 or later
An Android phone with Android 4.3 (Jelly Bean) or later and the Apple Music app
The list above covers mainstream devices, however, there are still plenty of devices out of luck, like iPod Nano, iPod Shuffle, iPod Touch 4, PSP, PS3, Sony Walkman, Windows Phone and MP3 players. Also, latest version of iTunes for Windows XP and Vista is 12.1.3. If you have subscribed Apple Music and also want to enjoy Apple Music songs on such devices, you can use TuneMobie Apple Music Converter to convert Apple Music tracks to MP3 or M4A which is playable on almost any devices that can be used to play audio files.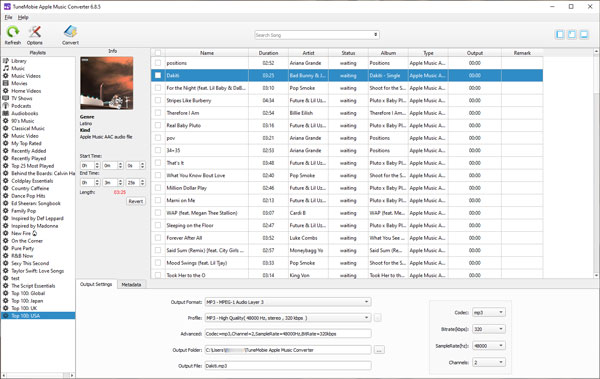 TuneMobie Apple Music Converter can losslessly convert Apple Music songs to MP3 and M4A with ID tags and metadata retained. 16X faster conversion speed allows you to convert a bunch of Apple Music songs in a short time.