Spotify Music now has 83 million paid subscribers
On July 27, 2018, Spotify annouced that Spotify has reached 83 million paid subscribers. Before this, the official annoucement is Spotify got 70 million paid subscribers. Compared to Spotify's biggest competitor, Apple Music confirmed that it has 50 million paid subscribers in May 2018. That is to say, Spotify is still in the dominant position as head of streaming music service. One of the most notable difference between Spotify and Apple Music is that Apple Music provides a 3-month free trial, users can decide whether to pay for the subscription or not when free trial ends, but Spotify provides a free version to all users in available countries. Spotify hasn't given any new details on its total number of active users, but in June it claimed to be up to 180 million.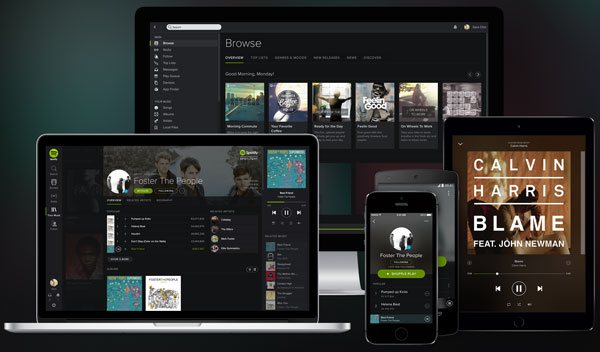 Spotify has covered a wide range of devices for users to listen. According to Spotify official material, Spotify supports following devices.
iPhone: iPhone 5 or above, iOS 10 or above. 250 MB free space
iPad: iPad 2 or above, iOS 9 or above. 250 MB free space
iPod: 6th generation iPod Touch, iOS 10 or above. 250 MB free space
Android Phone: Any device. Android OS 4.1 or above. 500 MB free space
Android tablet: Any device. Android OS 4.1 or above. 500 MB free space
Mac: Any device. OS X 10.9 or above
Windows: Any device. Windows 7 or above
Spotify also plays through several sound systems, TVs, and car stereo systems. But you need to contact your device's manufacturer to determine whether it supports Spotify and, if so, how to enable it.
However, Spotify Music is not available for many devices focused on music playback, like iPod Nano, iPod Shuffle, Sony Walkman and various MP3 players. Spotify Music is also not available for iPod Touch 4, Windows Phone, Nokia phones, BlackBerry, Windows XP/Vista, Mac OS 10.6 - 10.8, PSP and more.
Spotify Music's increase milestone
Spotify was launched on 7 October 2008 in Stockholm, Sweden.
In March 2011, Spotify announced a customer base of one million paying subscribers across Europe.
In September 2011, the number of Spotify paying subscribers had doubled to two million.
In August 2012, Spotify had 15 million active users and 4 million paying subscribers.
In December 2012, Spotify reached 20 million total active users including 5 million paying customers globally and 1 million paying customers in the United States.
In March 2013, Spotify had 24 million active users including 6 million paying subscribers.
In May 2014, Spotify had 40 million users including 10 million paying subscribers.
In December 2014, Spotify had 60 million users including 15 million paying subscribers.
In June 2015, Spotify had 75 million users including 20 million paying subscribers.
In March 2016, Spotify had 40 million paying subscribers and 100 million total users in June 2016.
In June 2017, Spotify had over 140 million active users and over 60 million paying subscribers in July 2017.
In January 2018, Spotify annouced on Twitter it has over 70 million paying subscribers.
In July 2018, Spotify annouced it had over 83 million paying subscribers and a total of 180 million active users.
Tips on Enjoying Spotify Music Offline on Any Device with either Free or Premium Account
The list above covers mainstream devices, however, there are still plenty of devices out of luck. Besides, the biggest limitation of Spotify free users is that Spotify free users must connect to internet and offline listening is only for premium users. If you don't pay for premium account, it's almost impossible to use data connection to enjoy Spotify music as a free member. Besides, even Spotify premium account only allows you enjoy on a maximum of 3 different devices.
The best solution of enjoying Spotify music without limitation is to use TuneMobie Spotify Music Converter. TuneMobie Spotify Music Converter can download Spotify songs, albums and playlists to computer and convert to MP3, M4A, WAV or FLAC with ID3 tags and metadata kept, no matter you are using Spotify free or Spotify premium. Besides, after converting Spotify music to M4A or MP3, you can enjoy your favorite songs on iPod Nano, iPod Shuffle, Sony walkman and MP3 players where you can concentrate on music listening.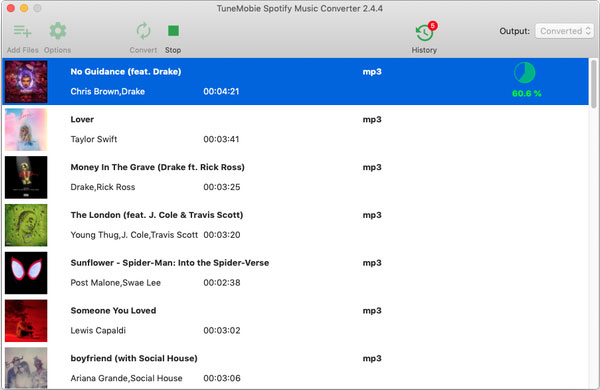 TuneMobie Spotify Music Converter allows you to drag songs, albums or playlists from Spotify directly, or copy link of song, album, artist or playlist and paste in search bar at the bottom of the program. This smart Spotify music downloader is the best solution for Spotify free and premium users to enjoy offline listening without any limitation.