How to Use TuneMobie Apple Music Converter?

日本語の操作ガイド(Japanese User Guide) >>
TuneMobie Apple Music Converter, the best Apple Music and audiobook multimedia encryption breaking software, is very intuitive, easy-to-use yet powerful. Read TuneMobie Apple Music Converter user guide below to learn how to convert Apple Music and audiobooks to MP3, M4A in easy steps.
Tips: If you are using free trial version, you will see a popup dialog when the programs starts, click Activate button, copy and paste your license code in the blank and click Unlock button to register full version.
Note: Generally speaking, the guide below demonstrates latest version. If you are using an old version, there may be some differences of features and interface. Make sure you have upgraded to latest version. There are two ways to upgrade for free.
1. Click menu "Help" > "Check for update...", download and install the latest version from the popup dialog.
2. Click Free Trial button from our website, download the installer and install it to overwrite the old version.
Step 1: Launch TuneMobie Apple Music Converter
After installation, launch TuneMobie Apple Music Converter, and iTunes will be automatically launched as well. If iTunes is running, you may need to close it at first. If you have got a tons of music tracks in your iTunes library, it may take a few minutes in first run. If it takes too much time to load, you can simply click "Refresh" button.
All your iTunes playlist, including Music, Videos, Home Videos, Movies, TV shows, Podcasts, iTunes U, personal playlists, Apple Music playlist, audiobook, etc. will be listed in the left panel.
By default, there will be 3 panels in the interface, which are left panel, right panel and bottom panel. On the upper right, there are 3 buttons which you can use to hide or display panels.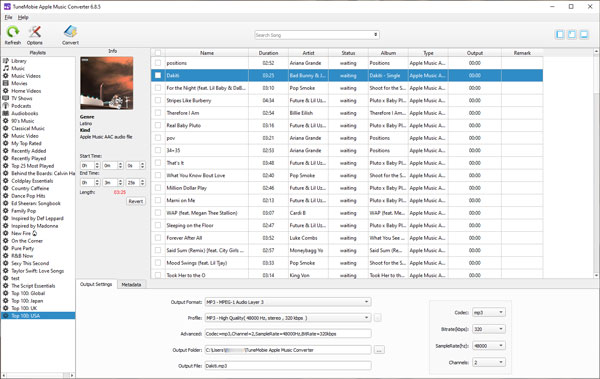 Step 2: Select Music Tracks
Select a playlist in the left panel, and all the tracks in the playlist will be listed on the right panel. Name, Duration, Artist, Status, Album name, format type, etc. will be displayed. Check a song, artwork of the album and music genre will be also displayed. There is a checkbox before each song, you can check it to select. After checking a song, you can also set start time and end time to convert the trimmed part only.
If you need to select all the songs in the playlist, simply check the checkbox in the information bar. Click it again to unselect.
If you want to convert a certain song and forget which playlist it's in, you can use search box in the tool bar. Enter a keyword like song title, album name, artist, etc. and all the results will be listed soon.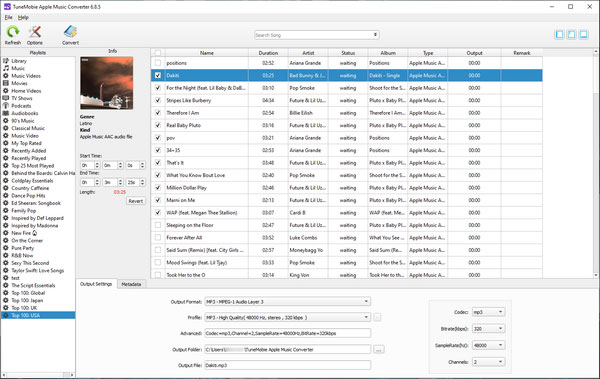 Step 3: Select Output Format
In the bottom panel, we can see two tabs which are "Output Settings" and "Metadata". In the "Output Settings" tab, we can choose output format and change or customize the parameters of the format. Apple Music Converter for Windows provides a set of widely used audio format as below. Generally speaking, you can choose MP3 or M4A.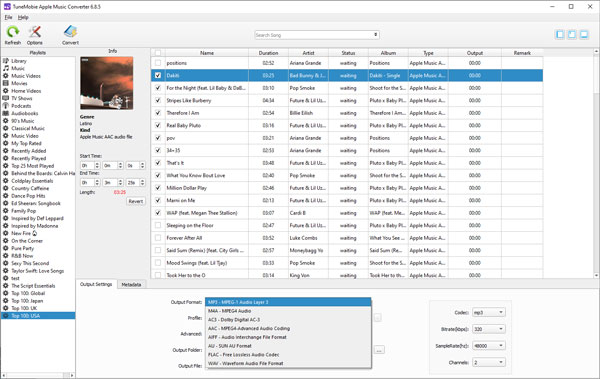 If necessary, you can change codec, bitrate, samplerate and channel. If you are not familiar with the settings, we recommend you choose high quality in profile preset. You can choose output folder. As to output file name, by default it will be "song title.mp3". You also can rename the file with your favorite rule in Options which will be discussed later.
In metadata tab, you can change file information including name, artist, album artist, album, genre and artwork. Generally speaking you don't need to change file information as there will be complete information in your purchased iTunes songs and subscribed Apple Music tracks. We recommend you use this feature only if music information is incorrect and incomplete.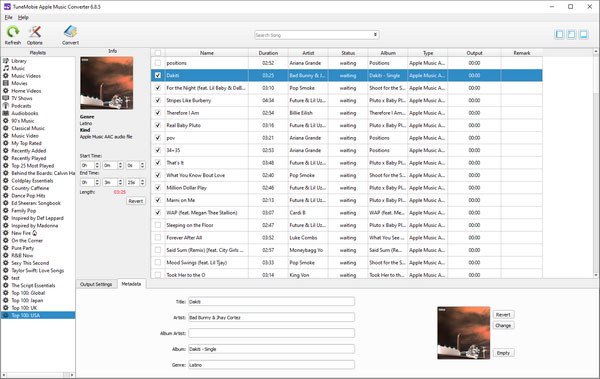 If you are OK with the settings, you can click Convert button to start conversion. Apple Music Converter also provides some useful settings. You can check Options and make changes depending on your need.
Step 4: Change Options
Click Options button in the tool bar and you will find some useful options in the options dialog. You can adjust audio volume of output music files from 50% to 200%, change conversion speed from 1X to 16X here. Faster speed is very useful to batch conversion. You can also slow down the speed if there is any quality problem in the output.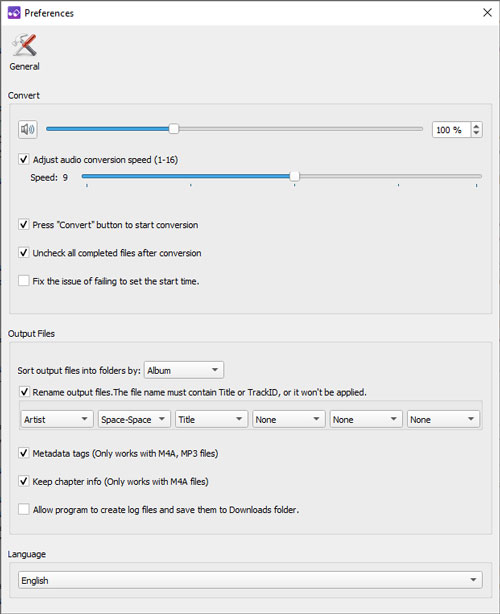 You can sort output files into folders by album, artist or artist/album, rename output file name using Title, Album, Artist, TrackID, Hyphen (-) or Space-Space ( - ). For example, if you sort output files into album, set output file name using Artist, Space-Space and Title, the default path of the sixth Apple Music song "Shake It Off" from album "1989 (Deluxe)" by Taylor Swift, and the default path of the output file will be as below.
Apple Music: C:\Users\Username\Music\iTunes\iTunes Media\Apple Music\Taylor Swift\1989 (Deluxe)\06 Shake It Off.m4p
MP3 output: C:\Users\Username\TuneMobie Apple Music Converter\1989 (Deluxe)\Taylor Swift - Shake It Off.mp3
Step 5: Start converting Apple Music or audiobooks
If you are satisfied with output settings and options, you can click Convert button to start converting Apple Music or audiobook to specific format. Once an Apple Music song has been successfully converted, you can click "Open Output File" button to open output folder and locate the output songs.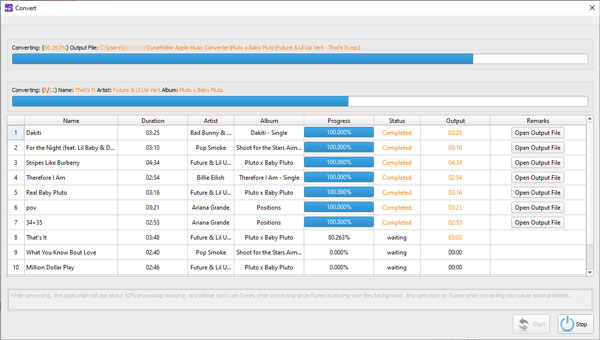 Now, you can add output MP3/M4A songs to iTunes library, create a playlist and sync it to your iPad, iPhone, iPod Touch, iPod Nano or iPod Shuffle. Or you can copy output music files to Android devices or various MP3 players from different manufactures like Sony, iRiver, Cowon, Sandisk, Creative Zen, etc. You can also copy them to USB flash drive, USB hard drive, SD card, etc., burn to audio CD or MP3 CD and use as background music in different video editing software programs or applications.