Plain and Encrypted M4V Videos

Although iTunes is overstaffed, we must acknowledge the fact that iTunes Podcasts (iTunes U included) do provide a lot of funny and useful videos and audio files for entertainment and study. If you have subscribed and download some podcasts, you may find downloaded podcast videos could be in MP4, MOV or M4V file extensions. All of the 3 video formats can be watched on iPhone and iPad directly.
The M4V videos from iTunes podcasts are unprotected and there is no need to authorize your devices with Apple ID. Some Android devices like Samsung Galaxy S8 can also play unprotected M4V videos directly without conversion. However, most Android devices including Huawei Mate 10 can't recognize M4V file extension. If you want to watch those M4V videos on those Android devices, you can use a video converter to convert M4V to MP4 first. There are some free M4V converters and we will recommend later.
However, M4V videos you purchased or rented from iTunes Store are encrypted. You can only play it on PC, Mac or iOS devices you have authorized with Apple ID associated with the M4V videos. There are some free TV shows in iTunes Store, but those free TV shows are also encrypted and you can't watch on Samsung Galaxy S8 or other devices even they supported unprotected M4V format. If you want to watch encrypted M4V videos on any devices, M4V converter with decryption function is necessary. We will introduce both free M4V converter and paid M4V converter which you can use to decrypt them.
FreeMake Video Converter – Free M4V Converter for unprotected M4V videos
FreeMake Video Converter is renowned as best free video converter in the market. FreeMake Video Converter supports a wide range of video and audio formats as input, and of course unprotected M4V video format is also supported. You can convert M4V to MP4, AVI, WMV, MKV, FLV, MP3, etc. as well as convert M4V to MP4 optimized for iPhone, iPad, Samsung, Sony and various devices.
To convert unprotected M4V to MP4, you can simply click Video button to add M4V videos, select MP4 as output video and MP4 output parameters dialog will pop up, change the parameters if necessary and then click Convert button.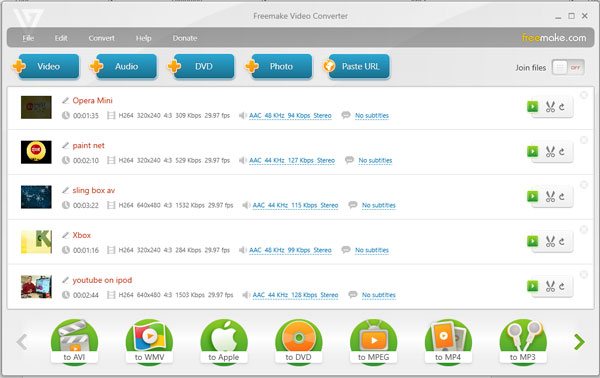 However, Freemake Video Converter will add branding splash to the beginning and the end of output video. You may also need to avoid choosing bundled software recommendation during the installation. FreeMake Video Converter is only available in Windows.
Some More Free M4V Converters
If you don't like Freemake Video Converter, you can also use Any Video Converter free version instead. Any Video Converter can also convert unprotected M4V to MP4 or other formats with good quality. However, Any Video Converter will also recommend unnecessary software during installation and pop up dialog to ask you to purchase paid version once conversion is done. Any Video Converter Free is available for both Windows and Mac.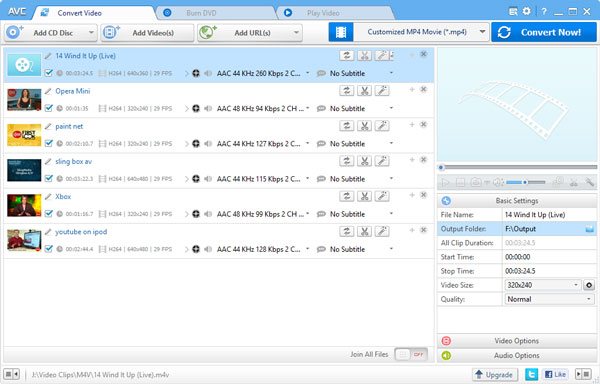 Besides, Aisseoft Free Video Converter can be also used as free M4V to MP4 Converter. It also adds advertisement at the beginning and the end of output videos. It is also available for Windows and Mac.
Requiem – Free M4V Converter with Decryption Function
Requiem is a totally free decryption tool designed for protected M4V movies and TV shows as well as M4P audio files purchased from iTunes Store. It can automatically detect encrypted files in your iTunes library and decrypt them without re-encoding. Requiem will automatically move the converted M4V videos to trash. Requiem is available for Windows and Mac as well.
Sounds perfect? But to your disappointment, Requiem has lost the encryption with Apple ever since iTunes was upgraded to version 11. The latest version of Requiem is version 4.1 and it can only support iTunes up to version 10.7. The development of Requiem has been stopped permanently and even if you downgrade to iTunes 10.7, it may not work properly.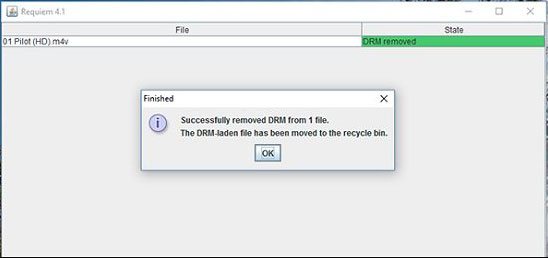 TuneMobie M4V Converter Plus – Most Powerful M4V Converter for iTunes M4V Movies
TuneMobie M4V Converter Plus is a professional decryption tool for M4V videos you purchased from iTunes Store. It can convert multimedia encrypted iTunes M4V movies, TV shows and music videos to MP4 with 100% quality kept, as well as with all multilingual subtitles and audio tracks, Dolby 5.1 track, closed captions and audio descriptions preserved. Then you can enjoy output MP4 videos on various devices including iPhone, iPad, Android phones and tablets, PSP, PS3, PS4, Xbox and more.
TuneMobie M4V Converter Plus is not a free M4V converter, however it provides a free trial version for both Windows and Mac which you can use to convert first 5 minutes. Using this software to decrypt and convert M4V to MP4 is incredibly easy. Simply launch the program and it will load all your iTunes purchase and rentals, then add videos to conversion list and click Convert button. M4V to MP4 conversion will be performed in 30X faster speed, and a 2-hour 1080P movie will cost no more than 20 minutes.
Additional Tips
The M4V file format is a video container format developed by Apple and is very similar to the MP4 format. The primary difference is that M4V files may optionally be encrypted. Plain M4V videos can be played with VLC Media Player, KMPlayer, Media Player Classic, Realplayer, etc. Some video players can recognize and play M4V files if the file extension is changed from ".m4v" to ".mp4".