iTunes Movies Can't Be Watched on Android Devices because of Multimedia Encryption
iTunes Store is Apple's proprietary entertainment ecosystem. If you have got an iPhone, iPad, iPod Touch or Apple TV, it would be very simple to purchase, rent and watch movies. However, because of the price and improving technologies, more and more people also start using Android mobile phones and tablets instead of iPhone and iPad, or use both of them under different environment. Also, considering that Apple Music is available on Android mobile phones and Apple has started testing Apple Music on Android tablets, many people may get the wrong impression that they can play iTunes movies on Android devices.
However, soon people will be aware of that the movies they purchased from iTunes Store can't be watched on their Android devices because all the movies purchased from iTunes store are associated with Apple ID and protected with Apple's multimedia encryption technology called FairPlay. And there is no any sign that Apple will make iTunes movies compatible with Android.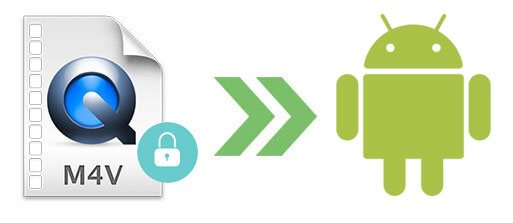 After getting the failure of converting iTunes movies to MP4 with general video converters, many people doubt that whether they are possible to watch iTunes movies on Android devices. Don't get frustrated, actually it's as easy as a breeze if you use M4V Converter Plus.
TuneMobie M4V Converter Plus – Best Solution to Help You Enjoy iTunes Movies on Android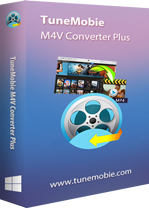 TuneMobie M4V Converter Plus is designed to break the limitation of the movies and TV shows you purchased from iTunes Store and help you enjoy iTunes movies on all kinds of Android devices like Samsung Galaxy S7/8/9, Galaxy Tab, Huawei Mate 10, Huawei P20, Google Pixel, LG, ZTE, HTC, etc.
TuneMobie M4V Converter Plus can effortlessly remove encryption from iTunes M4V movies and convert them to all-purpose MP4 videos. With advanced multimedia decrypting technology, TuneMobie M4V Converter Plus can simply remove encryption and change the file container from M4V to MP4, thus the conversion is lossless and output MP4 videos will preserve 100% original video quality, all multilingual subtitles, audio tracks, closed captioning and audio descriptions.
TuneMobie M4V Converter Plus can only convert the M4V videos authorized by your associated Apple ID, and it doesn't crack anything, so it keeps you on the legal side.
TuneMobie M4V Converter Plus performs at 30X faster conversion speed and comes with a built-in search box, so it can convert M4V to MP4 fast and conveniently. This iTunes M4V to Android converter works on Windows 7/8/8.1/10 and Mac 10.9.5 - 10.12.6.
Easy Guide to Remove Encryption from iTunes Movies and Convert to MP4 Losslessly
M4V Converter Plus is extremely easy-to-use. Follow the steps below and you can easily watch iTunes movies on Android devices freely.
Step 1: Launch TuneMobie M4V Converter Plus
Launch TuneMobie M4V Converter Plus, iTunes will be automatically opened as well. Please do not close iTunes before the M4V to Android MP4 conversion is done. Click "Add Files" and all your purchased M4V movies and TV shows, download music videos will be displayed in the left panel like the screenshot below.
Step 2: Add iTunes Movies You Want to Enjoy on Android Device
Select a movie or select multiple movies with Ctrl/Command or Shift key, or add entire playlist by clicking "Add All" button. If you have got a large amount of M4V videos, you can use the built-in search box to locate the video quickly. Selected videos will be added to conversion list like below.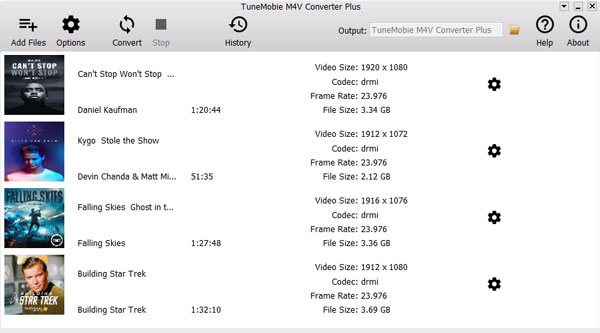 Step 3: Choose Audio & Subtitle Tracks
By default, M4V Converter Plus will preserve all multilingual subtitles and audio tracks, closed captioning, audio descriptions and Dolby 5.1 track. You can go to next step if you don't want to change. If necessary, you can also click the little settings button and uncheck the tracks you don't need.
Step 4: Start Encryption Removal & Conversion
When ready, simply click Convert button to start conversion, multimedia encryption will be removed automatically during the conversion. Generally speaking, M4V Converter Plus won't cost you more than 20 minutes to convert a 2-hour full HD 1080P movie. After conversion, you can click History button to check the converted movies and click the small folder icon to open output folder.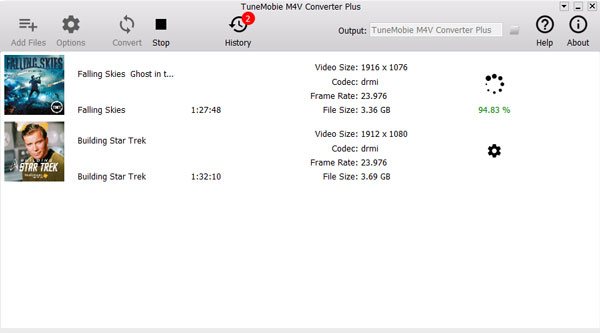 Now, your iTunes movies have been converted to versatile MP4 videos. You can transfer the MP4 videos to your Android device and enjoy them with built-in video player or other video player apps.
Transfer Converted iTunes Movies to Android and Best Android Video Players
To transfer files from computer to your Android device, you need to enable USB debugging on your Android device first.
Enable USB Debugging & Transfer Converted iTunes Movies to Android
Generally speaking, you can enable USB debugging mode by Settings > Developer Options > USB Debugging. If you are using Android 4.2.x or higher Android OS, you may need to enable Developer Options by Settings > About Phone > Build number > Tap it 7 times to become developer first.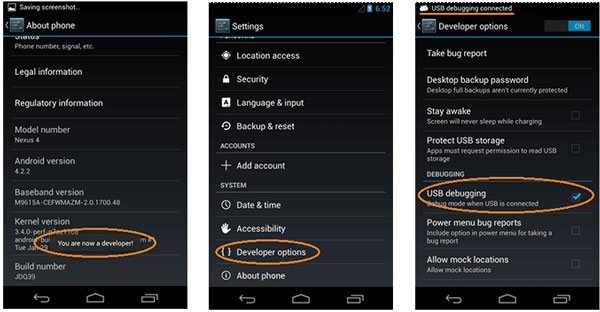 After USB debugging has been enabled, you can transfer output MP4 videos to your Android device via Windows, Chromebook or Mac.
Windows users can connect your Android device to computer with USB cable, tap the "Charge the device via USB" notification and set "Use USB for" to "File Transfer". Then copy your converted iTunes videos to any folder you would like to save to. Mac users can install "Android File Transfer" application first, then follow the same steps as what they are on Windows and Chromebook.
Play Converted iTunes Videos on Android
Each Android device come with a built-in video player app which you can use to directly play the MP4 videos converted from iTunes movies. You don't have to install a third-party video player. However, if you don't have good experience with the built-in one, there are also some third-party video players you can have a try.
VLC for Android: VLC Media Player is a free and open source cross-platform multimedia player that plays most local video and audio files, as well as network streams (including adaptive streaming), DVD ISO, disk shares like the desktop version of VLC. VLC for Android also supports subtitles, Teletext and Closed Captions. All codecs are included with no separate downloads.
MX Player for Android: MX Player is powerful video player with advanced hardware acceleration and subtitle support. Hardware acceleration can be applied to more videos with the help of new HW+ decoder. MX Player performs up to 70% better on dual-core devices than single core device.
KMPlayer for Android: KMPlayer is a good video player which supports various video formats and comes with a library viewer and cloud storage support. KMPlayer can also help you view videos files uploaded to Google Drive. Maybe it's the best choice when you uploaded converted iTunes movies to Google Drive.
There is a long list of free alternative video players including Video Player All Format, PlayerXtreme, BSPlayer, MoboPlayer, etc.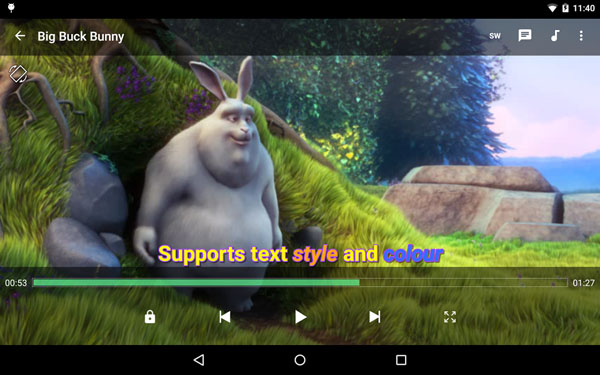 With M4V Converter Plus and any Android video player app, you can easily enjoy all your purchased iTunes movies on Android devices including mobile phones, tablets and Android TVs. It's the best solution to watch iTunes movies on Android.