Adobe Premiere Pro Supported Video Formats
Many video lovers use Adobe Premiere Pro to create, edit and produce professional videos for advertising and sharing because Adobe Premiere Pro is probably the most video editing software for both Windows and Mac users. As of March 2018, Adobe Premiere Pro CC allows you to import still images and movies is 256 megapixels, with a maximum dimension of 32,768 pixels in either direction. Besides, Adobe Premiere Pro CC natively supports various video formats including 3GP, 3G2, Apple ProRes, ASF, AVC-Infra, AVI, DV, H.264 AVC, H.265, M2T, M2TS, M1V, M2V, M4V, MP4, MOV, MPEG-1, MPEG-2, MTS, MXF, VOB, WMV, etc. as well as various audio formats including MP3, WAV, M4A, BWF, ASND, AAC, AIFF, etc. Adobe Premiere Pro CC has covered a wide range of media supports, so you don't have to convert video and audio files under most conditions.
However, though M4V video format is listed in the supported video format, it only refers to the unprotected ones. M4V videos downloaded from iTunes Store come with encryption and can't be imported to Adobe Premiere for video editing. There are many iTunes users who asked on Adobe forums or Apple community about how to edit iTunes M4V movies with Premiere Pro.

"Hi, I am looking for editing iTunes videos on Adobe Premiere CC, however, every time I load a video, it prompts me that the video is corrupted. I checked the movie play perfectly on iTunes. Any help will be appreciated."
"I'm wondering whether there's any way to edit iTunes movie with Adobe premiere? It appears the movies in iTunes are encrypted and restricted to."
Luckily, removing encryption of iTunes M4V videos is not that difficult. It's much easier than your imagination with a professional decrypter called TuneMobie M4V Converter Plus.
TuneMobie M4V Converter Plus – Dedicated decryption Solution for iTunes M4V Videos
TuneMobie M4V Converter Plus is a dedicated decryption software solution for M4V videos including movies, TV shows and music videos from iTunes Store. The Mac version not only works the purchased movies and TV shows, but also works for rental movies perfectly. That is to say, you can convert rental M4V movies to MP4 and add to Adobe Premiere Pro for video editing as well. TuneMobie M4V Converter Plus is extremely easy-to-use and any iTunes users can master the program in a few minutes.
Let's check the wonderful features of TuneMobie M4V Converter Plus below.
Preserve all multilingual subtitles and audio tracks as well as Dolby 5.1, audio descriptions and closed captions
Perform lossless conversion and preserve 100% original video quality
Convert at 30X faster speed and finish converting a 2-hour 1080P iTunes movies in less than 20 minutes
Convert a bunch of iTunes M4V videos by in only a few clicks without complicated settings and operations
Get all-purpose MP4 videos for various devices and video editing programs including Adobe Premiere Pro
Convert M4V to MP4 and Add to Adobe Premiere Pro for Video Editing
Edit M4V videos in Adobe Premiere Pro can be easily done in only a few clicks as below.
Step 1: Launch TuneMobie M4V Converter Plus
Launch the program and iTunes will be automatically launched as well. Click "Add Files" button to load all purchased and rental M4V videos downloaded from iTunes Store. iTunes M4V library will be displayed as playlists in the left panel.
Step 2: Add iTunes M4V Videos You Want to Edit
Select one movie and click Add button, or use Ctrl or Shift key to select multiple videos and click Add. You can use the built-in search box to locate the M4V videos quickly.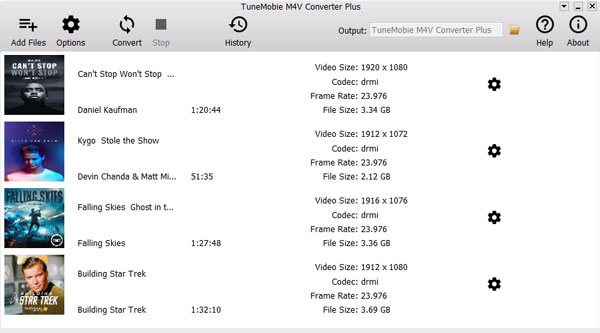 Step 3: Choose Audio & Subtitle Tracks
By default, M4V Converter Plus will preserve all multilingual subtitles and audio tracks, closed captioning, audio descriptions and Dolby 5.1 track, you can directly go to next step. However, you can also uncheck the subtitles and audio tracks you don't want to preserve in the output MP4 videos.
Step 4: Start Converting M4V to MP4
Now simply click Convert button to start conversion. All selected M4V videos will be converted to plain MP4 without losing video quality. Click History to manage the conversion records and open the output folder.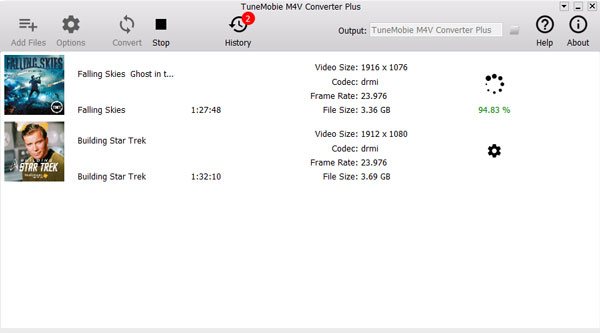 Step 5: Add Converted M4V Videos to Adobe Premiere Pro
Now launch Adobe Premiere Pro and you can add converted M4V videos to the program for editing. If you are an experienced user, you can skip this part.
You can either create a new project or open an existing one. To import media files using the Media Browser panel, browse to the output folder you'd like to import, select the converted M4V videos you want to work with in Premiere Pro, right-click one of the selected clips, and choose Import. You'll need to create a sequence before you can add the converted M4V videos. To create a new sequence, drag one or more clips into the empty Timeline panel, or select one or more clips in the Project panel, right-click on the selection and choose New Sequence from Clip. Now, you are ready to edit the converted M4V videos.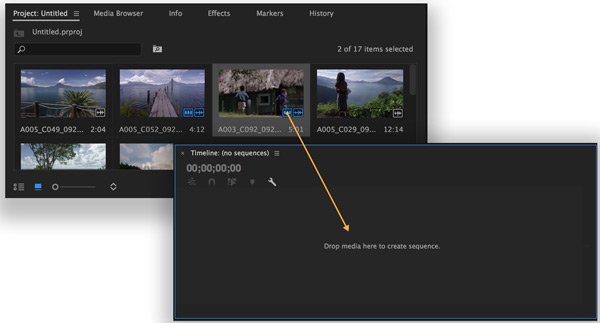 Additional Tips
If you have subscribed Apple Music, you can also want to use favorite Apple Music songs in Adobe Premiere Pro as background music. However, Apple Music also comes with encryption and you can use Apple Music Converter to decrypt and convert Apple Music tracks to MP3 or M4A for. If you need decrypt from both iTunes M4V movies and Apple Music tracks, you can get iTunes Converter Toolkit which includes both programs but costs you less.
With M4V Converter Plus, editing M4V videos with Adobe Premiere Pro is quite easy. Now enjoy video editing without any restriction.