Does DRM Mean Digital Restriction Management?

DRM is a widely discussed topic among iTunes users who buy or rent iTunes movies or subscribe Apple Music. Sometimes, DRM really makes users feel frustrated because DRM prevent the users to enjoy their purchased, rental or subscribed contents on any devices they own. DRM restricts the users to play the contents on specific devices only.
That's why many people think DRM as the abbreviation of Digital Restrictions Management, though it is actually short for Digital Right Management. Because of the inconvenience, many users look for either free or paid DRM removal software to solve their problems. In this article, we will introduce 4 DRM removal freeware for you. You can check whether they can work on your computer and meet your requirements. Meanwhile, we also provide paid programs as alternatives. The top 4 free DRM removal software for videos, music and books are listed above.
No. 1 Requiem – Free DRM Removal Software for iTunes Videos, Music and Books
Requiem is regarded as the most powerful DRM removal freeware. It can losslessly remove Apple's FairPlay DRM from purchased iTunes M4V videos, M4P songs and ibooks. Requiem will automatically detect any DRM protected files including videos, music and books in iTunes library, simply decrypt the files and remove DRM without re-encoding unlike some so-called DRM removal software using screen recording or audio recording. Requiem will also move the converted DRM files to trash. . Here are download links for you: Requiem 4.1 for Windows | Requiem 4.1 for Mac
However, Requiem lost the game during the long run with Apple. When iTunes upgraded to version 11, Requiem could no longer remove DRM and the latest version remained at 4.1. Requiem was permanently stopped development. If you still want to use Requiem, you need to downgrade iTunes to 10.7 or lower, which is not feasible as iTunes 10.7 or lower can't support new iOS system and devices like iOS 11 and iPhone 7, iPhone 8, iPhone X, etc. Besides, you need iTunes 12.2 or later to enjoy Apple Music.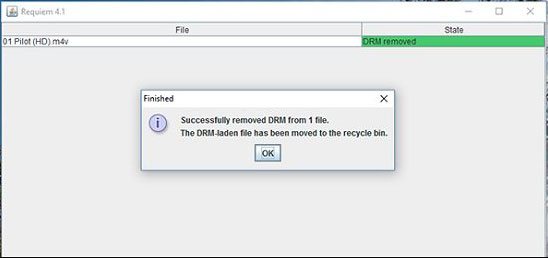 Pros:
Totally free DRM removal software without paying a penny
Remove DRM without any quality loss without re-encoding
Versatilely work for all iTunes contents including movies, TV shows, music and books
Available for both Windows and Mac OS X
Cons:
Outdated interface and software development was permanently stopped
Not compatible with iTunes 11 or later
Not compatible with Windows 10 or Mac OS X 10.9 or newer
Not able to remove DRM from rental iTunes M4V movies
Not able to convert Apple Music tracks which is also in M4P format
You may need to re-download the files if you empty your Recycle Bin
Jave must be installed in order to run Requiem
Alternative Software: TuneMobie iTunes Converter Toolkit
The best alternative for Requiem is TuneMobie iTunes Converer Toolkit which can help you convert purchased or rental iTunes M4V videos to MP4 with multilingual subtitles, audio tracks, audio descriptions, closed captions and Dolby 5.1 track retained, as well as convert Apple Music tracks, M4P songs, M4B/AA/AAX audiobooks, etc. with ID3 tags and metadata preserved. Both conversion are lossless, and iTunes Converter Toolkit supports latest iTunes 12.7, Windows 10 and Mac 10.9.5 or above.
Related Guides:
No. 2 MyFairTunes – Free iTunes M4P music DRM removal software
MyFairTunes is another DRM removal software you can use to remove DRM protection from iTunes M4P music files and it's not for iTunes M4V movies. MyFairTunes can convert M4P to MP3 as well as backup original M4P music files. However, Apple no longer sell M4P music tracks any more since 2009, it had switched to sell DRM-free M4A tracks since then.
However, MyFairTunes can only work with iTunes 6 or 7 and Microsoft .NET Framework 2.0 must be installed. It can't convert downloaded Apple Music tracks which are also in M4P format. Besides, you can only use it on Windows and there is no Mac version. Actually, the program has been abandoned.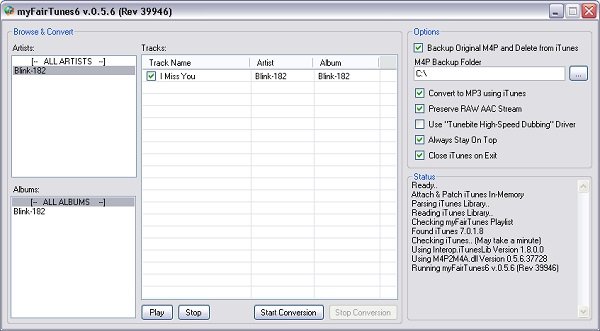 Pros:
Work as free M4P to MP3 converter
Search DRM protected music in your iTunes library
Backup original M4P files before removing DRM
Very light-weight program, only 375KB on hard drive
Cons:
Windows version only, no Mac version
Only MP3 output format in free version, there was a paid version but it won't work neither.
Only work with iTunes 6 and iTunes 7, not compatible with iTunes 8 or later
Not able to convert Apple Music M4P tracks
Alternative Software – TuneMobie Apple Music Converter
TuneMobie Apple Music Converter is the best alternative to MyFairTunes, it can lossless convert Apple Music songs, M4B audiobooks, AA/AAX audiobooks, M4P songs and any other iTunes supported audio files to MP3, M4A, WAV, FLAC, etc. with ID3 tags and metadata preserved. It's fully compatible with latest iTunes and there are both Windows and Mac versions.
Related Guide: How to Convert Apple Music tracks to unprotected AAC audio
No.3 Calibre – Free eBook Manager and eBook DRM removal freeware
Calibre is a combination of free eBook manager and free eBook converter. Calibre allows you to add more than 50 formats of ebooks to iTunes, edit metadata in bulk or individually, convert eBooks to for different eBook reading devices including Cybook, General e-ink, iPad, Hanlin V3/V5, Kindle DX, Kindle Fire, Kindle PaperWhite, Nook, Nook HD+, Nook Color, Samsung Galaxy, Sony Reader and various tablets.
The most advantage of Calibre is the program is still under development. On November 2, 2017, Calibre V3.11 was released with support for the new Kindle Oasis and bug fixes. By default, Calibre can't convert DRM protected eBooks, however, you can install DeDRM plug for that. After installing DeDRM plugin, you can add DRM protected eBooks to Calibre and Calibre will automatically remove DRM and give you an unprotected edition.
Calibre is available on Windows (32-bit & 64-bit), Mac and Linux. Here we provides links for downloading Calibre and DeDRM plugin: Download Calibre | DeDRM Plugin
As of November 2, 2017, Calibre with DeDRM plugin installed still can't hanle Kindle KFX DRM. If you want to convert Kindle KFX files to other eBook formats, we recommend you try Epubor Ultimate instead which seems to be the only software you can use to remove Kindle KFX DRM.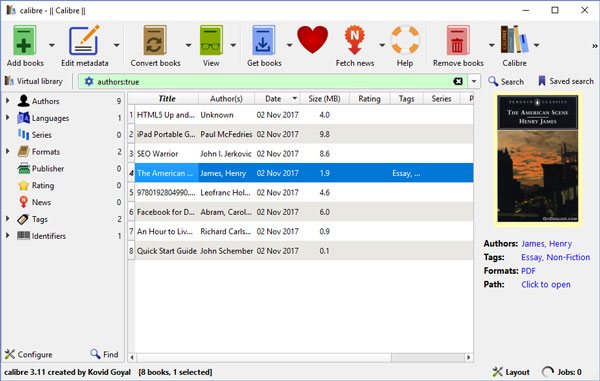 Pros:
All-in-one eBook manager and eBook converter freeware
Support 50+ eBooks formats including PDF, ePub, Mobi, AZW4, TXT, HTML and more
Easily download eBooks from many online stores with built-in search function
Totally free without any adware
Allow to install plug-in to enhance software function
Fully compatible with latest Windows 10, macOS High Sierra and Linux
Cons:
Need to install plugin to remove DRM protection of eBooks
Not able to convert Kindle KFX DRM
Many complicated options and not user-friendly for beginners
Alternative software - Epubor Ultimate
Epubor Ultimate can easily convert your purchased eBooks from Amazon Kindle, Nook, Sony, Kobo, Google Play, Lulu, Smashwords, Fictionwise and more line eBook stores, convert EPUB, PDF, AZW, AZW1, AZW3, AZW4, Mobi, PRC, TPZ, Topaz, TXT, HTML, etc. to EPUB, Mobi, AZW3, and PDF for all kinds of eBook readers. Epubor Ultimate simply removes eBook DRM protection in two steps, and can remove Kindle KFX DRM which Calibre can't convert. Visit Epubor official website to learn more.
No 4. FairUse4WM – free DRM removal software for Windows Media
FairUse4WM is a DRM removal freeware for Windows media only. To be more specific, it works only on Windows Media DRM 10 and DRM 11 (aka, PlaysForSure). So you can use it to get rid of DRM protection on protected WMV, ASF or WMA files.
FairUse4WM is also outdated and the latest version is 1.3 Fix 2 released on March 17, 2007. Here is download link: FairUse4WM 1.3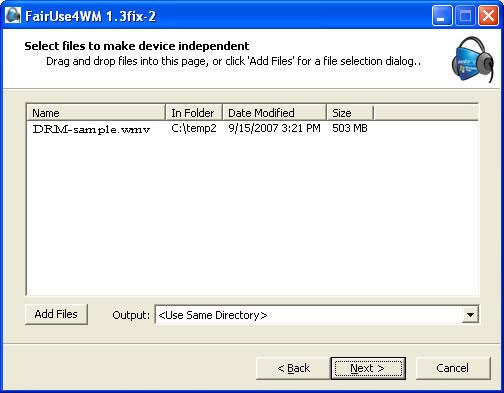 Pros:
Remove DRM protection from Windows Media Player
Light-weight and easy-to-use
Cons:
Not compatible with Windows 10
Not able to remove DRM protection of WMV files from Amazon and other online stores
Alternative Software - Aimersoft DRM Media Converter
Aimersoft DRM Media Converter can legally bypass digital copyright protection from M4V, WMV and ASF video downloaded or purchased from iTunes, Windows Media Centre, Zune Marketplace, BBC iPlayer, Xbox Live Store, Amazon Instant Video, Limewire, uTorrent, FrostWire and more, as well as remove DRM protection from AA, AAX, M4B, M4P, etc. and audio files purchased from iTunes, Audible, Zune, Napster and more.
Note: Aimersoft DRM Media Converter uses screen recording technology to convert iTunes M4V and WMV videos, so there won't be audio tracks and subtitles in output files. And output video quality is not so good. Aimersoft DRM Media Converter can handle M4P songs sold by Apple before 2009, but can't be used to convert downloaded Apple Music M4P tracks. We recommend you use TuneMobie M4V Converter Plus for converting purchased and rental iTunes M4V movies and use TuneMobie Apple Music Converter for converting Apple Music songs. Aimersoft DRM Media Converter is only recommended when you use it to convert DRM protected WMV and WMA files.
Final Words
Most free DRM removal software programs are outdated. There are many reasons. One is that DRM protection technology will be upgraded time and time, the developers have to spend time and energy to find out a way to deal with it. Another is that freeware doesn't bring any income for the developers and they have to give up in the long run of life. The exception in the list above is Calibre, however, you can see Calibre accepts donation and there are also advertisement on its website.
Only your support to DRM removal software developers can help you enjoy DRM protected videos, music and eBooks freely in deed.
Still want professional DRM removal software for free? Then you should never miss the chance to get free license from TuneMobie.