Multimedia Encryption Protection on iTunes Movies and Music
iTunes Store provides many movies, TV shows and music videos and some of the movies are available for rental. Movie rentals are definitely cost less than purchasing, but there are also many restrictions which may bring a lot of inconvenience. Before renting movies on iTunes Store, there are 5 things you need to know first.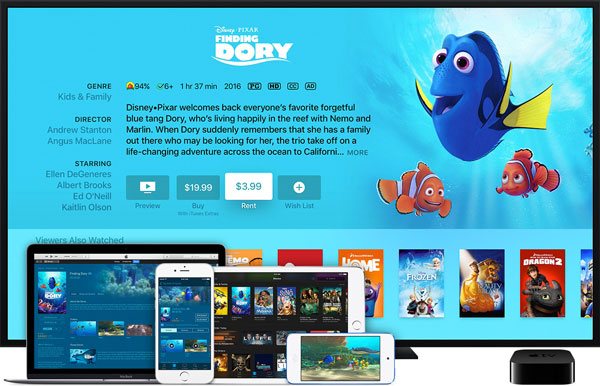 1. Rental Period Restriction
If you don't start watching after downloading a rental movie, you can keep the rental movie for 30 days. After 30 days, the rental movie expires and disappears from your iTunes library. Once you start playback, you have to finish it with 48 hours, otherwise, it will also expire and disappear. We should thank to Apple's bounty to Americans because some time ago you only have 24 hours after starting play.
2. Playback Device Restriction
You can watch iTunes rental movie on one device at a time, though you can stream it to another device. You can't watch rental movie on two or more devices simultaneously. Besides, you can only watch iTunes rental movie on iPhone, iPod Touch, iPad, Apple TV, PC and Mac. You won't be able to enjoy your iTunes rental movie on Android phones or tablets, PSP, PS3, PS4, Xbox or other Non-Apple mobile devices.
3. Rental Downloading Restriction
You can download the rental movie on one device at a time, you can't download iTunes rental movie on multiple devices simultaneously. You must delete the download on current device first in order to download it on another device.
4. Playback Application Restriction
You can't play any iTunes rental movies with VLC Media Player, KMPlayer, MPC-HC or other media players on Windows or Mac, you have to use iTunes itself to play. You can't play a rental movie on iOS device with other playback Apps neither.
5. Video Editing Restriction
If you are using iMovie, Final Cut, Adobe Premier or any other video editing software, you won't be able to import the rental movie because of multimedia encryption. This restriction also applies to purchased iTunes videos.
Get Rid of the Restrictions and Keep iTunes Rentals Permanently
Are you looking for a way to get rid of the annoying restrictions of the iTunes rentals? TuneMobie M4V Converter Plus for Mac is always here to help. As professional iTunes decryption software, M4V Converter Plus can remove encryption from both rental and purchased movies, TV shows and music videos, convert M4V videos to unprotected and all-purpose MP4, keep 100% quality with lossless conversion and preserve all multilingual subtitles and audio tracks, Dolby 5.1 track, closed captions and audio descriptions.
TuneMobie M4V Converter Plus performs 30X faster conversion speed and converts a 1080P Full-HD movie to MP4 in only 20 minutes or less depending on your hardware configuration. Both Windows and Mac versions are available and it is totally compatible with latest iTunes. Please note that only Mac version can deal with iTunes rentals.
How to Convert iTunes Rentals to MP4 Videos with TuneMobie M4V Converter Plus for Mac
Follow the steps below to remove encryption from your rented iTunes movies and convert to unprotected MP4 that you can keep on disk permanently. It's easy.
Step 1: Launch TuneMobie M4V Converter Plus for Mac
Launch TuneMobie M4V Converter Plus and iTunes will be automatically opened as well. Click "Add Files" button to load your iTunes library. All your purchase and rentals will be listed as playlists in the left panel.
Step 2: Add iTunes Rental Movies
Click Rented playlist and all your iTunes rental movies will be listed here. Choose one or multiple movies to add, or click "Add all" to add rented movies. This is how conversion list looks like.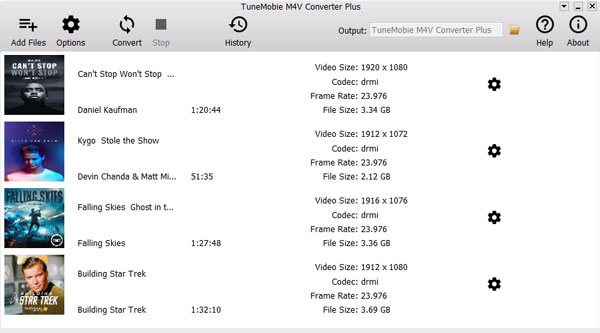 Step 3: Set Subtitles and Audio Tracks
All subtitles and audio tracks come with rented movies will be preserved in output MP4 files by default. If you don't want to keep some subtitles or audio tracks, you can click the small gear icon and uncheck manually.
Step 4: Start iTunes Rentals to MP4 Conversion
Simply click Convert button to start converting iTunes rentals to MP4. Multimedia encryption will be stripped after conversion. After conversion, you can click History button to open output folder and copy output MP4 to any devices. There won't be any restrictions any more.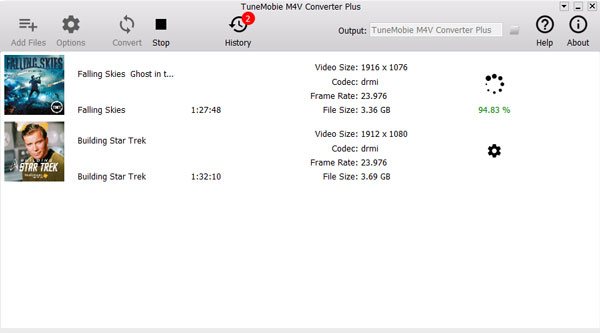 Once you use M4V Converter Plus to convert the rental movie, the 48-hours limitation also starts as program will start playback in iTunes in the background. Though there won't be any problem in the converted MP4 videos, we still recommend you play the output videos and move fast forward to the end to check whether there is playback problem in output videos. And please note you can only keep iTunes rentals for your personal playback, never share the files on the internet.
If you also want to keep Apple Music tracks before your free trial ends, you can try Apple Music Converter. It's as easy as keeping iTunes rentals permanently.