Spotify Music Can't Be Played on Sony Walkman Directly
Sony Walkman is renown for its excellent audio quality and high-res audio compatibility. Dispite of other factors, if audio quality is what you are most concerned, then Sony Walkman will be absolutely the best choice. As of March 2018, there are some Sony Walkman models like NW-A30 SERIES, NW-A40 SERIES, NW-ZX300, NW-WM1A and NW-WM1Z you can find out Sony's official website. NW-A40 SERIES starts from $199.99 while NW-WM1Z costs $3199.99, so you can choose desired model depending on your budget and requirements.
All models above are compatible with high-res audio and supports all mainstream music formats like MP3, M4A, WAV, FLAC, etc. You can use different play modes like Shuffle Playback, Repeat Off, Repeat 1 Song, Repeat All and Playback Range, enjoy different sound effects and use different music search methods. However, most models of Sony Walkman are only portable media players and can't connect to internet while streaming music services ususally need internet connection. Even some models of Sony Walkman are web-enabled, it's still not a smart device and Spotify app is not available.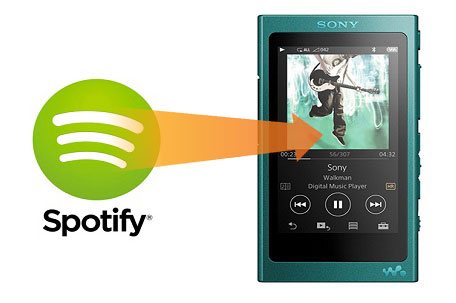 Spotify user "joleneb" asked on Spotify community with the question "Transfer spotify music to Sony Walkman" as below
"Can anyone please help? I am not technically savvy and am having difficulty finding out how to transfer my Spotify music onto my Sony Walkman. Sony have said I cannot transfer the music directly from Spotify onto my Walkman, nor can I use Media Go to help me do it. They have said I need to transfer the music from Spotify directly onto a drive on my laptop first. Not sure how to do this though and have been trying for hours... :)"
Using Sony MediaGo or other music management tools to transfer Spotify to Sony Walkman isn't a feasible way. The Ogg files downloaded from Spotify Premium can't be recognized by Sony Walkman while Spotify Free users are not enabled to download. But you can easily get the job done by Spotify Music Converter no matter you are using Spotify Free or Spotify Premium.
Spotify Music Converter: Best Help for You to Play Spotify Music on Sony Walkman
Spotify Music Converter can easily help you download favorite songs, albums and playlists from Spotify to computer, convert to Sony Walkman compatible audio formats like MP3, M4A, WAV and FLAC. All ID3 tags like song title, artist, album, genre, year, artwork, etc. will be preserved in the output files.
Spotify Music Converter is very intuitive and easy-to-use, you only need to use links of songs, albums or playlists as input, and Spotify Music Converter will get the rest done. You can either use drag & drop or copy & paste operation to add Spotify Music to the program.
Spotify Music Converter is available for both Windows and Mac OS X, and fully compatible with latest Windows 10 and macOS Catalina. Now you can get the free trial version to have a try.
Easy Guide to Convert Spotify to MP3/M4A for Sony Walkman
Follow the steps below, and you can easily download Spotify music as MP3/M4A playable on Sony Walkman.
Step 1: Launch TuneMobie Spotify Music Converter
Download and install this Spotify to Sony Walkman Converter first, then launch it. Spotify program will be automatically launched as well. Please keep running Spotify when running the converter.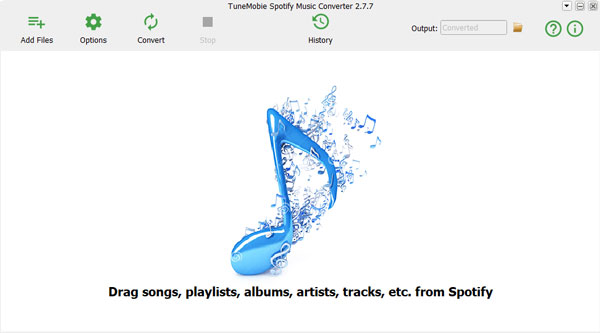 Step 2: Add Your Favorite Spotify Songs, Albums or Playlists
Let Spotify and Spotify Music Converter display on the screen, and you can drag Spotify songs, albums and playlists to Spotify Music Converter, or you can browse your favorite song, album or playlist in Spotify, and right-click to get the link of the song, album or playlist, then paste the link in the search bar at the bottom of the program and click + or Add button.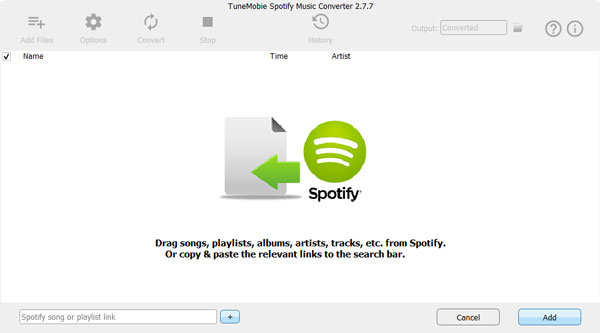 Spotify Music Converter will show you all the songs in the album or playlist. By default, all the songs in the album or playlist will be checked, but you can simply uncheck the songs you don't want to download. Click Add button to add the songs to conversion list.
Step 3: Choose Output Music Format
Spotify Music Converter provides MP3, M4A, WAV and FLAC as output formats and use MP3 by default. All the output formats can be played on Sony Walkman, so just choose the one you need. You can click Options button to change output folder and outptu format.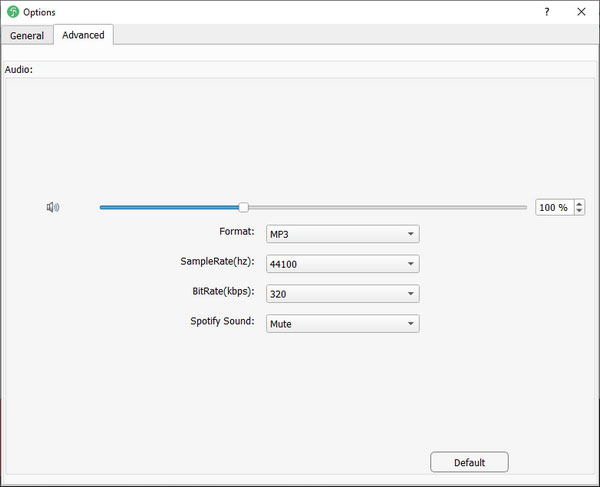 Step 4: Start Converting Spotify Music
Now, simply click Convert button to start converting Spotify music to specific format. Spotify Music Converter will keep 100% original streaming audio quality and preserve all ID3 tags as well.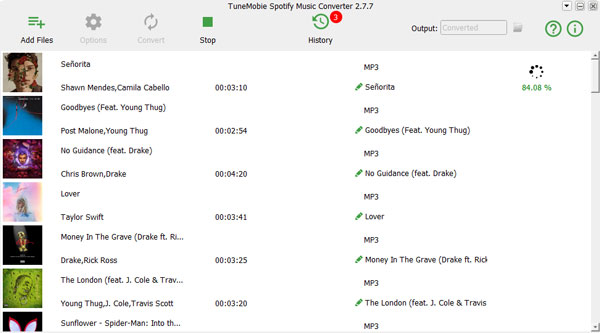 After conversion, you can click History button and open the output folder to check the output songs.
Step 5: Transfer Converted Spotify Songs to Sony Walkman
Now, connect your Sony Walkman to computer with USB cable and Sony Walkman will be recognized as removal storage device, open the device and you should be able to see "MUSIC" folder. Locate the songs in the output folder of Spotify Music Converter and copy them to Sony Walkman's MUSIC folder. Or directly drag the songs and drop into the folder.
You can also use Media Go provided from Sony to transfer the converted Spotify songs to Sony Walkman in Windows OS, however, using Windows Explorer should be much easier and you don't need to install extra management programs.
Now, enjoy your favorite songs on Sony Walkman as you like.
Final Words
If you have subscribed Apple Music and want to enjoy Apple Music songs in Sony Walkman, you will face similar problems. In that case, you can use Apple Music Converter to convert Apple Music songs to MP3 or M4A first.
By using Spotify Music Converter to convert Spotify songs to MP3 or M4A, you can not only enjoy Spotify songs on Sony Walkman, but also on PSP, PS3, PS4 and other Sony music devices.