Spotify Supported Sony Walkman Models: NW-ZX507 or A-100 Series
Sony Walkman is well-known as the best MP3 player for its excellent audio quality and high-res audio compatibility. If audio quality is what you are most concerned, then Sony Walkman will be absolutely the best choice. Different Sony Walkman models may support different features and audio formats, but MP3, M4A or WAV are supported by all Sony Walkman models.
However, the way we enjoy music has been changed a lot. Nowadays, streaming music services like Spotify or Apple Music is the dominant way of music playback. iPod Touch users can install Spotify or Apple Music from App Store, but what can Sony Walkman users do? Before 2019 September, Walkman users can only enjoy Spotify songs by using Spotify Music Converter to convert Spotify songs to MP3, M4A or WAV and transfer the output files to Walkman.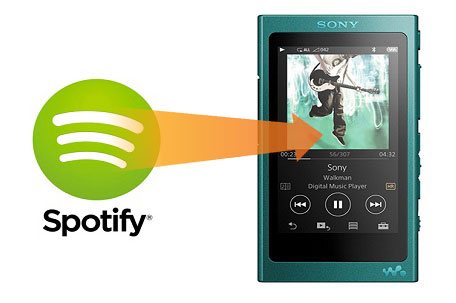 Luckily, things changed after 2019 September. Sony released ZX500 Walkman ZX Series and A100 Walkman A Series. Both series are equipped with Android 9.0 and supports Wi-Fi connection, you can go to Google Play to install Spotify app to stream music online. If you use Spotify Premium, you can also download songs for offline playback.
If you haven't got a Walkman, maybe you can get a Walkman NW-ZX507 for $829.99 or a Walkman A-100 for $349.99. But if you have an old Walkman model which doesn't support Spotify, are you willing to put it alone in your drawer and buy a new model with a big cost? If you are a Spotify user, actually, TuneMobie Spotify Music Converter may be the best solution to help you save money and enjoy Spotify music more flexibly.
TuneMobie Spotify Music Converter: Best Helper for Any Sony Walkman Users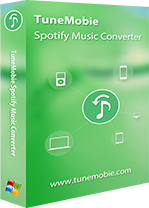 TuneMobie Spotify Music Converter can easily help you download favorite songs, albums and playlists from Spotify to computer, convert to Sony Walkman compatible audio formats like MP3, M4A, WAV and FLAC with either Spotify Free or Spotify Premium account. All ID3 tags like song title, artist, album, genre, year, artwork, etc. will be preserved in the output files. If you are using Spotify Free, all audio ads will be skipped automatically.
TuneMobie Spotify Music Converter can rename the output files in bulk, and sort output files into Artist, Album or Artist/Album folders.
TuneMobie Spotify Music Converter is very intuitive and easy-to-use, you only need to add Spotify links in the program, and Spotify Music Converter will get the rest done. You can either use drag & drop or copy & paste operation to add Spotify music to the program.
TuneMobie Spotify Music Converter is available for both Windows and Mac OS X, and fully compatible with latest OS. You can click the Free Trial buttons below and have a try first. The free trial versions will convert 3 minutes of each song.
Easy Guide to Convert Spotify to MP3/M4A for Sony Walkman
Spotify Music Converter is extremely intuitive and easy-to-use. Follow the steps below to download your favorite Spotify songs, albums and playlists as MP3, M4A or WAV for your Walkman and enjoy on the go.
Step 1: Launch TuneMobie Spotify Music Converter
Launch TuneMobie Spotify Music Converter and Spotify program will be automatically launched as well. Please keep running Spotify before the conversion is done, and do not play Spotify songs by yourself.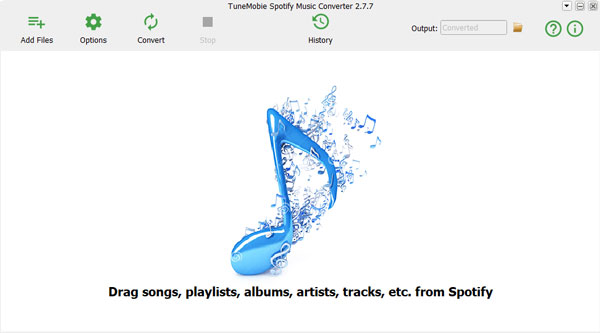 Step 2: Add Your Favorite Spotify Songs, Albums or Playlists
You can use either drag-and-drop or link copy & paste to add Spotify songs, albums or playlists to Spotify Music Converter.
Drag-and-drop: Display Spotify and Spotify Music Converter in the screen at the same time, drag a song, an album or a playlist from Spotify and drop it into Spotify Music Converter.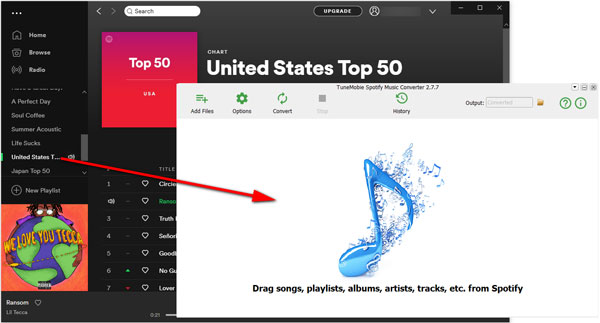 Link copy & paste: Right-click a song, an album or a playlist, move mouse to "Share" and click "Copy Song Link", "Copy Album Link" or "Copy Playlist Link" to get the link, then go back to Spotify Music Converter main interface, click "Add files" and you will see a blank bar in the bottom left, paste the link there and click Add button.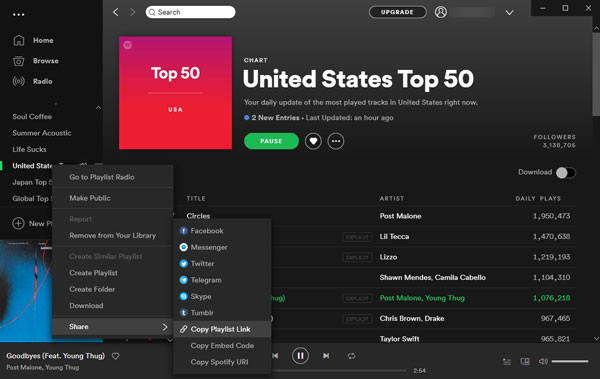 No matter which way you use, you will be asked to choose the tracks you want to add to conversion list. If there are some songs you don't want to enjoy on Sony Walkman, simply untick the checkboxes. After selecting the songs, click Add button to add checked songs to conversion list. You can repeat this step to add more songs, albums and playlists.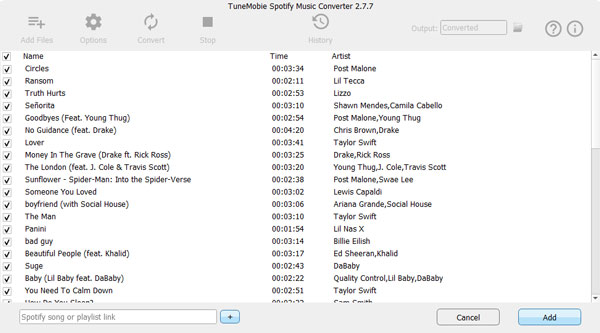 Step 3: Output Settings
Spotify Music Converter provides MP3, M4A, WAV and FLAC as output formats and use 320kbps MP3 by default. As MP3 is fully supported by any models of Sony Walkman, you can simply use it as output format. If necessary, you can also click Options button and go to "Advanced" tab to change to your desired output format, just make sure the format is supported by your Walkman model. Besides, you can also set output folder, the way of sorting and renaming output files in "General" tab.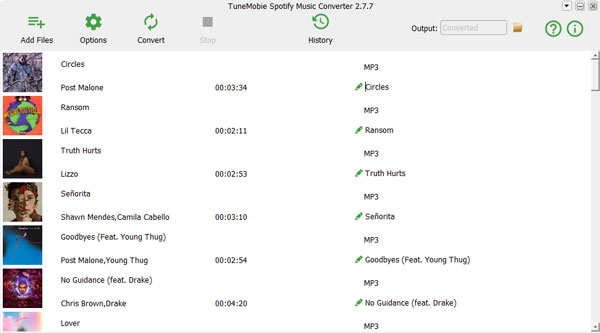 Step 4: Start Converting Spotify Music
Now, simply click Convert button to start converting Spotify music to specific format. Spotify Music Converter will keep 100% original streaming audio quality and preserve all ID3 tags as well.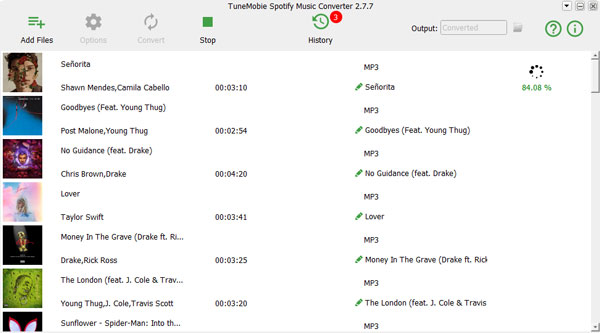 After conversion, you can click History button and open the output folder to check the output songs.
Step 5: Transfer Converted Spotify Songs to Sony Walkman
Now, connect your Sony Walkman to computer with USB cable and Sony Walkman will be recognized as removal storage device, open the device and you should be able to see "MUSIC" folder. Locate the songs in the output folder of Spotify Music Converter and copy them to Sony Walkman's MUSIC folder. Or directly drag the songs and drop into the folder.
You can also use Media Go provided from Sony to transfer the converted Spotify songs to Sony Walkman in Windows OS, however, using Windows Explorer should be much easier and you don't need to install extra management programs.
Now, enjoy your favorite songs on Sony Walkman as you like.
Final Words
With Spotify Music Converter, you can easily download Spotify music as MP3/M4A/WAV files which are playable on Sony Walkman. You don't have to be a Spotify Premium subscriber and you don't have to switch to expensive new models for enjoying Spotify music. If you are a Spotify user and have got a Sony Walkman, do not hesitate to download Spotify Music Converter to have a try now.