Part 1: The Differences between Spotify Free & Spotify Premium
So far, Spotify is the most welcomed streaming music service and it comes with two tiers, which are Spotify Free and Spotify Premium. Spotify Premium provides more features than Spotify Free, but it also requires a subscription fee of $9.99 per month. However, $9.99 could mean a lot to some users or the limitations of free version could be unendurable, so they may search "get Spotify Premium free" or "enjoy Spotify Premium for free" or other phrases on Google.
Below is the comparison chart which tell you the 6 differences between Spotify Free and Spotify Premium. The limitations in Spotify Free are forced shuffle play mode, advertisements between tracks, 6 skips in an hour, 160kbps low audio quality, no ability to download for offline listening and no way to enjoy some new or popular songs.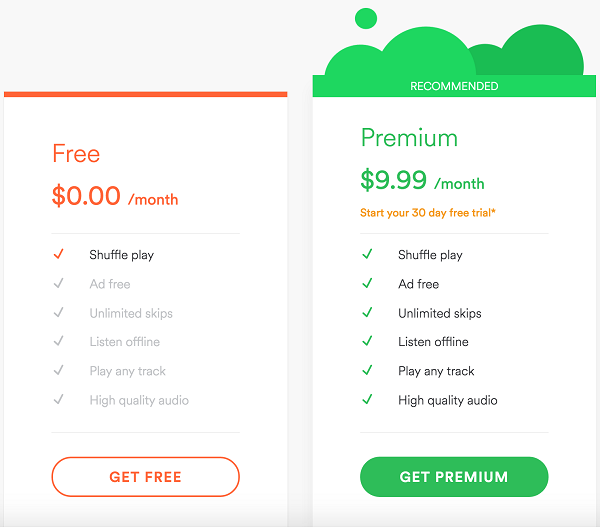 Method 1: Multiple Email Accounts for Spotify Premium 30-Day Free Trial
The first way to get Spotify Premium free is to create multiple email accounts to register new Spotify account, then use the account to try 30-day Premium plan for free provided by Spotify.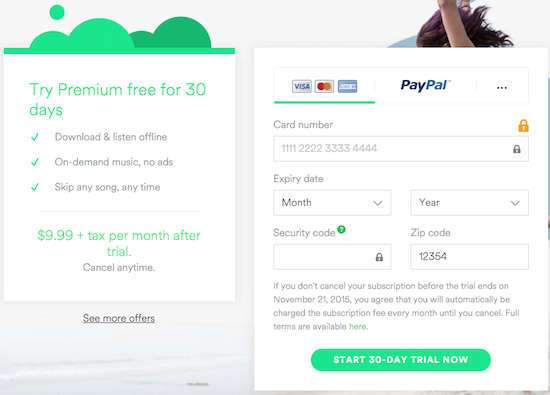 Before 30-day Premium trial expires, please remember to cancel the subscription to prevent from being charged. You can always create an new email account to create a new Spotify account and try 30-day Premium trial again and again. If you have a domain and a hosting server, you can easily create a batch of email accounts like account001@yourdomain.com ~ account999@yourdomain.com.
However, after 30-days, you can't keep your favorite songs, albums or playlists when using a new account. Such an inconvenience is very frustrating. And, Spotify may also detect the problem that you keep using the same payment information.
Method 2: Ask Someone to Invite you to Join in Spotify Family Plan
The second way to get Spotify Premium free is to join in Spotify family plan paid by someone else. Apart from Spotify Premium for individuals and students, Spotify also provides family plan at $14.99 per month. With Premium for Family, you and up to 5 members of the same household can each enjoy their own Premium account. If someone has paid for Spotify Premium for family and there is 5 or less people in the group, you can ask the group owner to invite you to join in Spotify Family plan.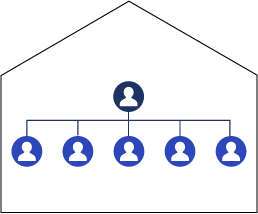 You don't have to be a real family member of the group, but make sure your address in the account is same as the group owner. You can ask the group owner to send you his address and postcode in advance. If you have the same address and you are invited, then you have Spotify Premium. Spotify doesn't check anything or ask for a utility bill or check the ip address.
Method 3: Use TutuApp, TweakApp or AppValley to Install Spotify++ on iOS without Jailbreak
If you are using iOS device, you may install a modified version of Spotify called Spotify++. You need to install TatuApp, TweakApp, AppValley or Cydia Impactor first in order to install Spotify++. Here we will show you how to install Spotify++ using each of them. Before install Spotify++, please uninstall Spotify app from your device first. And please note that all the mentioned ways in this section can be easily done without jailbreaking your iOS device.
Use TatuApp to Install Spotify++ and Get Spotify Premium Free
Step 1: Tap to open Safari browser and open TatuApp's home page.
Step 2: When website is open, tap on "Install now" button and tap "Install" to confirm when prompted. The website also guide you on how to install TutuApp correctly. At the bottom of the screen, you can also see "Untrusted enterprise developer" solution tutorial.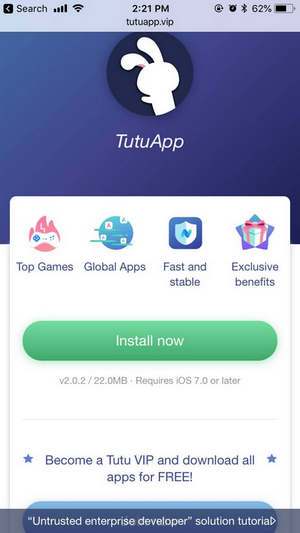 Step 3: Go back to home screen and wait a few seconds. After installation, you will see TutuApp's icon on the screen.
Step 4: Tap on TutuApp and open it. "Untrusted Enterprise Developer" dialog will pop up if it's your first time to open TutuApp. To solve such a problem, go to Settings > General > Device Management on iOS 12, or go to Settings > General > Profiles or Profiles & Device Management on iOS 11, follow the "Untrusted Enterprise Developer" solution tutorial mentioned above to trust this app.
Step 5: Open TutuApp now and search Spotify++, and click the download button in the search result and install Spotify++.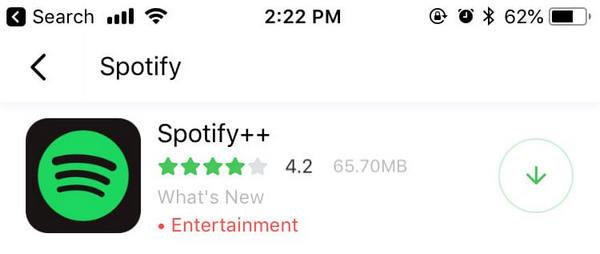 Once Spotify++ is installed, you can tap on Spotify++ to start enjoying all Spotify Premium features for free.
Use TweakApp or AppValley to Install Spotify++ and Get Spotify Premium Free
TweakApp and AppValley are similar app installers like TutuApp and steps of using them to install Spotify++ are similar to using TutuApp, just go to TweakApp home page or AppValley home page instead. After downloading and installing TweakApp or AppValley, you will also encounter "Untrusted Enterprise Developer" problem and you can trust TweakApp or AppValley in the same way. Then search Spotify++ in TweakApp or AppValley and install it.
In the same way, you can also enjoy Spotify Premium for free by installing Spotify++ via TweakApp or AppValley.
However, please note that the Spotify++ app is not available to use permanently as Apple can revoke the certificate of the app at any time. When you meet "Untrusted Enterprise Developer" again, try to download Spotify++ from TutuApp, TweakApp or AppValley and install Spotify++ again.
Method 4: Use Cydia Impactor to Install Modified Spotify App on iPhone or Android
Cydia Impactor is a GUI tool for working with mobile devices. You can use this tool to install IPA files on iOS and APK files on Android using Windows, Mac or Linux. Below are the steps of using Cydia Impactor to install modified version of Spotify on iPhone or Android. Please note that you also need to uninstall official Spotify first.
Step 1: Go to Cydia Impactor home page and download the installer file according to your PC OS. Then upzip the downloaded file, open the folder and you will able to see Cydia Impactor application.
Step 2: Connect your iPhone or Android device to computer via USB cable.
Step 3: Download modified version of Spotify for iOS or Android from this link. If you are using Android, you need to allow APK installation from unknown sources. Tap Settings and tap Security, you will find an "Unknown sources" option with a toggle switch under the Device administration section, tap it to enable this option.
Step 4: Launch Cydia Impactor, drag Spotify iOS IPA file or Spotify Android APK file onto Cydia Impactor, and click Start button. If you are using iOS device, you need to enter your Apple ID and password to get Spotify Premium free.

Step 5: Tap the SPotify Premium app to launch. On iOS, you will also meet the problem of untrusted developer and you need to trust the developer manually like what mentioned in method 3. Now you can enjoy Spotify Premium on your iOS and Android for free.
Method 5: Download & Install Modified/Hacked Spotify Premium APK for Android
If you are using Android device, it may be better to use method 5 than method 4 because the modified Spotify premium app provided here is much newer, it was released on July 4, 2018. You may also download this Spotify Premium APK and use Cydia Impactor to have a try. Below are the steps of getting Spotify Premium free on Android devices. Of course, if you have official Spotify installed, please uninstall it first.
Step 1: Download Spotify Premium APK file on your Android device using any browser first.
Step 2: Tap Settings and tap Security, tap on "Unknown sources" to enable installing hacked/modified APK file.
Step 3: Tap on the downloaded APK file and starting installation.
Step 4: After installation, create a new free Spotify account, sign in Spotify with this account for Spotify Premium features.
However, starting from March 3rd 2018, Spotify has started to crackdown on free Spotify account users who are using modded, hacked, and modified Spotify Premium apk to pirate their premium services. The company has sent out the following email to all those users who are using unauthorized Spotify apps to access their Premium services for free.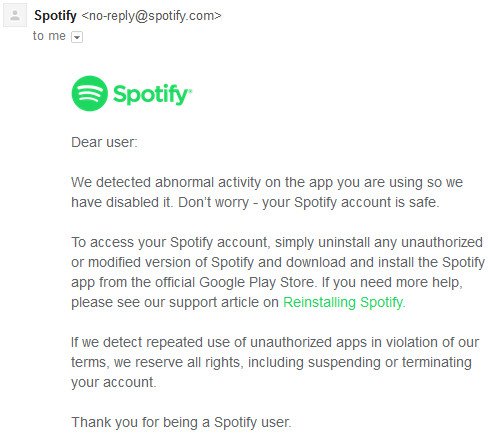 The latest Spotify Premium APK file provided here may be unusable one day. You can then search upgraded hacked Spotify Premium APK file again. There are different limitations in the ways of getting Spotify Premium free mentioned above. Maybe using Spotify Music Converter introduced below is the best way.
Use TuneMobie Spotify Music Converter to Convert Spotify Music to MP3/M4A with Spofity Free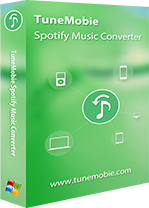 TuneMobie Spotify Music Converter can convert Spotify songs, albums and playlists to MP3, M4A, WAV or FLAC format with high audio quality. The ID3 tags like song title, album, artist, artwork, track number, genre, etc. will be preserved in the output files.
By using Spotify Music Converter, you can enjoy most Spotify Premium features. You can play converted Spotify songs in any playback modes, skip as many times as you want, enjoy high quality 320kpbs MP3 or 256kbps M4A, get rid of boring advertisents and listen the songs offline on Spotify supported devices as well as Spotify unsupported devices like iPod Nano, iPod Shuffle, Sony Walkman, MP3 players, etc.
The program is available on Windows and Mac and compatible with latest Windows 10 and Mac OS X. It's also very easy-to-use and helps you to download Spotify music in only a few clicks. The free trial version allows you to convert 3 minutes of each song, besides, we also provide multiple ways for any users to get free license.
Go to Time-limited 20% discount
Follow the steps below to download your favorite Spotify songs, albums or playlists.
Step 1: Launch Spotify Music Converter and Spotify will be launched automatically. Do not close Spotify when using the program.
Step 2: Click "Add Files" button then drag and drop songs, albums or playlists from Spotify to Spotify Music Converter. Or you can copy link in Spotify first and paste in the blank area of Spotify Music Converter.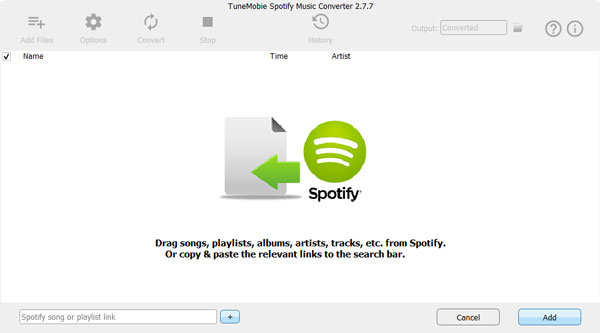 Step 3: Spotify Music Converter will list and check all the songs in the album or playlist. You can easily uncheck any songs you don't like. Then click "Add" button to add the songs to conversion list.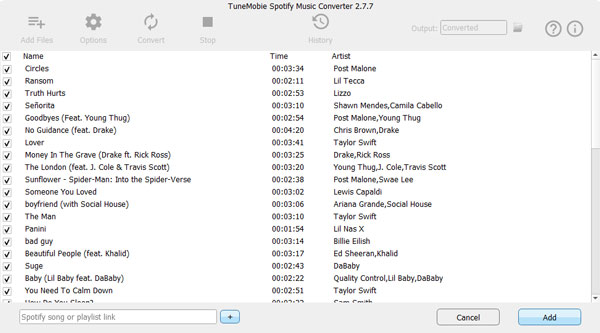 Step 4: By default, the program uses 320kbps MP3 as output. If necessary, click Options button to change output format & output folder.
Step 5: Now simply click Convert button to start converting the Spotify songs, albums and playlist to all-purpose audio format.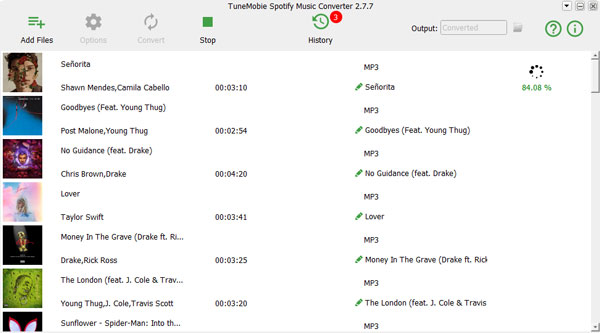 Using Spotify Music Converter, you can enjoy 5 of 6 premium features except for enjoying Premium only songs. If you can join a Spotify family plan mentioned in method 2, you will be also able to download the songs which are only available on Spotify Premium.
Now, we have introduced 6 ways of getting Spotify Premium free, which one is best for you? If you think Spotify Music Converter is useful, do not hesitate to download the free trial version to have a try.
Time-limited Offer: 20% Discount for TuneMobie Spotify Music Converter, Valid until January 31, 2020
TuneMobie offers all users a 20% 0ff discount for purchasing lifetime license & family license.
Coupon Code: tmspo20off
How to use: Click "Buy Now" button below according to your OS, in the opened page, choose your plan and click Buy Now button to go to MyCommerce Share-it! payment page, click "Redeem coupon code", paste it and press enter to apply.
The coupon code will expire on January 31st, 2020. Now select and purchase you plan with 20% off dicount!
Lifetime License ($39.95 $31.96) | Family License ($79.95 $63.96, 5 PCs)