Convert Spotify to MP3 with Google Chrome Extension "Spotify Deezer Music Downloader"
"Spotify & Deezer Music Downloader", as its name indicates, is used to download Spotify & Deezer songs. In fact, it's not a software program, it's only a lightweight Google Chrome extension developed by kiembertimao. It is totally free and clean, works with Spotify web player and Deezer web player. As to Spotify, it simply adds a green Download button on the right side of each song's duration. You can check the screenshot below to see how your Spotify web player changes after you install and enable it.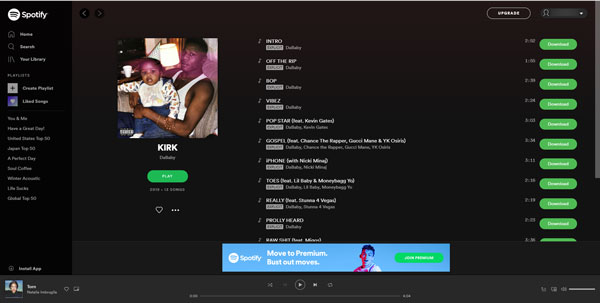 Using Spotify Deezer Music Downloader to convert Spotify to MP3 is quite simple. Here are the steps.
1. Install Spotify Deezer Music Downloader extension and enable it.
2. Open Spotify web player and log in your Spotify account.
3. Open an album or a playlist, and you will see the Download buttons. Click Download buttons of your favorite songs.
When downloading is finished, the text on the Download button will be changed to "100%". However, you may also encounter the problem that the Download button turns to an "Error" button and a popup message "Audio not found!"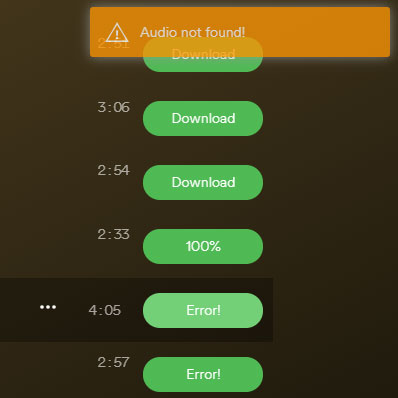 According to the developer's description, we can learn clearly why the problem happens.
Spotify Music Saver uses multiple mp3 libraries to search thru and download Spotify music files from, however, a certain amount of tracks are missing in our libraries, therefore, some Spotify tracks won't be downloaded. We're adding new libraries to support a project and appreciate your patience. Let's convert Spotify music to mp3 on your PC together!
Another obvious problem is that music information like album, genre, track Number, artwork, etc. is missing in the downloaded MP3. And the most inconvenient is the extension lacks of batch downloading. You need to click Download button one by one.
AlltoMP3: A Free Spotify to MP3 Converter for Windows, Mac & Linux
AlltoMP3 is a free Spotify to MP3 converter developed by Ntag. The official website of AlltoMP3 is https://alltomp3.org/ and the source code can be downloaded from Github. The official introduction of the program is only a sentence which is "DOWNLOAD YOUTUBE, SOUNDCLOUD, SPOTIFY IN MP3". Hovering your mouse on MP3, you can see "MP3 with title, artist, genre, cover, lyrics and 256 kb/s". That is to say, AlltoMP3 can keep main music information.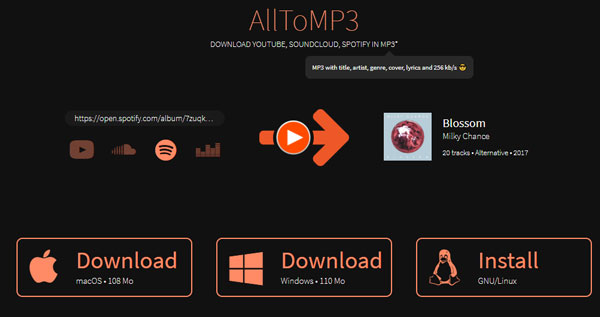 AlltoMP3 also searches songs from online libraries and downloads the songs only if the songs can't be matched. Similar to Spotify Deezer Music Downloader, you may also encounter download failure or wrong download.
To use AlltoMP3 to convert Spotify to MP3, just open your Spotify web player, copy a song link, an album link or a playlist link, paste in the address bar and press Enter button to start downloading. Click "See the list" to check the songs of the list and download status. Downloaded, downloading and undownloaded will be displayed in different colors.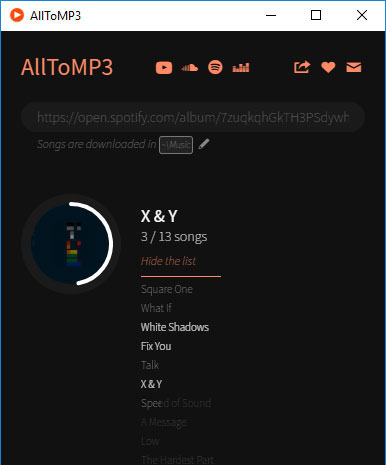 TuneMobie Spotify Music Converter: Most Powerful & Professional Spotify to MP3 Converter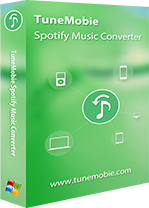 TuneMobie Spotify Music Converter is a dedicated Spotify to MP3 converter which can easily convert Spotify songs, albums and playlists to high-quality MP3 files. Music information like title, artist, album, genre, track number and artwork will be preserved. And you don't have to pay for Premium subscription as Spotify Music Converter can work with both Spotify Free and Spotify Premium.
Spotify Music Converter works with Spotify application and record the songs in batch. So there won't be wrong download or download failure.
With Spotify Music Converter, you can drag songs, albums or playlists from Spotify to the program, or copy links of songs, albums, artists and playlists and paste in the program. Then this Spotify to MP3 converter can detect all the songs in added albums or playlists and convert them as MP3 for offline listening.
The free trial version of Spotify Music Converter allows you to convert 3 minutes of each song. It's fully compatible with latest Windows 10, Mac OS X and Spotify. Get the free trial and have a try now.
Easy Guide: Convert Spotify to MP3 in 3 Steps with Spotify Music Converter
TuneMobie Spotify Music Converter is very intuitive and easy-to-use. With this program, you can easily convert your favorite Spotify songs, albums and playlists to MP3 in only 3 simple steps.
Step 1: Launch TuneMobie Spotify Music Converter
Launch this Spotify to MP3 converter, Spotify will be automatically launched as well. Please do not close it or play Spotify songs during conversion. Now click "Add Files" button and you will see the interface as below.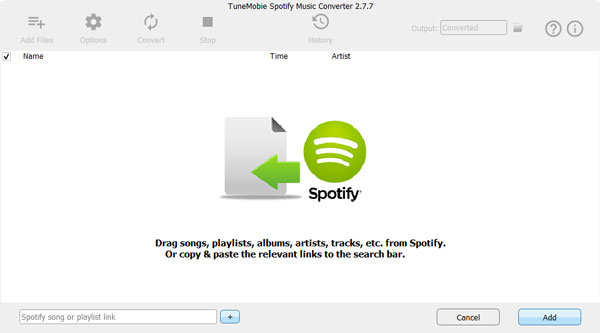 Step 2: Add Your Favorite Spotify Songs, Albums or Playlists
You can easily drag songs, albums or playlists from Spotify to this Spotify to MP3 Converter directly. Or you can browse your favorite song, album or playlist in Spotify, and right-click to get the link of the song, album or playlist, then paste the link in the blank area in the left bottom and click + or Add button.
Spotify Music Converter will immediately detect the songs and pop up a dialog to ask you to choose what songs to download. By default, all the songs in the album or playlist will be checked. You can uncheck the songs you don't like. Click Add button to add the songs to conversion list.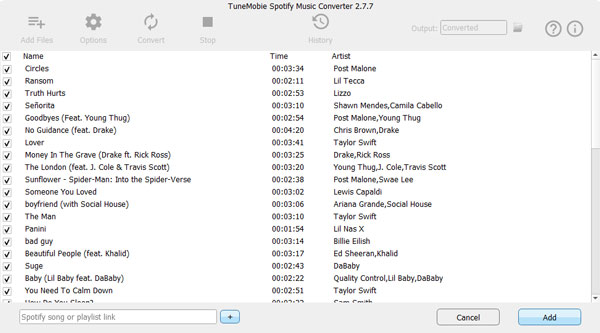 Step 3: Start Spotify to MP3 Conversion
By default, Spotify Music Converter will use 320kbps and 44100hz MP3 as output format. If necessary, you can click Options button to change output format and output folder, or set conversion speed to 5X.
When you get ready, you can simply click Convert button to start conversion. All songs will be converted to MP3 or specific format.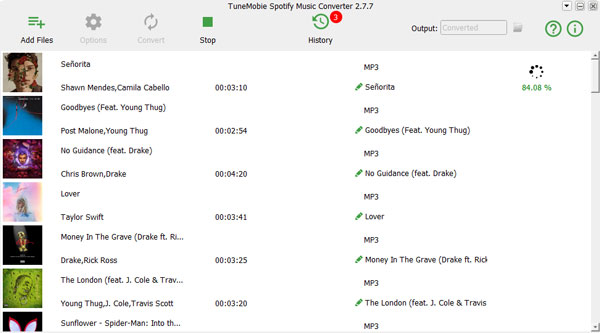 After conversion, you can click History button and open the output folder to locate the MP3 songs. Then you can add the MP3 files to iTunes library and sync them to various generations of iPod Nano/Shuffle/Classic and iPod Touch, or copy to Sony Walkman, PSP, MP3 players, Kindle Fire and various portable media players.
If you also need to convert Spotify to MP3 for different purposes, do not hesitate to download Spotify Music Converter to have a try.