Part 1: Usual Spotify rippers you can try
As we all know, no matter Free or Premium subscribers of Spotify, all of us were limited by Spotify. For example, when free subscribers are in an environment that has no internet connection, they will be failed to play Spotify music. Or when Premium subscribers want to play Spotify music on other devices like iPod Nano/Shuffle, PSP and Sony Walkman, they are not allowed to do that. Obviously, Spotify subscribers like you and me, are needed to find some feasible ways to rip Spotify songs so that we can enjoy our favorite Spotify music without "shackles".
Here we have two usual ways for you to try.
1. AllToMP3
AllToMP3 is an online Spotify music ripper and downloader which allows users to download Spotify music to MP3 files for free. To use AllToMP3, you need to download and install the program from its official website first, in fact, it's not very convenient to use AllToMP3 to rip Spotify songs because of its unsatisfactory download speed performance. Besides, the main interface of AllToMP3 is too dark and the vague button designs make it difficult for users to operate.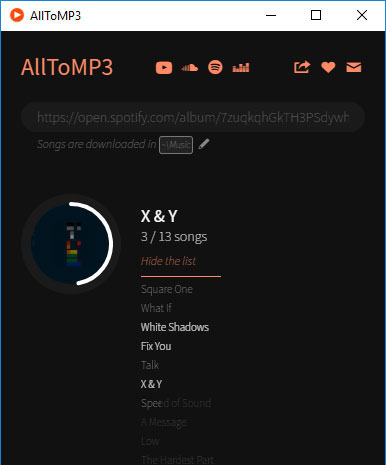 2. Spotdl
Spotdll is a new and free online Spotify music ripper. However, it is a website Spotify ripper which means you may need a fine network environment to use it to rip songs from Spotify. Although it's quite simple and free to use, it also has an upgrade option which allows paid memberships to unlock functions that free users cannot experience. For example, if you are using it for free, you can only rip 300 Spotify songs without any metadata.

Commonly, just like many usual and common online Spotify music rippers, the rip speed of Spotdll is still far less than professional Spotify music ripper.
Professional way to rip Spotify music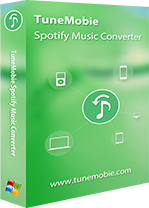 We believe that a professional Spotify music ripper can help Spotify subscribers to rip Spotify songs safely and efficiently. So, we recommend everyone who is reading this article to use TuneMobie Spotify Music Converter, which was designed for all Spotify subscribers to rip Spotify music like songs, playlists or albums to plain MP3, WAV, FLAC and M4A.
What's more, TuneMobie Spotify Music Converter offers a feature that allows users to fully keep 100% original audio quality and metadata like song title, artist, album, artwork, track number, genre, etc. after ripping songs from Spotify. Most importantly, TuneMobie Spotify Music Converter provides 5X faster ripping speed for users, which makes it special and different from usual Spotify music ripper. The shorter ripping speed users can get, the sooner users can enjoy Spotify music freely.
Besides, users can sort output files by artist, album or artist/album after ripping Spotify songs and it is perfectly compatible with the latest Windows 10, Catalina, and the latest Spotify application of course.
Easy guides of TuneMobie Spotify Music Converter
Step 1: Launch TuneMobie Spotify Music Converter
Find and open TuneMobie Spotify Music Converter and you will see Spotify is launched with the converter. You don't need to make any operations until the converter and Spotify are completely launched and working.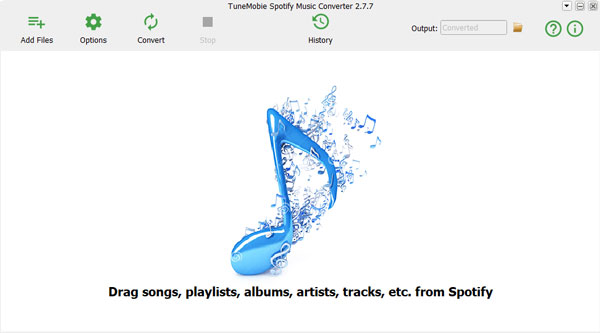 Step 2: Add Spotify music that you want to rip
After the converter is launched, you will need to add Spotify songs to continue the process. You can display both Spotify and the converter on the same screen, and then is the most convenient part in this step, just simply drag music from Spotify and drop them to the converter and the adding would be done. Still, there is another way for you to add Spotify songs. All you need to do is to copy the link of Spotify songs, playlists or albums and paste it in the link bar at the bottom of the converter, which you will find it after clicking the "Add Files" button at the top left corner.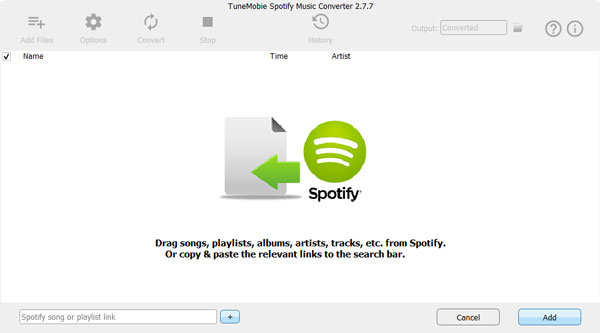 When you have added Spotify music in each way above, you can click "Add" or "+" button to open the select-songs interface. In this interface, you are free to select or un-select any songs depending on your need, just click the checkbox to make selections.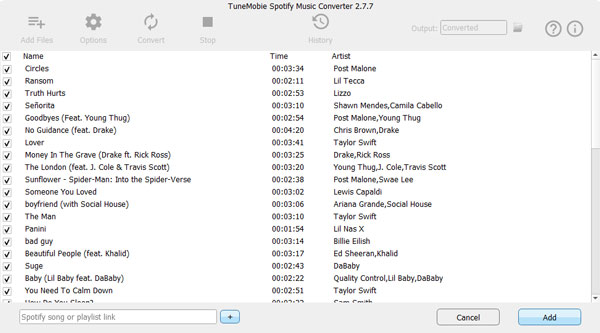 Step 3: Select output format of ripped songs
It's quite important that you should select an output format for your output ripped songs. If you like them to be 44100Hz, 320kbps MP3 format after conversion, you do not need to make any changes because this is the default output format, but if you want them to be changed into other formats like FLAC, WAV or M4A. you can still change them by clicking "Options" button.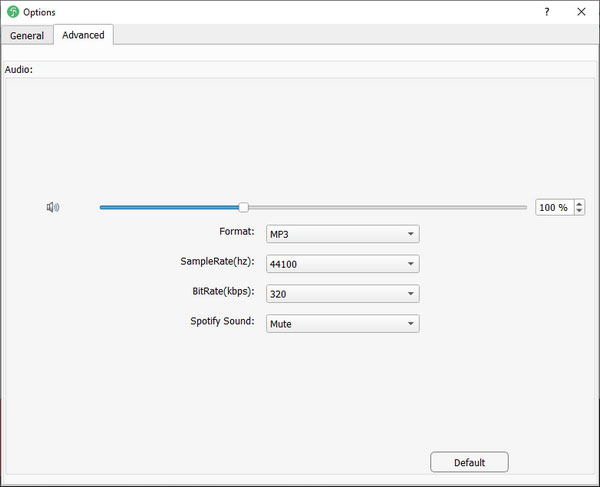 Step 4: Start ripping and downloading Spotify music
Here we are at the last step. Now everything is ready to be started, please click "Start" button to start it. Soon your favorite Spotify songs will be ripped one by one and you will be totally free to enjoy them on multiple devices for multiple purposes. We also provide a history-check feature for you to check and remove ripped Spotify music or ripped record, you will find it out by clicking the "History" button.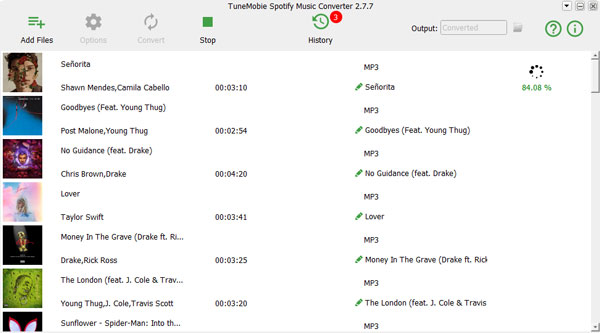 Final Words
We believe that you have known the ways to rip Spotify music to MP3 and we trust a professional Spotify Music ripper would be a good helper for you. Ripping Spotify Music has become easier than ever with TuneMobie Spotify Music Converter, it is really a must-have software program for every Spotify users. Want to rip Spotify music safely and efficiently? Want to download Spotify music for free? Or want to enjoy Spotify high-quality music without any limitations? Come and get TuneMobie Spotify Music Converter now!