Why Do People Need to Unblock Spotify?
People who are within or outside the scope of the Spotify music streaming services need to unblock Spotify because unblocking Spotify can provide them with a better enjoyment of music. The following points will make you more convinced that it is necessary to unblock Spotify.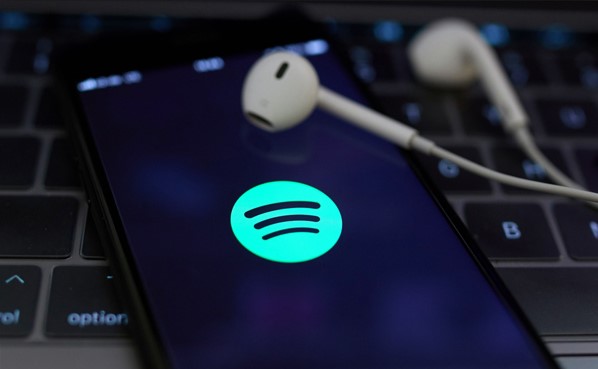 Copyright variation. According to the agreement between Spotify and the music copyright owners, some music copyright owners' music works only cover specific countries and regions. It means when you are in a country or region where is not covered by the agreement between Spotify and some of the music copyright owners, you will not be able to use Spotify to listen to the music copyright owners' music tracks.
Regional restrictions. Since Spotify is only available in less than 60 countries and regions, Spotify's music streaming service is not available to people who live or travel in other countries and regions.
No matter you are enjoying the services of Spotify or planning to use Spotify when traveling abroad, even if you are just trying to access Spotify, you will need to unblock Spotify in the end. So, are there any ways to unblock Spotify easily? The answer is yes.
Simple Ways to Unblock Spotify
In general, using VPNs is the most direct and effective way to unblock Spotify. Subscribing to a VPN, so that you can connect to servers which are placed in Spotify available areas to help you enjoy Spotify's music streaming services in anywhere at any time. If you want to unblock Spotify by this method, here are some nice professional VPNs to choose from: ExpressVPN, Surfshark and NordVPN.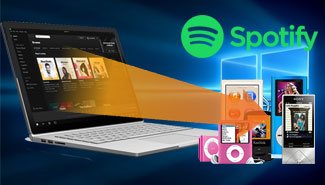 But using VPN is not a long-term solution, and it is not cost-effective. Furthermore, Spotify music can only be downloaded by Spotify Premium subscribers. If you want to choose a once-and-for-all way to unblock Spotify with ease and efficiency, I highly recommend you use TuneMobie Spotify Music Converter.
Reasons for Choosing TuneMobie Spotify Music Converter
Get Spotify music offline in plain MP3, M4A, WAV or FLAC format
Download Spotify songs, albums and playlists to PC without subscribing Spotify Premium
Freed from Ogg Vorbis format when using Spotify Premium
Retain 100% lossless audio quality of Spotify music after conversion
Add track number to output file name as you like
Preserve all the metadata tags like song title, artist, album, artwork, track number, genre, etc. after conversion
Fast conversion speed to save your precious time
Convenient drag-and-drop operation makes conversion easy
Let's see how easy and convenient it is to download unblocked Spotify music with TuneMobie Spotify Music Converter.
Step 1: Launch TuneMobie Spotify Music Converter
Launch Spotify Music Converter and Spotify program will be automatically launched as well. Please keep running Spotify and do not close it during downloading and converting. Click "Add Files" button first and you will see the interface as below.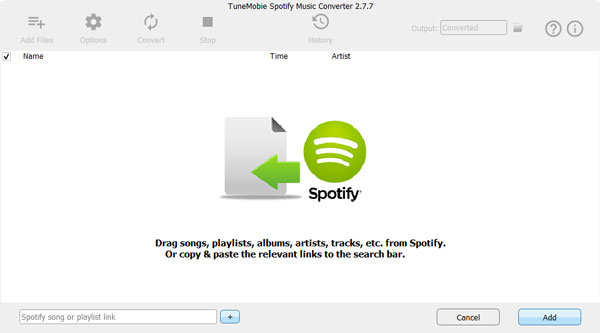 Step 2: Add Spotify Songs, Albums or Playlist to Converter
There are two ways for you to choose to add your Spotify songs, albums, playlist, etc. to the converter: simply drag and drop them from Spotify to TuneMobie Spotify Music Converter. Or you can copy links in Spotify and paste links in the program. Note that if you have more than 99 songs in a playlist, you can only add at most 99 songs to the converter in either of these ways.
However, you can open the playlist in Spotify first, drag and drop all the songs that were all selected by using shortcut "Ctrl + A" to Spotify Music Converter. This will help you to add all the songs in the playlist even if it contains more than 99 songs.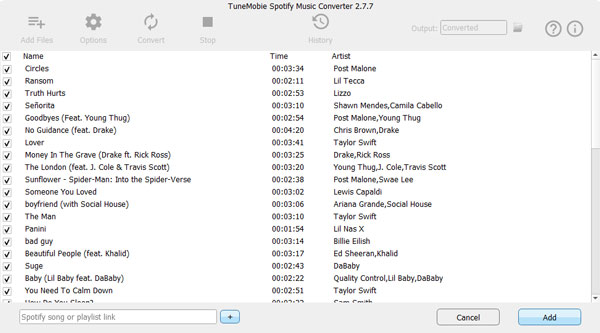 Step 3: Choose and Add Tracks
A song selection dialog will pop up after music tracks are added from Spotify. By default, all the tracks in the album or playlist will be checked. You just need to uncheck the tracks which you don't want it to be converted.
Step 4: Choose Output Folder and Output Format as You Like
Now all the songs you checked are added to conversion list. You can click Options button to select your desired output folder, you can sort output files by artist, album or artist/album as well. You are allowed to choose output formats like MP3, M4A, WAV or FLAC, set sample rate and bitrate in Advanced tab.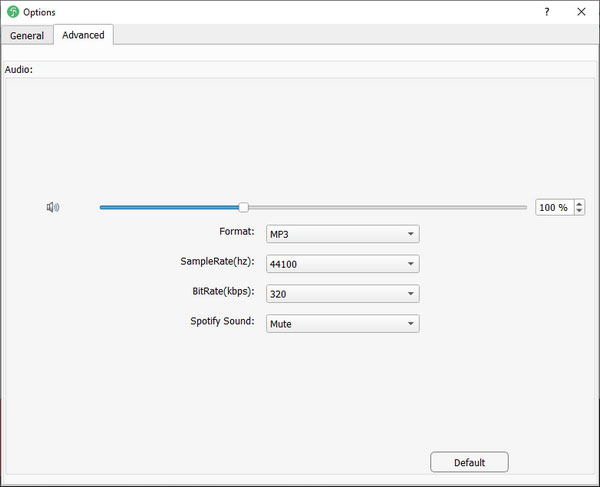 Step 5: Start downloading and converting Spotify Music
For now, all you need to do is to click on the "Convert" button and wait for the conversion to be done which will not take you too long since the tracks will be converted one by one at fast conversion speed.
Here is a hint about conversion: In order to avoid unknown errors, our recommendation is not to operate the mouse and use other software programs while the conversion is in progress.
If you want to open output folder and locate the output songs after conversion, please click "History" button.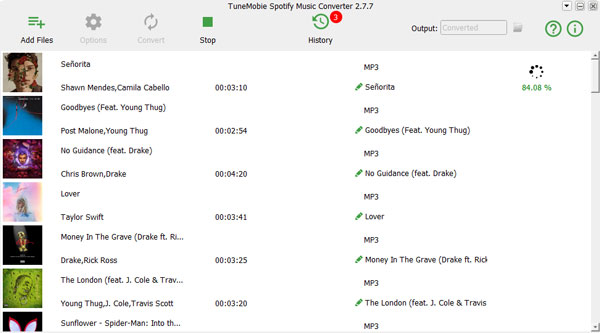 Final Words
Spotify is indeed a popular online music software program, but some of its limitations are really inconvenient. This article described two ways to unblock Spotify, and we hope to bring useful help to those who read this article. Using Spotify Music Converter to unblock Spotify can help music lovers download and listen to Spotify music offline. If you want to enjoy this convenience earlier, wait no more and download TuneMobie Spotify Music Converter now.