The Differences Between Spotify Free and Spotify Premium You Should Know
Spotify provides two tiers which are Spotify Free and Spotify Premium for individuals. With Spotify Free account, you can listen to over 40 million songs, but it also comes with various limitations to urge you to upgrade to premium subscription. Below is the main differences between Spotify Free and Spotify Premium.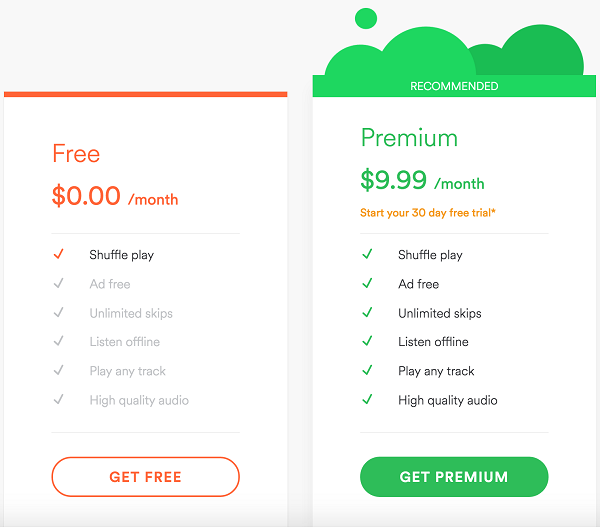 With Spotify Free, you can only enjoy songs with an internet connection and you are not entitled to download songs for offline listening. You will be forced to use shuffle play mode, ads will be inserted every 3 or 4 songs, and audio quality at 160kbps is much lower than 320kbps of premium account. Besides, part of the songs are not available for free users. And if you don't like the songs, you can only skip 6 times in an hour.
Of course you can pay for premium subscription to get rid of the limitations, but even with Spotify Premium, you can only download protected Ogg files which can't be played on iPod Nano/Shuffle, Sony Walkman and various MP3 players. Is there any way to download Spotify songs as MP3 eve using a free account?
Sure, that is what we want to introduce here. We are listing top 5 Spotify music downloaders which TuneMobie Spotify Music Converter, Leawo Music Recorder, Apowersoft Streaming Audio Recorder, Spotiload and mp3fy.com. Among the choices, there are Windows/Mac programs, Chrome browser extension and online website. So it can meet your requirements of downloading Spotify music under different circumstances.
No.1: TuneMobie Spotify Music Converter - Download Spotify Songs, Albums and Playlists as MP3
TuneMobie Spotify Music Converter is a dedicated Spotify Music downloader which you can use to download Spotify songs, albums and playlists as MP3, M4A, WAV and FLAC. All downloaded songs will preserve ID3 tags and metadata information. You can either drag songs, albums or playlists from Spotify to Spotify Music Converter, or copy link in Spotify and paste in Spotify Music Converter.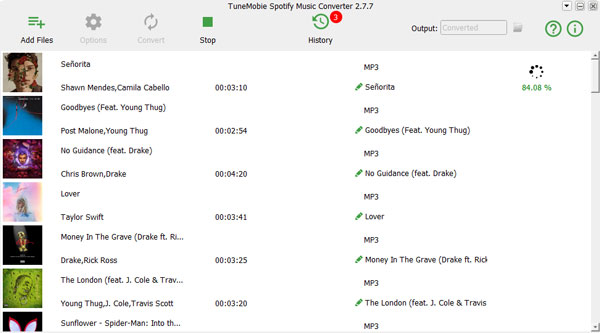 Pros
Extremely easy-to-use and download Spotify songs, albums or playlists in a few clicks
Easily add Spotify songs by drag-and-drop or link copy & paste
Keep same audio quality as your Spotify plan and no more boring ads
Get all the jobs done in the program without installing extra hardware, virtual sound card or plugin
Automatically download a bunch of songs from Spotify once downloading starts, no extra manual operation is needed
ID3 tags like song title, album, artist, genre, artwork, etc. will be preserved and you can rename songs before conversion
Support both standalone Spotify and Microsoft Store version of Spotify
Provide flexible pricing options at $24.95 for 1-year license, $49.95 for lifetime license and $89.95 for 5 computers.
Cons
Sometimes, it may not support latest version of Spotify and you need to wait 1 - 3 days for the developers to fix
No.2: Leawo Music Recorder - An Easy-to-use Music Recorder
Leawo Music Recorder is a lightweight and easy-to-use music recorder for local songs and online streaming audio. It can record songs from Apple Music, Spotify, YouTube and many websites and streaming music services, save songs as MP3 or WAV. Leawo Music Recorder can get ID3 tags from internet, add them to recorded songs and allows you edit ID3 tags manually. Leawo Music Recorder can automatically split songs by specifying a silence duration.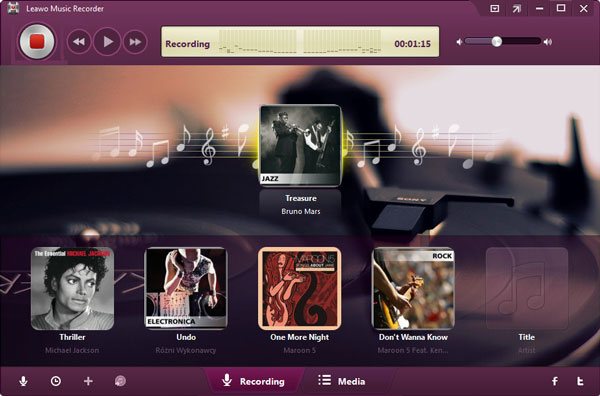 Pros
Manage all audio recordings with a built-in media library
Provide a built-in task scheduler to specify start time and recording duration
Easy-to-use interface and built-in audio player for audio recordings
Cons
Install a virtual sound card for audio recording
Only a small part of English songs' ID3 tags can be correctly added. You may need spend extra time to edit the ID3 tags
Output audio quality is not lossless and sometimes it could be unacceptable with noise
Sometimes multiple songs are recorded as one song as it can't correctly split songs
It cannot recognize Spotify Free plan's ads and record ad as a part of a song
No.3: Apowersoft Streaming Audio Recorder - A Feature-rich Music Recorder and Music Converter
Apowersoft Streaming Audio Recorder is also an audio recorder for recording audio and music from local computer, Apple Music, Spotify and other music services. It also integrates with audio converter, audio editor, video to MP3 converter, ID3 tag editor, CD burner and CD ripper. For recording audio like Spotify, it provides MP3, WAV, AAC, OGG, WMA and FLAC as output formats. Besides, it provides many radio stations from different countries.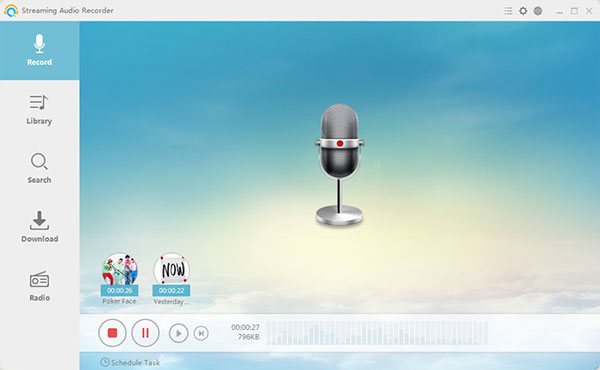 Pros
It's an all-in-one audio recorder and converter that covers different needs of audio tools
Flexible and useful options for audio recording like automatic split, task scheduler and keyboard shortcuts
Built-in online video to MP3 converter to extract audio from online videos like YouTube, Dailymotion and Facebook
Available in many languages
Cons
It also install a virtual sound card for audio recording
ID3 tags identification function is quite limited and it couldn't provide accurate ID3 tags for many songs
Similar to Leawo Music Recorder, automatic song split is not working
Sometimes, it will record song and ad as together in Spotify Free
No.4: Spotiload (former Spotify Vk Downloader) - A Google Chrome Extension for VK.com Users
Spotiload (former Spotify VK Downloader) is an extension of Google Chrome browser and a search popup for free music. It uses vk.com social network to find and download tracks with matching name from any Spotify playlist. VK users can upload own mp3 files to website and name them as they like. This extension can find files on vk.com with the same name as tracks in Spotify web player. Responsibility of vk.com is to keep only legal mp3 files on their website, so this extension does only name matched search, not content based. Works on https://play.spotify.com/ and https://open.spotify.com/ pages.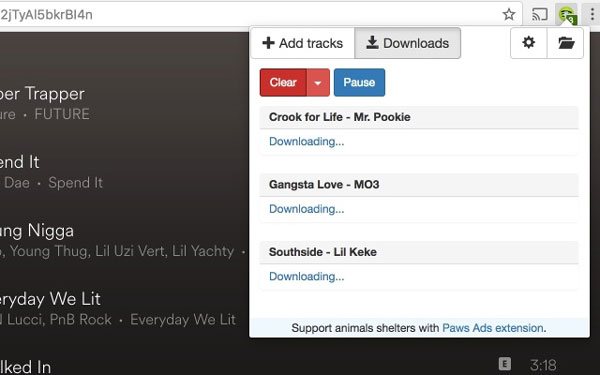 Pros
Lightweight and easy-to-use, no need to install software
Support Chrome supported OS including Windows, Mac and Chrome OS.
Cons
Only Spotify songs on VK.com can be downloaded
VK.com account is required
Using vk.com is illegal and not allowed in some countries
Output audio quality is lossy
Limited options and features
NO.5: mp3fy.com - An Online Website to Download and Convert Songs
mp3fy.com is a website which allows you to download or extract songs from YouTube, Facebook, Vimeo, SoundCloud, Instagram, Vine, Dailymotion, Spotify and many more websites. Semi-Auto metadata tagging technology is used to find preferred Metadata which are then automatically tagged to the Music.

Pros
Support 1000+ websites
Easy-to-use, clean and no need to install software or plugin
Cons
Support 1000+ websites
Sometimes, it is unstable and couldn't analyze the link you entered
Audio quality is lossy
Sometimes, it may download wrong tracks randomly
Sometimes, it takes too long time to response when clicking download
Conclusion
Now you have a clear understanding of the Spotify music downloaders we introduce above. If you don't want to install anything or want a free solution to download Spotify songs, you are suggested to use mp3fy.com as it fits for you best. But remember that we also provide several channels for you to get a free license of all our products including TuneMobie Spotify Music Converter, you can check Get Free License page to learn the details.
If you want to record songs from both Spotify and other websites, can stand with manual operation and ID3 tag editing, then both Leawo Music Recorder and Apowersoft Streaming Music Recorder could be a good choice for you. If you focus on Spotify and don't need other streaming music services, then Spotify Music Converter is definitely the best choice because it can download a bunch of Spotify songs, albums and playlists with only a few clicks, and you don't need to manually click and click again as well as edit ID3 tags one by one.