A Common Question for Spotify Free & Premium Users: How to Download Spotify as MP3
Streaming music services are now in the dominant position of digital music and Spotify is the top streaming music service in the world. However, audio CD is still widely used, especially in various cars. Many Spotify users had asked a same question, which is "how to burn Spotify songs to CD".
Spotify Free users are not allowed to download Spotify songs for offline listening, so they are not able to burn because there is no offline songs which can be used as source. Spotify Premium users can download Spotify songs as 320kbps Ogg Vorbis files to PC, However, all Spotify Ogg songs comes with multimedia encryption and can't be burn to CD disc directly.
A Spotify premium user "rayraysayshi" asked how to extract mp3 files from Spotify board on Reddit:"I pay for Spotify premium and can download all my tracks for offline use. I know the files are located on my HD so I click 'show package contents' on the Spotify app and navigate to the contents but I can't find the encoded files containing the audio files. I am reading about how Spotify encodes and protects the music preventing users from downloading the audio files. Has anyone tried to download their Spotify playlist to obtain the mp3's? I am trying to make an audio CD to play music in my car."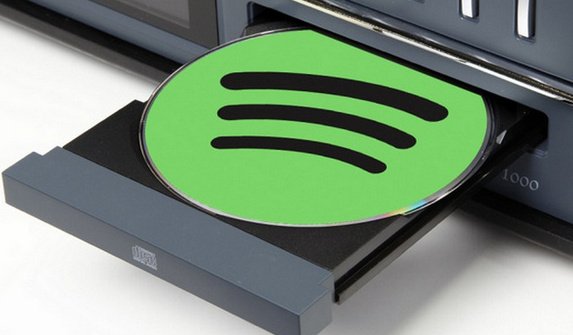 Don't be frustrated. Burning Spotify songs, albums or playlists to audio CD is not that difficult. In fact, it's quite easy. You can easily download and convert Spotify music as MP3, M4A, WAV or FLAC files, no matter you are using Spotify Free or Spotify Premium. Then you can burn the output songs to CD with a free CD burner, there are many free audio CD burners you can use without any limitation.
Download and Convert Spotify Music as MP3/M4A/WAV/FLAC with Free or Premium Account
To burn Spotify music to CD, you need to download Spotify as normal audio formats like MP3, M4A, WAV or FLAC first. Luckily, we have TuneMobie Spotify Music Converter. It can easily download songs, albums and playlists from Spotify to your computer, convert to MP3, W4A, WAV or FLAC with ID3 tags and 100% original streaming audio quality kept.
The Spotify music downloader is very easy-to-use, and you can download as many tracks as you want from Spotify with either free account or premium subscription. Spotify Music Converter is available for both Windows and Mac, and supports latest Windows 10 and macOS Catalina. Get the free trial version to have a try now!
Downloading Spotify songs, albums or playlists as MP3, M4A, WAV or FLAC is an easy process. Just follow the steps below.
Step 1: Launch TuneMobie Spotify Music Converter
Launch Spotify Music Converter and Spotify will be automatically launched as well. Please do not exit Spotify during the downloading and conversion.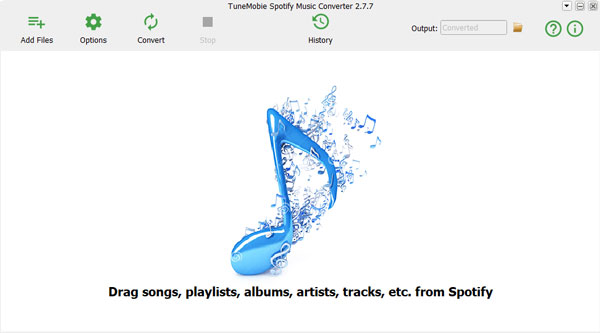 Step 2: Add Your Favorite Spotify Songs, Albums or Playlists
Now click "Add Files" button and then you can use are two ways to add your favorite Spotify songs, albums and playlists to this Spotify music downloader. You can directly drag Spotify songs, albums or playlist from Spotify to Spotify Music Converter, as long as you display both programs in the screen. Or you can right-click on a song, an album or a playlist, move to "Share" and click "Copy Song Link", "Copy Album Link" or "Copy Playlist Link" depending on what you have selected, then paste the link in the search bar at the bottom of the program and click + or Add button.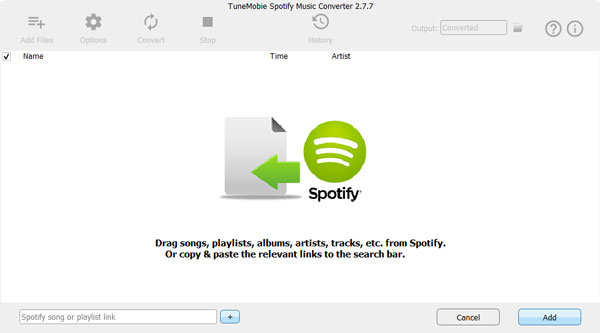 Spotify Music Converter will immediately detect the songs and pop up a dialog to ask you to choose what songs to download. By default, all the songs in the album or playlist will be checked.
Step 3: Choose Offline Output Music Format
By default, Spotify Music Converter will use 320kbps and 44100hz MP3 as output format. Other audio formats like M4A, WAV and FLAC are also available. Click "Options" button to set output destination in General tab, select output format and adjust output parameters in Advanced tab. All available output formats can be burned to CD, so just choose the one you prefer.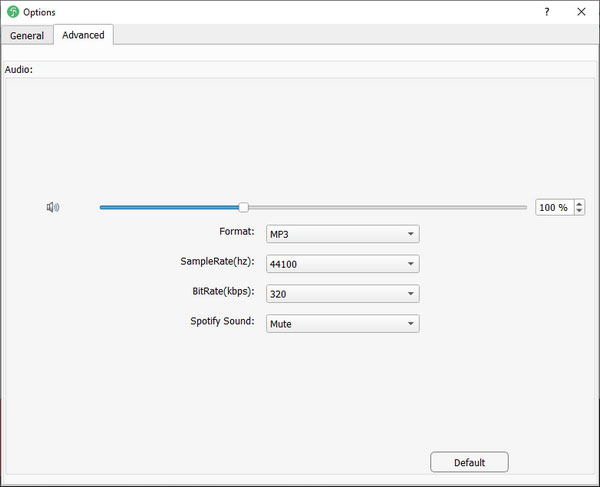 Step 4: Start Downloading Spotify to PC
Now, simply click Convert button to start downloading Spotify music to computer as your specific format. Spotify Music Converter will preserve all ID3 tags like song title, album, artist, artwork, etc. and keep original streaming audio quality.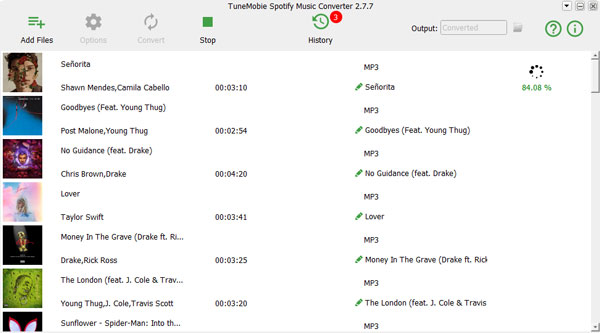 After conversion, you can click History button and open the output folder to locate the output songs.
Burn Downloaded Spotify Songs to Audio CD with Free CD Burner
There are many free and powerful CD burners you don't need to pay for a penny. Here we list some free CD burners: CDBurnerXP, Ashampoo Burning Studio Free, BurnAware Free, Free Audio CD Burner, Deep Burner Free, etc. Here we use CDBurnerXP as example to show you how to burn downloaded Spotify songs to Audio CD. You can get this freeware on CDBurnerXP's official website.
Launch CDBurnerXP, in the startup dialog, there are several modes, and we choose "Audio disc". The description shows that "Allows you to create usual audio discs, with or without gaps between tracks."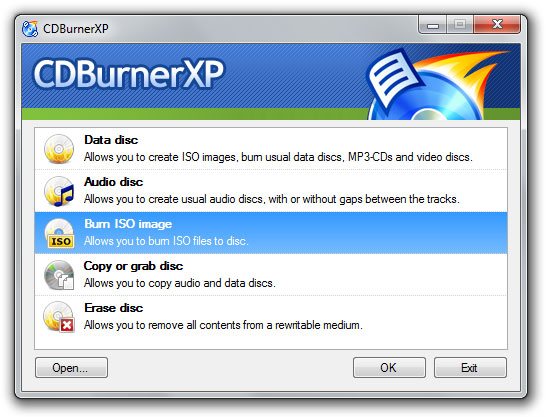 In the built-in file browser on upper left, browse to output folder of downloaded Spotify songs, choose the songs and click "Add" button to burning list. Insert a blank CD-R or a rewritable CD-RW disc. When the settings are ready, click Burn button to start burning Spotify songs to audio CD.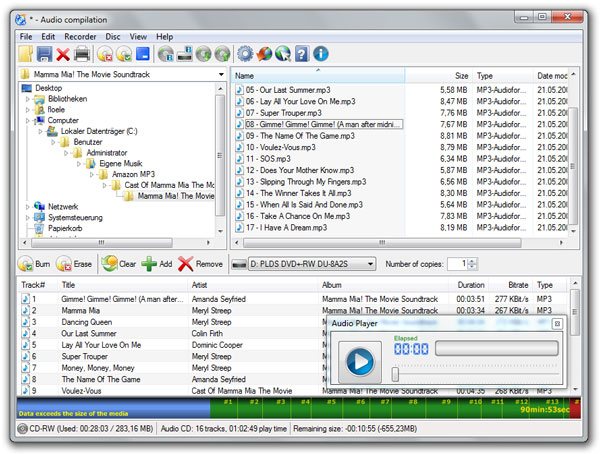 Now, your favorite Spotify songs have been burned to Audio CD successfully and you can enjoy the CD in your car freely.
Final Words
With Spotify Music Converter, you can download Spotify songs, albums and playlists as MP3, M4A, WAV or FLAC with either free or premium account. And you can enjoy Spotify songs on iPod Nano, iPod Shuffle, PSP, Sony Walkman and MP3 players which are not supported by Spotify. And you can also burn Spotify songs to CD, copy to SD card or USB flash drive, upload to cloud storage like Dropbox, Google Drive, One Drive, etc. Spotify Music Converter is definitely a must-have program for any Spotify users.