Part 1: Many Users Want to Convert Spotify Music to WAV Format
WAV format is developed by Microsoft and it's the most popular lossless audio format. WAV format is widely used and there are some advantages compared with lossy audio formats like MP3 or M4A. In Windows, most system sound files are in WAV format. Besides, WAV is a recommended format for creating Audio CD and using as background music in video editing software like iMovie, Adobe Premiere Pro, etc. The only drawback is that WAV comes with relatively large filesize, this makes it not a good choice for streaming online and listening in MP3 players and portable media players.
As to Spotify, many free and premium users want to convert their favorite Spotify songs, albums and playlists as MP3 or M4A, but also some users like WAV format better because MP3 and M4A are lossy format. When hard drive price is getting cheaper and cheaper, 1TB hard drive can save as many WAV files as you want. If you want to convert Spotify music to WAV format, TuneMobie Spotify Music Converter will be your best helper.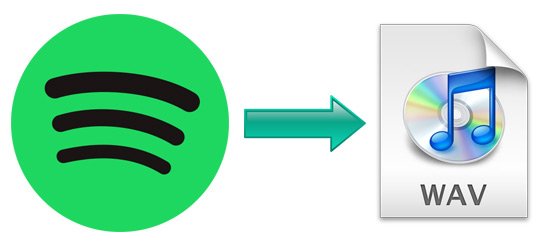 TuneMobie Spotify Music Converter can easily and losslessly convert Spotify songs, albums and playlists to WAV files in only a few clicks. The output WAV files will keep original ID3 tags and metadata. Besides, this Spotify to WAV converter can work with both Spotify Free and Spotify Premium. You don't have to subscribe the premium plan in order to convert Spotify to WAV.
Converting Spotify music to WAV is nothing complicated as the program comes with very easy-to-use interface, allows you to convert a bunch of Spotify songs by drag-and-drop operation and link copy. Once you start converting Spotify to WAV, there is no extra action or operation needed. It's much more efficient and time-saving than audio recording software which needs repeated click and operation.
Easy Guide to Convert Spotify Songs, Albums & Playlists to WAV Files
Step 1: Launch TuneMobie Spotify Music Converter
Download and install this Spotify to WAV Converter first, then launch it. Spotify will be launched automatically once Spotify Music Converter is launched. Don't close Spotify when downloading songs from Spotify.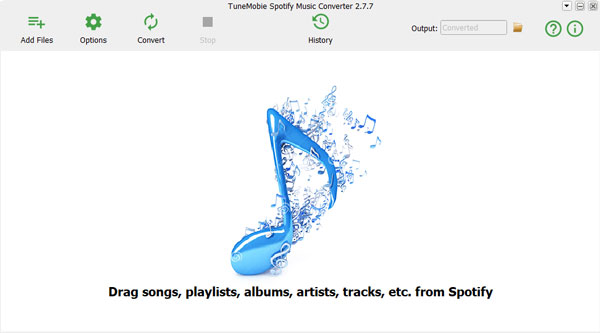 Step 2: Add Spotify Music to Conversion List
There are two ways for you to add Spotify music to conversion list. You can drag songs, albums or playlists directly from Spotify to Spotify Music Converter as long as both programs are displayed in the screen, or right-click on a song, an album or a playlist to copy the link of the song, album or playlist, then paste the link in the blank area at the bottom of the program and click + or Add button.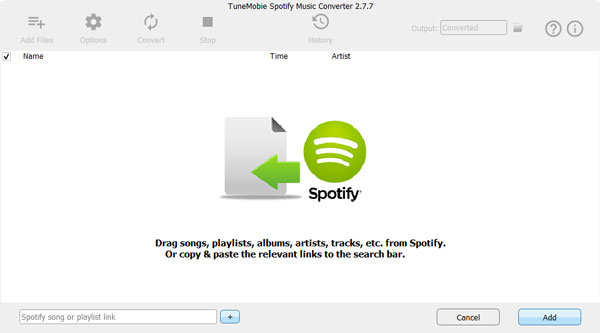 Spotify Music Converter will immediately analyze the URL and list all the songs of the album or playlist. By default, all the songs in the album or playlist will be checked but you can uncheck the ones you don't want if necessary.
Step 3: Choose WAV Output Format
By default, Spotify Music Converter uses MP3 as output format. As the desired output format is WAV, so you can click Options button, click Advanced tab and choose WAV in the format list.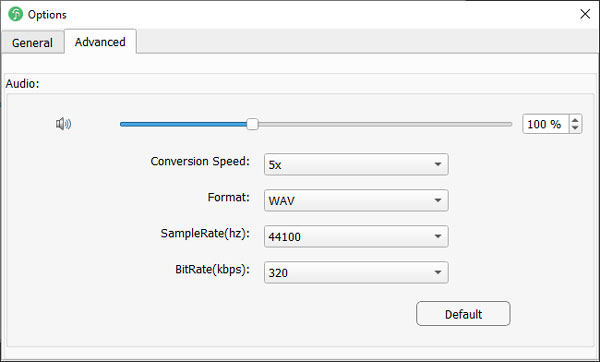 Step 4: Start Converting Spotify to WAV
Now, simply click Convert button to start converting Spotify music to WAV format. You can click History button to check the output WAV files and open output folder. Now you can use the WAV files without any limitation.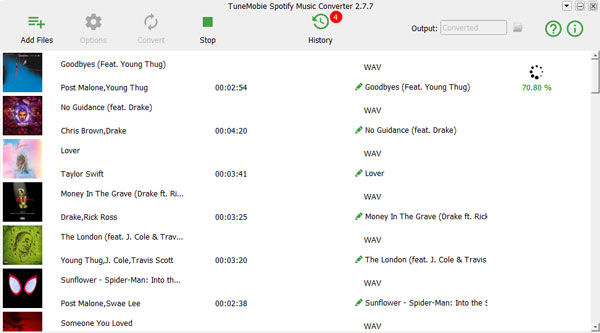 Final Words
With either Spotify Free or Spotify Premium, converting Spotify songs, albums and playlists to WAV, MP3, M4A or FLAC can be easily done within a few clicks as we demonstrated above. The Spotify to WAV Music Converter is available for both Windows and Mac, and fully compatible with latest Windows 10 and macOS Catalina. If you need to convert Spotify to WAV or other formats, do not hesitate to get the free trial version to have a try now.