No.1: TuneMobie Spotify Music Converter - Dedicated Spotify Recorder to Get Spotify Songs as MP3
TuneMobie Spotify Music Converter is a dedicated Spotify recorder which can easily get your favorite Spotify songs, albums and playlists as MP3. When Spotify Music Converter is launched, Spotify application will be automatically launched as well. You can directly drag songs, albums or playlists from Spotify to this Spotify recording software, or copy link in Spotify and paste in the program. Then the program will record the songs played in Spotify in background and save as MP3, M4A, WAV or FLAC depending on your need.
Once recording is started, it's an automatical process and songs will be automatically split by tracks. General speaking you don't have to click and click again to start and stop recording like other streaming music recorders. It's very convenient.
Spotify Music Converter is available for Windows and Mac OS X, fully compatible with latest Windows and macOS Catalina. And you can enjoy 5X recording speed on Windows.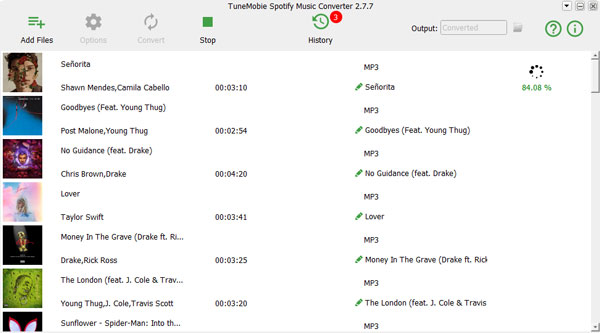 Working as a dedicated Spotify Music recorder, TuneMobie Spotify Music Recorder is much more convenient than other spotify recording software if you use Spotify frequently. Check the Pros & Cons below.
Pros
Extremely easy-to-use interface and no complicated settings
No repeated operations are needed, download Spotify songs, albums or playlists in bulk in a few clicks
Support both drag-and-drop and link copy & paste to add music source easily
Get best audio quality and avoid any boring ads
Work with Spotify directly, no need to install extra hardware, virtual sound card or plugin
Once downloading starts, all the process is automatic and basically there is no manual operations needed
ID3 tags like song title, album, artist, genre, artwork, etc. will be preserved and you don't have to edit ID3 tags manually
Up to 5X downloading speed on Windows, support both standalone Spotify and Microsoft Store version of Spotify
Provide flexible pricing options at $19.95 for 1-year license, $39.95 for lifetime license and $79.95 for 5 computers.
Cons
Occasionally, this Spotify recording software may not work with latest version of Spotify and you may need to wait 1 - 3 days for TuneMobie developers to fix the problem
No.2: Leawo Music Recorder - Lightweight & Easy-to-use Music Recorder
Leawo Music Recorder is a lightweight and easy-to-use music recorder developed by Leawo Software. It's used to record any local and online audio from system sound card and microphone. Streaming music services like Spotify can be also recorded as long as you are playing Spotify songs with application or web player.
Leawo Music Recorder can save playing Spotify songs as MP3 or WAV, automatically split the tracks by setting a silence duration and automatically add ID3 tags to some songs.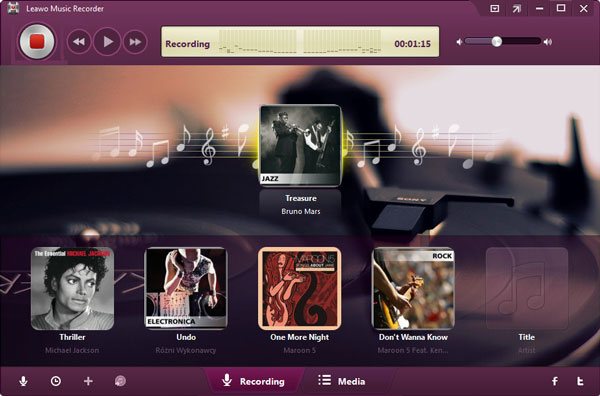 Pros
Come with a built-in media library to let you manage all recordings easily
Task scheduler allows you to record by setting start time and recording duration
The audio recording software can be minimized as a small music player
Cons
A virtual sound card needs to be installed for audio recording
Only a small part of English songs' ID3 tags can be correctly added. Many songs needs to be edited manually
Sometimes output audio quality is a little poor
When silence duration between two songs are shorter than the value set in the program, two songs may be recorded as one
It cannot recognize Spotify Free plan's ads and record ad as a part of a song
No.3: Apowersoft Streaming Audio Recorder - Powerful Music Recorder with Rich Features
Apowersoft Streaming Audio Recorder, as its name suggests, it's mainly used to record streaming music from online websites like YouTube, last.fm and streaming music services like Spotify, Pandora and Apple Music, it can also record local songs from system sound card and microphone. Besides, Apowersoft Streaming Audio Recorder provides plenty of built-in radio stations from worldwide. MP3, WAV, AAC, OGG, WMA and FLAC are supported as output formats.
Apowersoft Streaming Audio Recorder is a feature-rich audio program as it can also download online videos from YouTube and many websites and extract the audio, convert different video and audio formats to MP3, WAV, AAC, etc., edit ID3 tags with built-in tag editor, burn audio files to CD disc and rip tracks from Audio CD.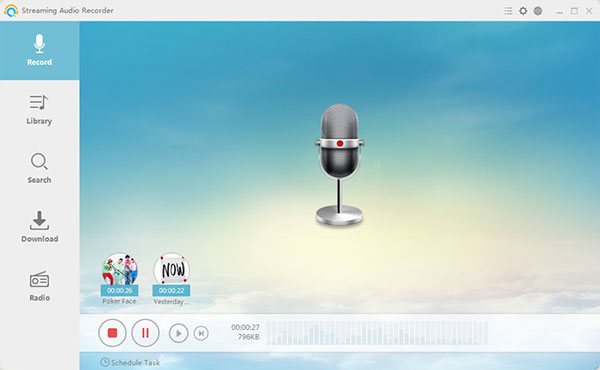 Pros
It's an all-in-one audio recorder and converter that covers different needs of audio tools
Automatic split and task scheduler and keyboard shortcuts for recording Spotify songs more conveniently
Available in many languages
The Cons are similar to Leawo Music Recorder which may make a user frustrated.
Virtual sound card must be installed for audio recording as well
The function of automatic ID3 tagging is quite limited and often requires manual tag editing
Depending on your settings, automatic split may not be working sometimes
When using Spotify Free, ads may be recorded after a song
No.4: WonderShare Streaming Audio Recorder - Music Recorder with CD Burner & Ringtone Maker
Wondershare Streaming Audio Recorder is another Spotify music recorder similar to Leawo Music Recorder and Apowersoft Streaming Audio Recorder introduced above. Wondershare Streaming Audio Recorder is not so powerful as Apowersoft Streaming Audio Recorder, but does better than Leawo Music Recorder.
Wondershare Streaming Music Recorder can record Spotify songs as MP3 or M4A, allows you to manage the audio recordings easily, burn the audio recordings to CD as well as create iPhone ringtone from audio recordings.
Wondershare Streaming Music Recorder also comes with automatic ID3 tagging, audio recording split and task schedule.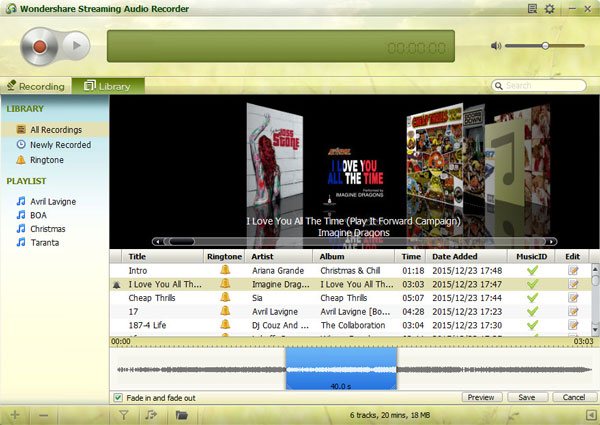 Pros
Easy-to-use interface, built-in media library and task scheduler
Create customized iPhone ringtone from your recordings
As to the Cons, there is no difference. You need to install virtual sound card, edit ID3 tags when automatic tagging is not correct, manually record again when ads or two songs are recorded as one.
No.5: Audacity - Free, Open source & Cross-platform Audio Recorder & Editor
Audacity is a combination of audio recorder and audio editor. It's totally free and developed by open source. Apart from Windows and Mac OS X, Audacity is also available on Linux.
Audacity can record live audio through a microphone or mixer, or digitize recordings from other media. With some sound cards, and on any recent version of Windows, Audacity can also capture streaming audio. Audaticy can import and export WAV, AIFF, AU, FLAC and Ogg Vorbis files, with the optional FFmpeg library, you can also use Audaticy to import and export AC3, M4A/M4R (AAC) and WMA. With libmad, you can import MP2 and MP3 audio. With the optional LAME encoder library, exporting MP3 is also supported.
Audaticy supports LADSPA, LV2, Nyquist, VST and Audio Unit effect plug-ins and allows you to preview LADSPA, LV2, VST and Audio Unit (macOS) effects in real time. Audio cutting is supported as well.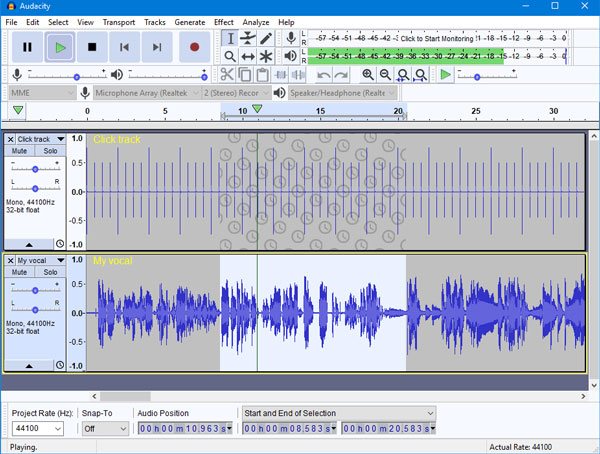 Pros
Totally free and available for Linux as well
Edit audio easily when audio recording is displayed as waveform
No need to install virtual sound card
Plug-ins can be installed to enhance the features
Cons
Spotify recording may not be supported when the sound card is not supported by Audacity
ID3 tagging feature is quite limited and it's not designed to record streaming music
Conclusion
TuneMobie Spotify Music Converter is the only Spotify music recording software you can use to record Spotify songs, albums or playlists in bulk without repeated operations, and it's also the only one which can help you preserve music information without manual editing. It's much more convenience and efficient than using other Spotify music recorder. The only disadvantage of TuneMobie Spotify Music Converter is that you need to use other audio recording software if you need to record Non-Spotify music.
Want to record Spotify songs easily with high quality, automatic process, best efficiency and complete music information retained? Then do not hesitate to try TuneMobie Spotify Music Converter.