Does Spotify Support iTunes Music Formats?
Many people think that iTunes is overstaffed as iTunes works as a media player, a online media store and a management tool for iOS devices. Many people don't like the way iTunes works and want to find an alternative player for their music library. Spotify is definitely the best choice if you want to move your entire iTunes library because Spotify only focuses on music listening. Besides, Spotify has 70 million paid subscribers as of January 2018 and a total of 140 million active users as of June 2017, which is two times more than 30 million paid subscribers of Apple Music as of September 2017.
Music fan "lukeq02" asked the question as below: "I have been using Apple Music for a while but my friends recommended Spotify to me and I am liking it way more than Apple Music, the only issue is that I can't find where to import my music into Spotify because whenever I press "Local Files" it just comes up with a couple random songs. Any help would be greatly appreciated. "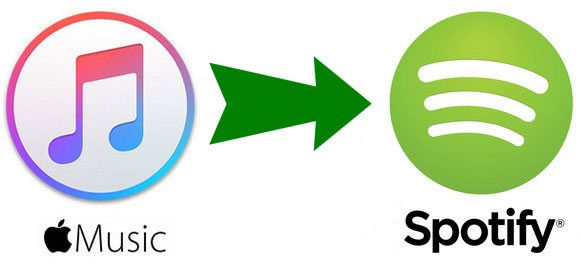 Actually, you can find more user questions regarding how to return to Spotify from Apple Music.
"Gave Apple Music a try. Made a few nice playlists. But the interface was driving me mad, so I'm back to Spotify. Is there an easy way to import my recent Apple Music playlists into Spotify playlists?"
"I cancelled my paid Spotify subscription to try Apple Music out. I think I like Spotify better after all, and am probably gonna pay for it again. I've saved a bunch of albums for offline listening on Apple Music, though, and I'd like to roll this Apple Music library back over to Spotify. Does anyone know a way to do this?"
As we know, you can add MP3, M4A, WAV, AIFF, etc. to your iTunes library. If you purchase songs on iTunes store, you will get plain M4A files. If you have a valid Apple Music subscription and download Apple Music songs, you will get M4P files. All of the songs will be displayed in your iTunes library.
"Spotify supports .mp3, .mp4, and .m4p files. It doesn't support .mp4 files that contain video, or the iTunes lossless format (M4A), but we'll do our best to match any unsupported local files with songs from the Spotify catalog." -- From Spotify support page.
Though Apple Music songs are M4P format, .m4p format mentioned by Spotify refers to M4P songs Apple sold before 2009 March. That is to say, only MP3 songs in your iTunes library can be moved to Spotify directly.
Add Local MP3 Files to Spotify
If you have added local MP3 files to iTunes library, you can directly use Spotify to load them from iTunes library. Log in to your Spotify account via the desktop application and follow these steps:
Step 1: For Windows computers, click on the Edit menu tab and choose Preferences. (For Macs, open iTunes > Preferences > Advanced. Select Spotify and then select Share iTunes Library XML with other applications.)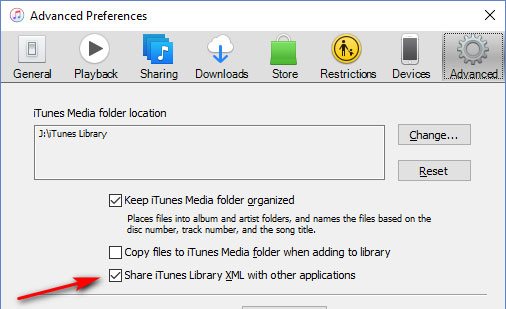 Step 2: Locate the section called Local Files. Scroll down if you can't see it.
Step 3: Click on the Add A Source button.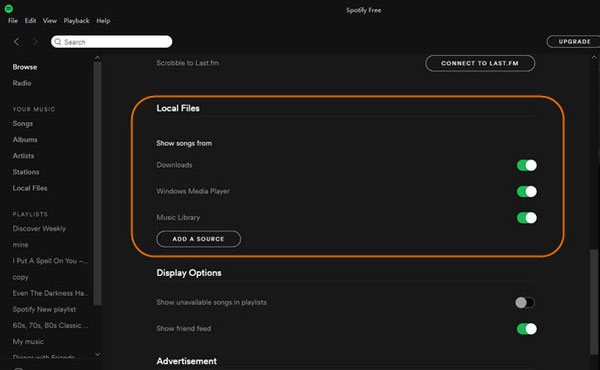 Step 4: Navigate to the folder containing your music files. To add the folder to Spotify's local folders list, highlight it using the mouse button and then click on OK.
If your MP3 songs haven't been added to iTunes library nor in the default folders Spotify will scan, you can click Add A Source button. But how can we add M4A songs or Apple Music M4P songs or other iTunes music files to Spotify? Don't worry, TuneMobie Apple Music Converter is the ideal solution here to help you solve such a problem perfectly.
Easy Guide to Add iTunes M4A Songs, Apple Music Tracks & Other iTunes Music Files to Spotify
TuneMobie Apple Music Converter can easily convert purchased iTunes songs, Apple Music M4P tracks, M4B/AA/AAX audiobooks and other iTunes supported music files to MP3 with ID3 tags and metadata retained. Apple Music Converter performs at 16X faster conversion speed and is fully compatible with latest Windows 10, Catalina and iTunes. Besides, you can Rename and organize output MP3 files by ID tags and characters. With the help of this program, moving iTunes library to Spotify is just a piece of cake. Simply follow the steps below.
Step 1: Launch TuneMobie Apple Music Converter
Launch Apple Music Converter and iTunes will be also launched automatically. All your iTunes library, including purchased M4A songs, Apple Music tracks and independent Apple Music Playlists will be listed in the left panel.
Step 2: Select Apple Music tracks
Select any songs in the playlist or check the entire playlists by ticking the top checkbox. Built-in search box will be a good assistant when you have downloaded lots of Apple Music songs or added lots of local songs to iTunes library.
Step 3: Specify MP3 as output format
In the bottom panel, you can find output format list and specify "MP3 - MPEG-1 Audio Layer 3" as output format. Actually, MP3 is also the default output format in first run. Depending on your need, you can select output MP3 audio quality in profile list. If you choose 320kbps MP3, it will be lossless conversion as either purchased iTunes M4A songs or downloaded Apple Music M4P songs are 256kbps AAC files, which equals to 320kbps MP3.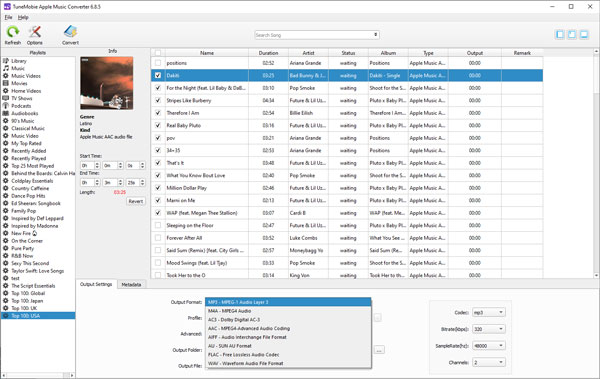 If necessary, click Options to adjust conversion speed and set filename rule for output MP3 files.
Step 4: Start converting iTunes library to MP3
Now, simply click "Convert" button to start conversion. All selected songs in your iTunes library including Apple Music tracks will be converted to Spotify supported MP3 files.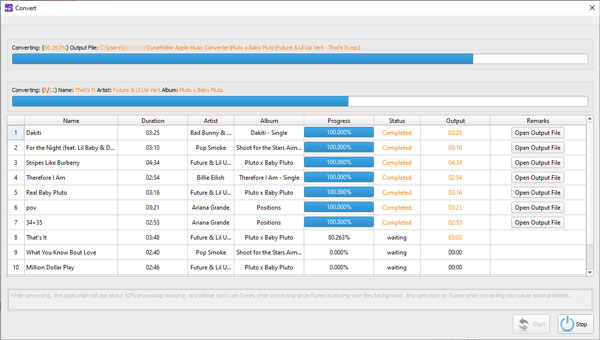 After conversion, open Spotify and click Add A Source button to locate the output folder. All the sub-folders in output folder will be scanned as well and added to Spotify. Now create your favorite playlists by albums, artists or genres with Spotify as you like.
In this way, you can move all your downloaded Apple Music tracks in your iTunes library to Spotify as local files even if you decide to cancel your Apple Music subscription. Just convert them to MP3 before your valid subscription ends.
Though many users like Spotify better than Apple Music, still there are some similar limitations in Spotify like Apple Music, that is multimedia encryption. The good news is that all your songs, albums or playlists in Spotify, no matter you are using free account or premium subscription, can be easily converted to MP3 using Spotify Music Converter.
Wanna move iTunes library or Apple Music to Spotify? Download Apple Music Converter now!