What! Apple Music Songs Cannot Be Copied to an iPod
It's known to all that there are 4 types of iPod models, which are iPod Nano, iPod Shuffle, iPod Classic and iPod Touch. When Apple announced Apple Music service on June 8, 2015, many iPod users were excited and expected that they could enjoy thousands of Apple Music songs on the lightweight iPod. Enjoying Apple Music on iPod was also the main reason many iPod users decided to join in Apple Music 3-month free trial after Apple Music was launched on June 30.
However, soon many iPod users encountered the same serious problem that they couldn't copy Apple Music songs to their iPods. When using iTunes to sync cached Apple Music songs to iPod, iTunes pop up the error message that "Apple Music Songs Cannot Be Copied to an iPod". 9to5Mac, iMore and some other famous websites focusing on Apple soon confirmed that iPod Nano, iPod Shuffle and iPod Classic couldn't be used to enjoy Apple Music songs. The only iPod model you could use to enjoy Apple Music at that time was only iPod Touch 5th generation. As of January 2018, iPod Touch 5th generation and iPod Touch 6th generation are the only two iPod models which support Apple Music because Apple Music requires iOS 8.4 or later.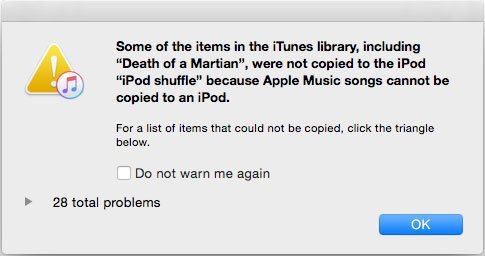 iPod Nano, iPod Shuffle and iPod Classic are not iOS devices and latest iOS version for iPod Touch 4 is iOS 6.1.6. These iPod models can't the system requirement. Many iPod users' hopes were dashed to the ground and they rushed into Apple community to ask for help or complaint.
Kara1234: Apple Music songs cannot be copied to an iPod
What exactly does that mean? I buy all my songs from the iTunes store and then transfer them to my small iPod Nano 6th generation. I also cannot drag and drop my play lists like I used to after this last iTunes update. Why do they make things so difficult. I am manually managing the music. At first it said I could not move the song without first downloaded it to my computer. (that would be a joke if I had to download 1000's of songs to transfer them to another device!!). Then once I did that I got the "Apple music songs cannot be copied to an iPod". Song is LoveStuff by Elle King.
vlsincl: Error: Apple Music songs cannot be copied to an iPod.
I have an iPod shuffle 4th generation. When I try to add music and get the error apple music songs cannot be copied to an iPod. I just purchased an album and I'm not able to add any of those songs to my iPod. I am able to add some old music in my library without issue. Any ideas on what I can do to resolve this issue?
fcruffies: "Apple Music songs cannot be copied to an iPod" ?
I am running iTunes (12.3) on Win7 machine and bought a Nano about 10 months ago so it's pretty current. Tried Apple Music but got the above message when trying to sync with my Nano.
Apple Music support does specifically name the iPod "Touch", so it would seem the Nano and Shuffle are not supported.
Disappointing.
Any indication from Apple that a coming release might add Nano support?
It's a little ridiculous that you can't enjoy a music service on a device focused on music playback. Now we all know that Apple will never provide a solution to such a problem. What is worse, Apple discontinued the iPod Nano and iPod shuffle On July 27, 2017 and removed them from its website and online store around the world.
Don't be frustrated. When there is a problem there is a solution. And TuneMobie Apple Music Converter is the perfect solution to solve the problem.
Perfect Software Solution to Fix the Problem "Apple Music Songs Cannot Be Copied to an iPod"
As any iPod supports MP3 or M4A audio format, the workaround is to convert Apple Music songs to MP3 or M4A. Many audio converters claim that they can convert any audio formats, however, when it comes to Apple Music M4P format with multimedia encryption, they can do nothing. Luckily, we have TuneMobie Apple Music Converter here, which can remove multimedia encryption from Apple Music songs and convert the tracks to unprotected MP3 or M4A.
Check the wonderful features of TuneMobie Apple Music Converter below and you will know why it's perfect for iPod users.
Remove multimedia encryption from any Apple Music songs
Convert Apple Music to MP3 or M4A you can sync to iPod nano/Shuffle/Classic or iPod Touch 4 via iTunes
Convert any Apple Music tracks in your iTunes library whether you have downloaded them to PC or not
Preserve all ID tags like title, artist, album, genre, track number, disc number, etc. in output MP3/M4A
Retain Apple Music 256kbps audio quality using 320kbps MP3 or 256kbps M4A
Rename and organize output files by ID tags and characters like hyphen, slash and space
Perform up to 16X faster conversion speed to convert a bunch of songs quickly
Work perfectly on latest Windows 10, Catalina and iTunes
Easy Guide to Copy Apple Music Songs to an iPod
Step 1: Launch TuneMobie Apple Music Converter
Launch TuneMobie Apple Music Converter and iTunes or Music app (on macOS 10.15 Catalina or later) launched. Your iTunes media library will be loaded and displayed as playlists in the left panel.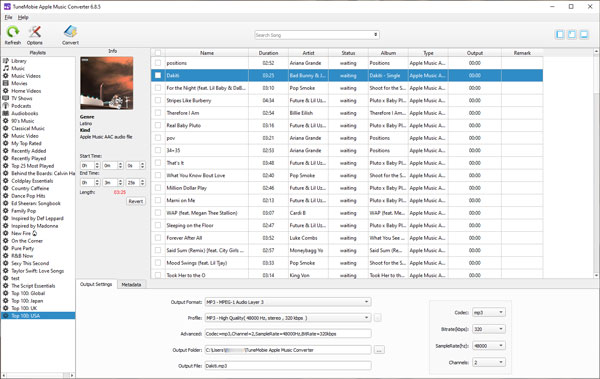 Step 2: Choose Apple Music Tracks
Choose any Apple Music tracks in Music playlist, or in independent Apple Music playlists. Select entire playlist by ticking the top checkbox or use built-in search box to locate your desired song quickly. You don't need to download Apple Music tracks to PC, but make sure you have add them to your iTunes library.
Step 3: Convert Apple Music to iPod compatible format
As we stated above, all iPod models support MP3 or M4A. So simply choose MP3 or M4A in output format list. Choose desired audio quality in profile list. Choose 320kbps MP3 or 256kbps M4A for lossless conversion.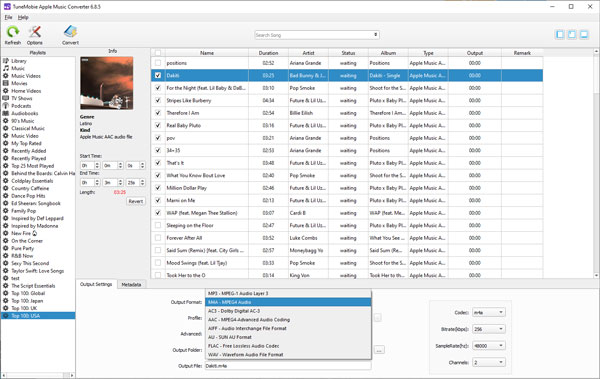 Click Options to change conversion speed and set filename rule for output files if necessary.
Step 4: Start converting Apple Music to MP3 or M4A
If you are satisfied with the settings, you can simply click "Convert" button to start conversion. Selected Apple Music tracks will be converted to MP3 or M4A. After conversion, you can click "Open output file" to get the output songs.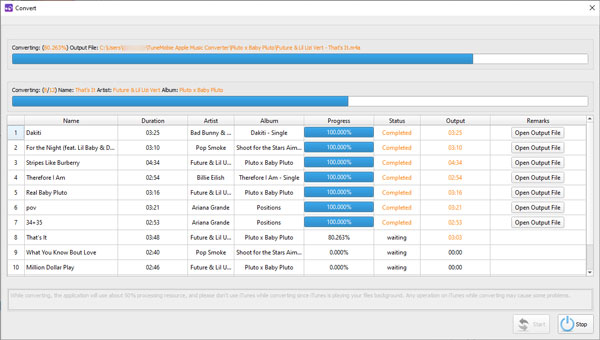 Step 5: Sync Output Songs to iPod via iTunes
Now you can exit both TuneMobie Apple Music Converter and iTunes. Then restart iTunes and add the converted Apple Music tracks to iTunes library. As output MP3 or M4A files preserve ID tags, they may look the same as original Apple Music tracks. We recommend you delete the Apple Music tracks or playlists which have been converted. And you can add them back to your iTunes library later if necessary.
Connect your iPod .ano, iPod Shuffle, iPod Classic or iPod Touch with USB cable, sync the output songs with iTunes, then you can enjoy Apple Music songs on any iPod model without any limitation.
Apple discontinued the iPod Classic On September 9, 2014 and discontinued the iPod .ano and iPod Shuffle On July 27, 2017. iPod Touch is now the only iPod model remained in iPod product line. There may be iPod Touch 7th generation or even 8th generation in future, but for those iPod .ano/Shuffle/Classic users who have subscribed Apple Music and want to focus on music playback without other distractions, Apple Music Converter is a must-have program. With Apple Music Converter, "Apple Music Songs Cannot Be Copied to an iPod" problem won't be a problem any more.
Video Guide of How to Convert Apple Music to MP3