Still Many People Buy and Enjoy Audio CD

In the old days, the best way to enjoy music tracks is to buy Audio CD discs and play them in PC or car. However, things are changing all the time and many people switch to digital music downloads like Spotify, Apple Music, Google Play Music, etc. In 2014, CD album sales fell behind album downloads for first time according to a research by Nielsen SoundScan. However, it doesn't mean that CD will vanish from our sights soon. In fact, "CD buyers are the largest single group of recorded music consumers with 32 percent penetration compared to 28 percent for concert goers, 25 percent for music downloaders and 10 percent for subscribers", according to a February 2016 report provided by Media Insights & Decision In Action (MIDiA), a media and technology analysis company.
Burn Music Tracks to Audio CD with iTunes
It's quite easy to burn MP3 or M4A music tracks to an audio CD with iTunes. Simply add the songs to iTunes library, create a music playlist and right-click on it, you will see an option "Burn Playlist to Disc".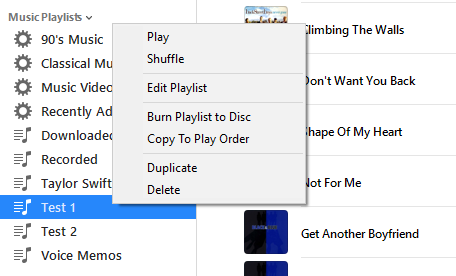 Click "Burn Playlist to Disc" and you will see "Burn Settings" dialog. Choose Audio CD, check "Include CD Text" so that tracks will be displayed with artist, title, album, etc. instead of track01, and click Burn button to start burning music tracks to audio CD.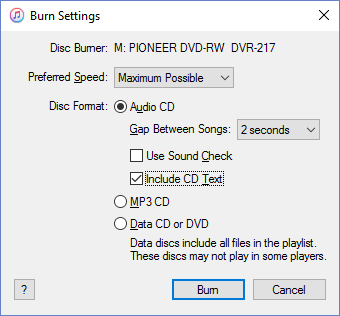 If your car audio system or other devices support MP3 CD, you can also burn music tracks to MP3 CD since MP3 CD can hold more tracks than an Audio CD. Generally speaking, an Audio CD can only hold about 80 minutes which could be 10 – 20 songs while a 700MB CD can hold about 70 tracks, based on the fact that a high-quality 320kbps MP3 is about 10MB.
However, this only applies to unprotected music tracks or protected M4P tracks sold in 2009 or earlier, and it doesn't applies to your downloaded Apple Music tracks or Apply Music Playlists.
What if I Burn Apple Music Tracks/Playlist to CD?
Actually, iTunes doesn't allow you to burn Apple Music tracks to audio CD even if you have downloaded to PC or Mac. Let's see what happen if we try to burn a playlist that includes Apple Music tracks.
If what you try to burn is an Apple Music Playlist, or a playlist that all tracks in it are Apple Music tracks, right-click on it and you won't even find the option "Burn Playlist to Disc".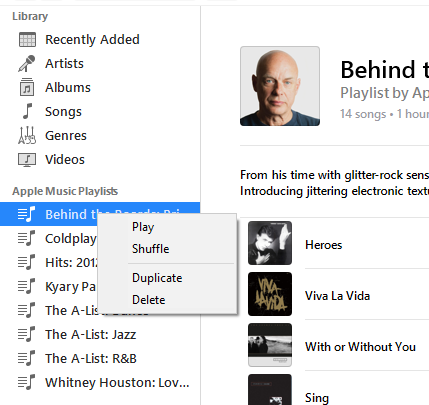 If the playlist includes some normal music tracks and some Apple Music tracks, right-click on the playlist and you will see the option "Burn Playlist to Disc", but when you click Burn button, iTunes will prompt you a warning dialog, telling that "Some of the files cannot be burned to an Audio CD. Do you still want to burn the remainder of this playlist", check the details and you will see "the track is an Apple Music song and cannot be burned to disc".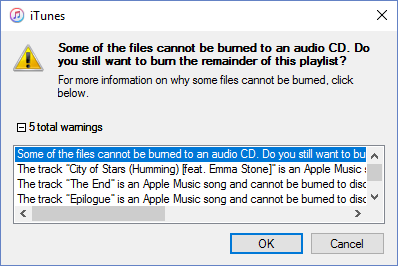 You can still go on burning, but the Apple Music tracks won't be included in the output CD. You may ask "How can I burn Apple Music tracks to audio CD?" or "Is there any solution for burning Apple Music songs to CD". Don't get frustrated as we have TuneMobie Apple Music Converter to help you solve Apple Music burning problems perfectly.
TuneMobie Apple Music Converter – Perfect Solution for Burning Apple Music to CD
TuneMobie Apple Music Converter can easily convert any Apple Music songs to MP3, M4A, AIFF or FLAC with 16X faster conversion speed. All MP3 or M4A output will preserve original Apple Music ID tags including title, artist, album, genre, track number, disc number, etc., and you can save the output files with your favorite file names and folder structures.
TuneMobie Apple Music Converter can even convert your favorite Apple Music songs without downloading to your computer (only on Windows & macOS 10.13 or higher), and it's highly compatible with latest versions of Windows 10, Mac OS and iTunes. With iTunes music library integrated in the program, it's very intuitive and easy-to-use.
After converting Apple Music tracks to MP3 or M4A, you can use iTunes to burn the output MP3/M4A files to audio CD without any problem. Now, let's download and install this Apple Music to CD solution first.
Easy Steps to Burn Apple Music to Audio CD or MP3 CD
Step 1: Launch TuneMobie Apple Music Converter
Launch TuneMobie Apple Music Converter and iTunes or Music app (on macOS 10.15 Catalina or later) launched as well. You will see entire iTunes library in left panel. Apple Music Playlists will be listed separately in the bottom while other Apple Music tracks can be found in Music playlist.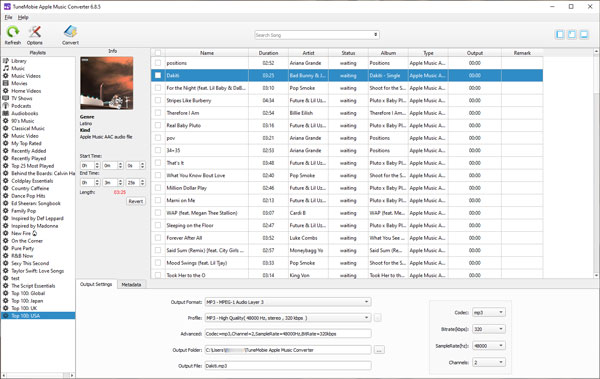 Step 2: Choose Apple Music tracks
Click Music playlist or specific Apple Music playlist, and tick the checkbox to choose Apple Music songs. As batch conversion is perfectly supported, you can select all your favorite Apple Music tracks at one time. You can also use built-in search box to find tracks quickly. Either downloaded Apple Music M4P tracks or online Apple Music tracks added to iTunes library can be converted and searched.
Step 3: Choose MP3 as output format
If you want to burn Apple Music to audio CD, either MP3 or M4A output will be good. If you want to burn Apple Music to MP3 CD, please choose MP3 output format. We recommend you use "MP3 - High Quality (48000Hz, Stereo, 320kbps)" to keep lossless audio quality in output MP3, this will also help to get better audio quality in either audio CD or MP3 CD.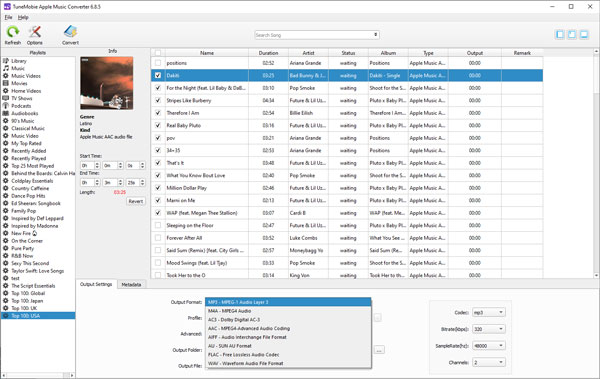 Depending on your need, you can also choose output folder in bottom panel, or click Options button to set conversion speed or set file names and folder structures for output MP3 files.
Step 4: Start converting Apple Music to MP3
Now, simply click "Convert" button to start converting Apple Music to MP3. After conversion, you can click "Open output file" to locate converted Apple Music tracks in MP3 format which could be burned to CD with iTunes.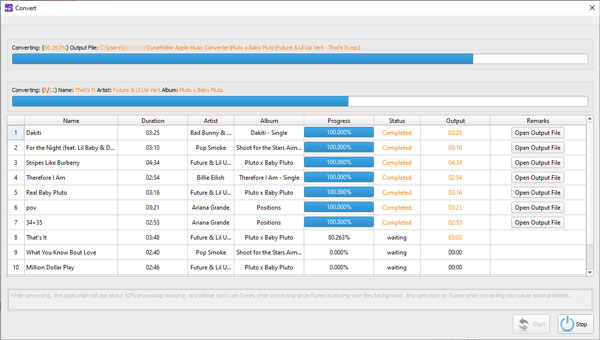 Step 5: Add MP3 to iTunes library and create playlist
Now, close both TuneMobie Apple Music Converter and iTunes. Then restart iTunes. We recommend you delete the Apple Music tracks or playlists you have converted just now, so that there won't be both Apple Music tracks and its MP3 version in library with same names which may make confusion.
Now click File > Add Files to Library… or Add Folder to Library… to import the converted Apple Music tracks you want to burn to Audio CD or MP3 CD.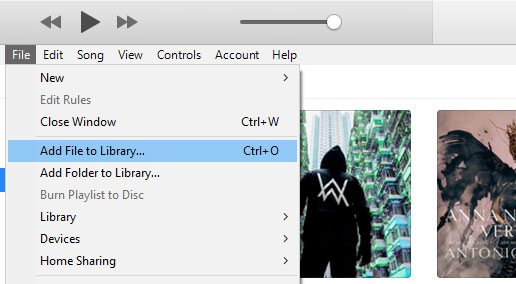 Create a playlist and add the songs you want to burn. As we stated above, the track quantity that audio CD and MP3 CD can hold is different. So do not exceed the time limitation of audio CD or capacity limitation of MP3 CD.
Step 6: Burn converted Apple Music tracks to CD
Now, insert a blank CD to your drive, make sure your drive is a CD-RW, DVD-RW or BD-RE which can be used for burning CD. Right-click on the playlist and click "Burn Playlist to Disc" or click File > Burn Playlist to Disc to start burning the tracks to CD. When burning process ends, you can eject the drive, take the CD out of the tray and enjoy the CD on your car, PC or other devices for CD.
Digital music downloads has achieved a dominant position in the music market, and streaming music services from the technology giants are competing for market share fiercely. Sooner or later, more and more music fans who still stick to CD will switch to digital downloads unconsciously. However, it's still a long time to go before we can see the declaration for the CD's death.