Introduction of VivaVideo, One of the Best Video Editing Apps
With the continuous improvement of mobile CPU processor, RAM and other components, now mobile phones and tablets are powerful enough to edit videos and make professional-like movie stories. That's why video editing apps were released one by one in recent years. You may have heard of VivaVideo, VideoShow, inShot, Splice, Quik, Clips and many more if you have considered making videos on mobile devices.
VivaVideo is one of the top-ranking video editing apps, it's available on both iOS and Android. As of January 2, 2021, VivaVideo has gained more than 12,416,560 reviews on Google Play and got an average score 4.5 of 5.
VivaVideo is very easy-to-use and feature-rich. Here we use Vivavideo on iPhone as example. Tap on VivaVideo icon to launch it, and you will see "Edit", "My drafts" and "Slideshow" and some other function buttons. Click "Edit" to add videos or click "Slideshow" to add photos from your photo library. Or click "My drafts" to edit previously saved draft.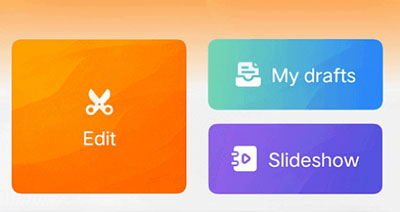 After clicking "Edit" or "Slideshow" button, you will see 5 tabs which are Theme, Music, Clip Edit, Text & Fx and Filter.
Theme: Choose a built-in theme and apply to the video editing project.
Music: Edit original sound, or add MP3 music, built-in sound effects and audio recording as background music.
Clip Edit: Many powerful video editing functions are available, including Canvas, Trim, Split, Delete, Speed, Mute, Volume, Voice Changer, Transition, Filter, Watermark, Reverse, Rotate, Duplicated and Sort. When creating slideshow, available functions may be a little different.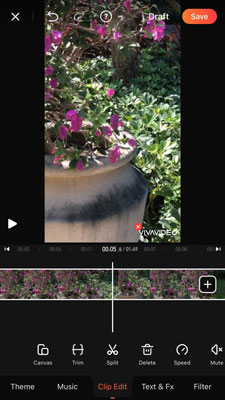 Text & Fx: Text, Speech-to-text, Sticker, FX, Mosaic and Mixer are available.
Filter: Many built-in Filter are available. You can also choose an effect in Effect tab and adjust parameters in Adjust tab.
Vivavideo can be used for free and there are some limitations as below. Some features with VIP are only available for paid users.
Vivavideo Free can not create videos which are longer than 5 minutes.
Vivavideo watermark will be displayed in the right bottom corner of created videos or slideshows.
A few themes in Theme tab can't be used in Vivavideo Free.
Speech-to-text and Mosaic in Text & Fx tab can't be used in Vivavideo Free.
Adjusting parameters in Filter tab can't be used in Vivavideo Free.
Extracting audio from video and setting as BGM is not available in Vivavideo Free.
Exporting 1080P or 4K video or slideshow is not available in Vivavideo Free.
You can join Vivavideo VIP to remove the limitations. And there are monthly, annual and lifetime plans. Before joining VIP, you can also apply a 3-day VIP to try all the functions.
After editing, you can tap "Save" button on the upper-right to save the video project or the slideshow on your device or publish to YouTube and social networking websites.
At this time, many users are using both Apple Music and VivaVideo on same device and they wonder whether they can use their favorite Apple Music songs as background music in VivaVideo. The answer may be disappointed. VivaVideo can only support MP3 as background music. However, if you use Apple Music Converter, it will be as easy as a breeze.
TuneMobie Apple Music Converter: The Solution to Add Apple Music to Vivavideo
TuneMobie Apple Music Converter is the dedicated solution to add Apple Music songs to Vivavideo as background music because it can effortlessly convert Apple Music songs to MP3 format. Besides, TuneMobie Apple Music Converter also comes with many other wonderful features as below.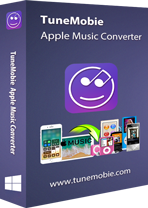 Convert Apple Music songs to MP3 which can be used in Vivavideo
If necessary, you can also convert Apple Music songs to M4A, WAV, AIFF, FLAC, etc.
Keep title, album, artist, track number, artwork, genre and other song info.
Rename output files in bulk by title, album, artist, track number, etc.
Sort output files into folders by album, artist, artist/album, etc.
Losslessly convert 256kbps Apple Music AAC file to 320kbps MP3 or 256kbps M4A
Losslessly convert Apple Music Lossless audio to WAV or AIFF
16X faster conversion speed on Windows and macOS up to 10.12.6, 1X speed on 10.13 or later
Fully compatible with latest Windows OS, macOS, iTunes and Music app
The free trial version of TuneMobie Apple Music Converter allows you to convert 3 minutes of each song. If you want to use your favorite Apple Music songs in VivaVideo as background music, do not hesitate to download it and have a try.
Steps to Add Your Favorite Apple Music Songs to VivaVideo as Background Music
TuneMobie Apple Music Converter is very easy-to-use and intuitive. Follow the steps below and you can easily add your favorite Apple Music songs to VivaVideo as background music.
Step 1: Launch Apple Music Converter
Launch Apple Music Converter and iTunes or Music app (on macOS 10.15 Catalina or later) will be launched as well. Apple Music songs, Apple Music playlists and other iTunes media will be listed as playlists in the left panel. Please do not close iTunes or Music app before the conversion is done.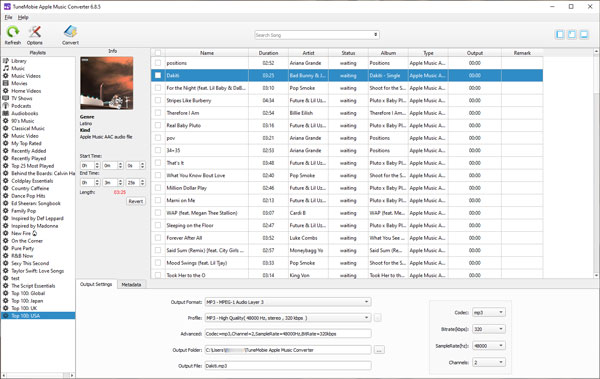 Step 2: Select Apple Music Tracks
Choose a music playlist and tick the checkboxes of the Apple Music songs. You can tick the top checkbox to choose all the songs in the playlist. Besides, you can search song title, album or artist to locate any song in library quickly.
Step 3: Choose MP3 for VivaVideo
Apple Music Converter support several output audio formats, but VivaVideo only supports MP3 format. So please make you choose MP3 in the output list. You can choose audio quality in profile list. We recommend 320kbps MP3 for better sound effect in VivaVideo project.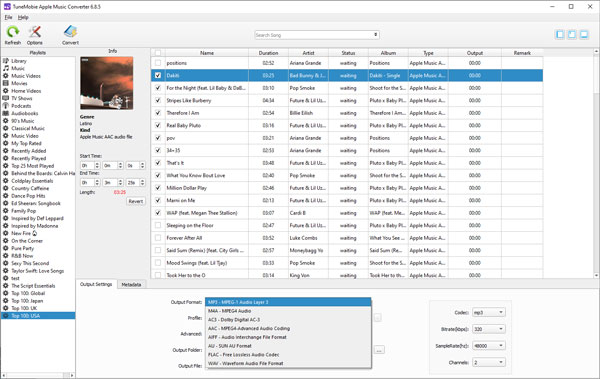 Step 4: Start Apple Music to MP3 Conversion
Now, simply click "Convert" button to start converting Apple Music to MP3. After conversion, you can click "Open output file" to open output folder and locate converted Apple Music tracks.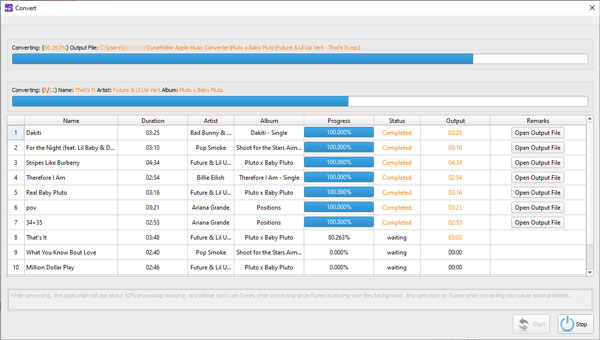 Step 5: Transfer Output Music to Mobile Device
The way of transferring output music to device is different on iOS and Android.
For iOS, you need to exit Apple Music Converter and iTunes or Music app first. If you are using iTunes on Windows or macOS 10.9 - 10.14.6, please launch iTunes alone, click menu "File" > "Add File to iTunes Library" and add the MP3 output songs to iTunes library. If you are using Music app on macOS 10.15 or later, please launch Music app alone, click menu "File" > "Import" to add output MP3 files to music library.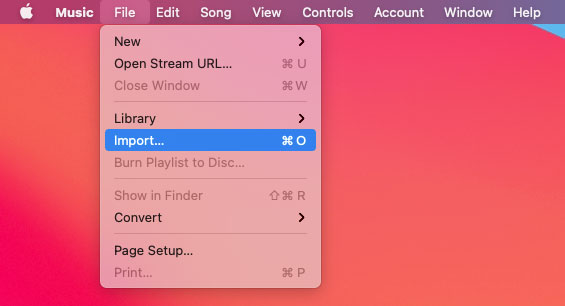 Then create a playlist and add the songs, connect your iPhone/iPad to your computer with USB cable and synchronize the playlist to it.
For Android, please make sure you have enabled USB debugging first. Then connect your device to computer with USB cable, copy the output songs from output folder and paste to Music folder in Android.
Step 6: Choose Music as BGM in VivaVideo
After you copied the converted Apple Music songs to your device, you can choose them as background music in your video or slideshow project. Open a project, in the "Music" tab, tap "Music" button or "Add music" bar under the videos or photos, and you will see "Featured" and "Your Music". The converted Apple Music songs you have transferred to your device will be listed here. Tap on a song, you can trim it if necessary. Now tap "Use" button to set it as background music of your video editing project.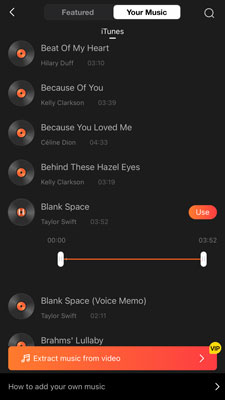 Actually, you can add your own MP3 files to VivaVideo in several ways. In the bottom of "Your Music" tab, you can also see "How to add your own music", then three ways including iTunes synchronization, SNS sharing and airdrop will be provided. As to adding Apple Music to VivaVideo, no matter which way you use, you need to convert the Apple Music songs to MP3 files with Apple Music Converter on your computer first.
If fact, Apple Music Converter is versatile for all kinds of video editing apps on iOS and Android, as well as for video editing programs on Windows and Mac. What you need to do is to convert Apple Music to compatible audio format first.
If you are using VivaVideo and Apple Music on same device, and want to use Apple Music songs as Background music in your video or slideshow, do not hesitate to download Apple Music Converter to have a try!