Ways to Play Apple Music on Xbox One
Xbox One not only inherits the advantages of Microsoft's previous-generation console Xbox360 but also has significant improvements in appearance, controller, performance and other aspects. Many users take Xbox One as something different, which is more than a normal game console, what they really want is to play Apple Music on Xbox One. As we know, Apple Music has encrypted its tracks and almost all the Apple Music tracks are in M4P format now and Apple Music does not support Xbox One. Therefore, when Xbox One was first launched, there was no way to play Apple Music on Xbox One. But as time goes by, the appearance of some third-party plug-ins made this idea the reality, even though some of the ways are cumbersome.
To play Apple Music on Xbox One, a common method is to use AirServer. AirServer can transform your Xbox One into an all-in-one AirPlay + Google Cast + Miracast receiver. Xbox One users can now purchase AirServer from the Microsoft Store for $19.99, it also offers a free trial.

First Step: Run AirServer after you get AirServer Xbox Edition (free trial or full version) from the Microsoft Store. Hit "Right" key and then the "A" key of the Xbox One controller to display an on-screen QR code
Second Step: You will need to use an iOS device to set up the AirServer Connect now, an iPhone or iPad would be fine or other compatible devices running iOS 4.3 or later. Install "AirServer Connect" from App Store and then launch it.
Third Step: Select "Scan QR Code" and start to scan the QR code you just displayed on your Xbox One, please note that you will need to allow camera access. Soon your iPhone/iPad will be connected to your Xbox One successfully.
Fourth Step: Launch Apple Music on your iOS device and play any song, press the AirPlay icon at the bottom and select "XboxOne 1080p 30" to establish the connection. After that, your Apple Music songs can be played on Xbox One.
Well, if you choose to play Apple Music in this way, an iOS device, a good internet connection and a subscription to Apple Music are required. Also, you will need to purchase AirServer since the free trial version will expire. But there is still hope, now you can play Apple Music with some more convenient and practical ways, which are playing Apple Music tracks via USB drives or CDs. For this, users will need TuneMobie Apple Music Converter.
As we mentioned above, Xbox One cannot play M4P files of Apple Music. The supported audio formats of Xbox One are AAC, WAV, MP3, 3GP audio, etc., it is quite easy to play audio files in these formats on Xbox One via USB flash drives. The most exciting part is TuneMobie Apple Music Converter is specially developed to convert Apple Music's M4P files to MP3, AAC and other audio formats. We believe that this should be the best way to enjoy Apple Music on Xbox One for now, why don't we take a look at what's good with Apple Music Converter now?
Get Help from TuneMobie Apple Music Converter
Our goal has now become very clear, we need to convert encrypted Apple Music tracks into MP3 files with TuneMobie Apple Music Converter and then playing them on Xbox One via USB flash drives or CDs. Read the list below and you will see why TuneMobie is the best choice.
All Apple Music tracks can be converted to plain MP3 and AC3 files for playing on Xbox One
Convert Apple Music with 100% original audio quality, users can get lossless tracks after conversion
All the converted files can keep full ID3 tags as the original Apple Music tracks
Users can rename output files by ID3 tags and use slash to organize output songs by folder
Conversion speed can be up to 16X, which would save users' precious time
Batch conversion feature is provided to make the process more convenient and easy
How to Play Apple Music Tracks on Xbox One by TuneMobie Apple Music Converter
You can simply launch TuneMobie Apple Music Converter on your Windows PC or Mac, please note that iTunes or Music app (on macOS 10.15 Catalina or later) will be launched with the converter at the same time. Most importantly, do not close iTunes or Music app during conversion.
Step 1: Launch TuneMobie Apple Music Converter
You will find TuneMobie Apple Music Converter in your desktop or launchpad after installation, just click it to launch it. When the converter is launched, iTunes (Music application on macOS 10.15) will also be launched, please do not close it until the whole conversion is finished.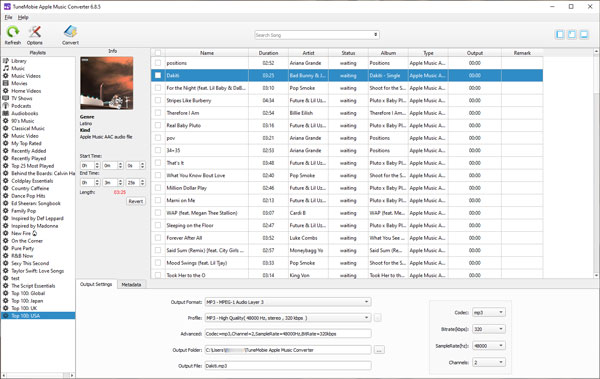 Step 2: Choose Apple Music Tracks You Want
All the media contents in your iTunes library will be shown and listed as playlists in the left panel. You can click any of them to see the tracks in it, once you have decided which tracks are the ones you want to convert and play on Xbox One, just tick the checkbox of them.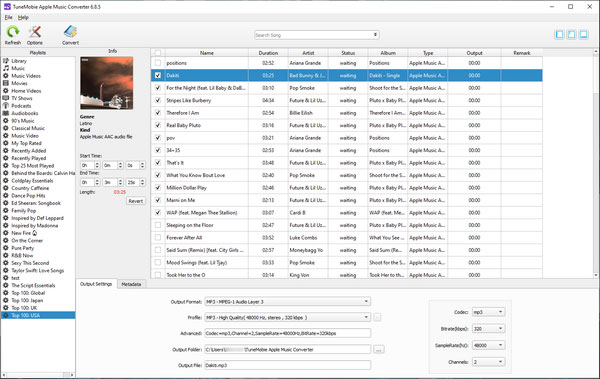 Step 3: Setting and Options
In the bottom panel, you can freely set bitrate, sample rate and other metadata of the output files. Of course, choosing an output format for your tracks is necessary. Since Xbox One supports AC3 and MP3 files, we suggest you choose one of them as output format for the output files. In the top left corner there is an "Options" button, click it to open the Options window and you can adjust volume, change conversion speed and select a way to sort output files.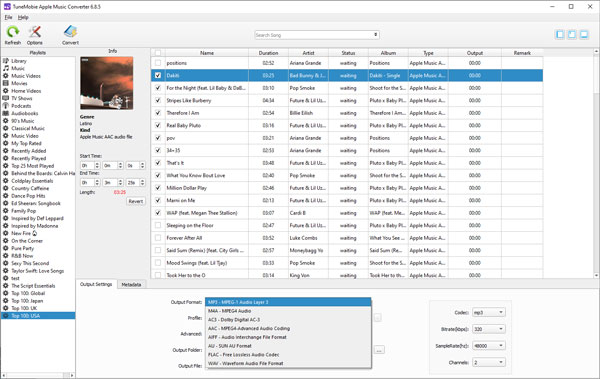 Step 4: Start Conversion
After setting up everything, you can click the "Convert" button to start the conversion whenever you want. After waiting for a short time, the whole process of the conversion will be done and you can locate the output files by clicking the "Open Output File" button.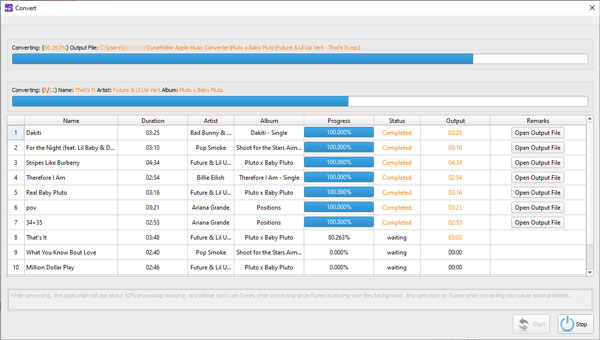 Step 5: Play Converted Apple Music Tracks on Xbox One via USB Drives
The Xbox One supports USB 1, USB 2, and USB 3 drives and the drives must be formatted in FAT16, FAT32, exFAT, or NTFS first, for Mac users, your drives must be formatted in exFAT or FAT32 first. You can connect the USB drive to your computer easily, and then please copy the output files to the drive. After copying, please connect the drive to your Xbox One and launch Media Player app (if you don't have one, please download and install it from Microsoft Store). You will see your connected USB drive as an option in the Media Player app, just click and select one of the output files and they will be played on Xbox One perfectly.
Besides, you can also play the converted Apple Music tracks via a portable media player or CDs, but none of these ways is as convenient and simple as playing with USB flash drives. Playing Apple Music tracks on Xbox One is now becomes extremely convenient thanks to TuneMobie Apple Music Converter. If you are a game player as well as a user of Xbox One and Apple Music, then TuneMobie Apple Music Converter is definitely a must-have program of you.