Something You Should Know about HomePod
When Apple introduced HomePod in early 2018, the topic of HomePod became popular. This is Apple's first smart speaker, and HomePod seems to borrow half the name of the iPod. At that time, this was a very novel product after all, and indeed many features were not fully developed. Although Apple claims that HomePod's future focus is "smart", for now, it's more important and the feature that people use more often is to play music. It has seven tweeters in its base and a four-inch woofer (Apple does not specify Hz frequency range) towards the top, as well as six microphones used for voice control and acoustic optimization. Based on this parameter, there is no doubt that HomePod has excellent music playback quality and sound control features.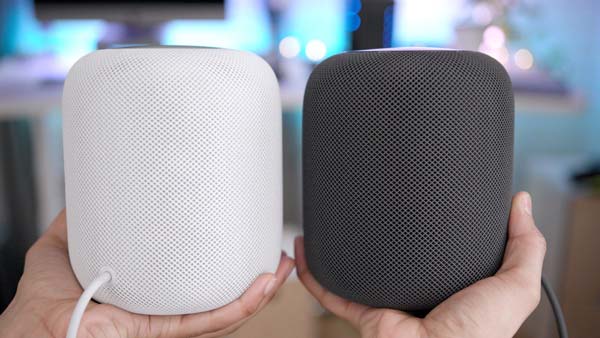 HomePod is now priced at $299 on BestBuy, and Apple's official price for HomePod is $349, which is higher than other Apple's latest music playback products like iPod Touch 7. Is it worth the price? Everyone has a different opinion. Today we will first take a look at HomePod's ability to play music. Just like we mentioned above, as Apple's own product, the quickest and most convenient way to play music on HomePod is play by Apple Music, this is also the recommended way by Apple. But the problem is, you will need a subscription to Apple Music unless you just want to stream stuff from your iPhone – and even that can only be done using AirPlay.
Well, things become not so "smart" if you choose to use AirPlay to play music on a smart speaker, right? Especially when HomePod allows users to play Apple Music by waking up the virtual smart assistant Siri. You just need to say "Hey Siri, play a song from my Apple Music" to HomePod and your song will be played immediately. To be honest, this is indeed a smarter and cooler way. Besides, HomePod does not support using Bluetooth streaming, which means you cannot stream music on HomePod directly through Bluetooth like other devices.
Let's get back to the problem, a subscription to Apple Music is needed if you want to play Apple Music on HomePod in a smarter and more convenient way. An individual subscription to Apple Music costs $9.99 per month and a family subscription to Apple Music costs $14.99 per month, well, after paying $349 for the HomePod and now a $9.99 subscription for every month, is there anything more "unsmart" than this?
Many HomePod users are looking for a way to play Apple Music songs on HomePod without an Apple Music subscription, so do we. Users who are reading this article, you are lucky. We say "lucky" because there is really such a software program named TuneMobie Apple Music Converter that can help us solve this problem. Imagine that playing your Apple Music songs at home on HomePod by just a simple order to Siri, and you don't have to pay for the subscription every month, this is a real "smart" thing you should do. Keep reading this article and you will learn the advantages of TuneMobie Apple Music Converter and how exactly to play Apple Music songs on your HomePod.
Get help from TuneMobie Apple Music Converter
TuneMobie Apple Music Converter could be the best Apple Music Converter ever and it must be the perfect helper for you to enjoy your favorite Apple Music songs on your HomePod. What's more, we believe TuneMobie Apple Music Converter can also help you live a smarter life. So, let's see what makes TuneMobie Apple Music Converter special and smart.
Convert Apple Music tracks from encrypted M4P to plain MP3, M4A, FLAC, AC3, AIFF, AU, AAC files
Reserve the same lossless audio quality as the original Apple Music tracks
Keep all the ID3 tags in like songs titles, artist, album, genre, etc. after conversion
Help you enjoy Apple Music on HomePod without subscriptions as soon as possible by 16X faster conversion speed
Allow users to rename output files by ID3 tags with ease
Useful files sorting feature allows users to sort output files by ID3 tags and special characters
These are just some parts of the advantages of TuneMobie Apple Music Converter, this converter is actually more powerful than you think. Despite TuneMobie Apple Music Converter has amazing and useful features, it does not require complex operations. Instead, the uses of TuneMobie Apple Music Converter is fairly simple and easy to understand.
Simple Guide of TuneMobie Apple Music Converter
Step 1: Launch TuneMobie Apple Music Converter
Find the TuneMobie Apple Music Converter on your computer and launch it freely, remember iTunes or Music app (on macOS 10.15 Catalina or later) will also get launched by the converter at the same time. It may need a few seconds to load your entire iTunes library if it is your first time using it, after this, your iTunes library will be listed in the left panel.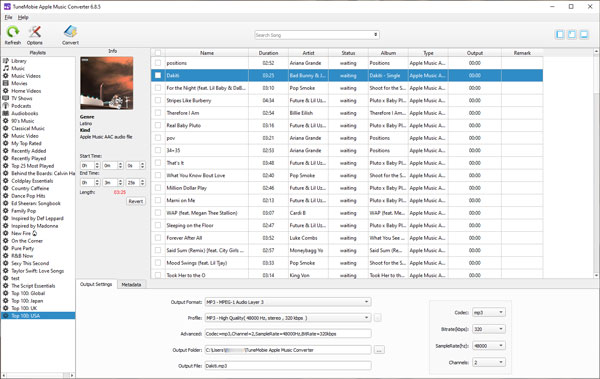 Step 2: Select Your Wanted Tracks and Output Format
You can now select a playlist from the left panel, click on it and all the tracks in the playlist will be shown. There is a checkbox at the left side of every track, just check the ones you want to convert. Also, there is a checkbox in the information bar, you can click it to check all the tracks at once. If you are looking for a specific track or artist in the playlist, please use the built-in search box at the top.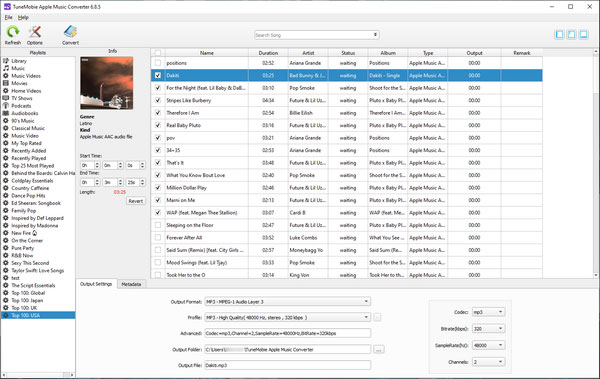 When you have decided which tracks are going to be converted, you can select the output format for them in the bottom panel. There is an "Output Settings" tab and a "Metadata" tab, in the "Output Settings" tab, you can select output format and change parameters. And in the "Metadata" tab, you can the track title, artist, album and other information of the tracks, but since TuneMobie Apple Music Converter can keep all the metadata for you, you do not need to make any changes in this tab most of the time.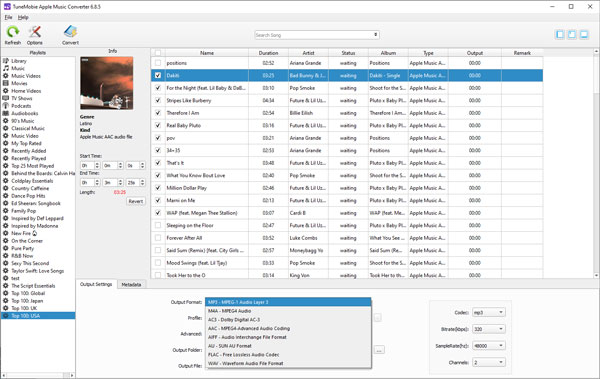 Step 3: Change Options
In fact, after the previous step is completed, you can start the conversion. But we take the needs of different users into account, so you can make other conversion changes in the "Options" window. Click Options button and you will see the pop-up options dialog, here you can change conversion speed and files' name for the output files.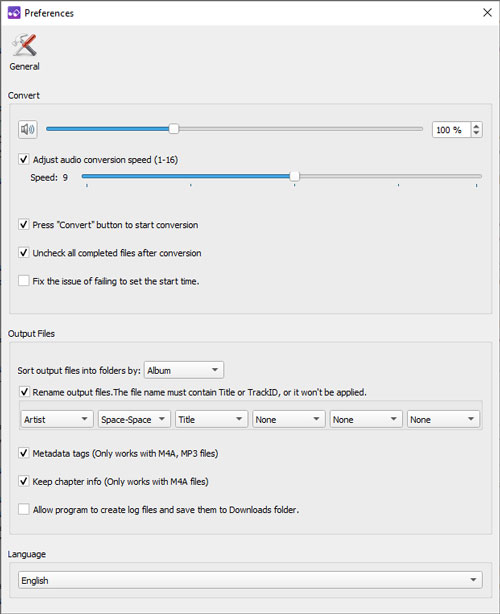 Step 4: Start to Convert Apple Music Tracks
When you have set everything up, you can simply press the "Convert" button to start the conversion. Generally speaking, the more tracks you selected to convert, the more tracks you choose to convert, the longer you will have to wait for the conversion to complete, but in fact, because of TuneMobie Apple Music Converter's excellent conversion ability, you will not wait for a long time.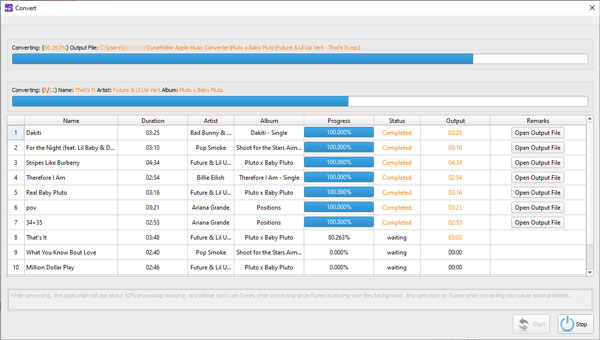 Once the conversion is successfully completed, you can add the output file to your iTunes library. We suggest you remove the original tracks in your iTunes library to avoid confusion. Well, now you are totally free to play your favorite tracks through your HomePod, just say "Siri, play (your track's name) for me" and Siri will play this very track immediately. Hope you enjoy your smart musical experience well!
Even in the face of HomePod, such a novel smart device, TuneMobie Apple Music Converter can solve the problem smoothly, providing users with a feasible and reliable way to play their favorite Apple Music songs on HomePod without subscriptions. Apple has always been committed to giving users a smarter and more humane life experience, which is also what TuneMobie Apple Music Converter hopes for. Reading this article may not help you to get a smarter life, but having a try on TuneMobie Apple Music Converter can be an important stepping stone for you to live a smarter life. Now click the download button below and start it.