Use GarageBand to Make A New Song from Existing Song
When talking audio mixing application on macOS, GarageBand may be the first one that comes to your mind. It's developed by Apple and completely free for both macOS and iOS users. GarageBand comes with a complete sound library which includes instruments, presets for guitar and voice, and an incredible selection of session drummers and percussionists. It's a professional music creation tool yet still easy-to-use. Even novice can easily master the skills of basic music creation.
If you are a DJ, a tuner or a sound mixer and you are using macOS, you may be familiar with GarageBand. However, if you are a music lover and have an interest in basic music creation and you are using macOS or iPhone/iPad, GarageBand is also an good choice. According to Apple official website, GarageBand allows you to mix a new song from existing local music files in MP3, M4A, WAV, AIFF, CAF or Apple Lossless format. MIDI files are also supported natively.
If you want to mix a new song from local music file, you can simply follow the steps below.
Launch GarageBand and you will see "choose a project" dialog. If it's your first run, GarageBand will ask you to create an empty project by default. Click "Empty Project" and click "Choose" button in the bottom right.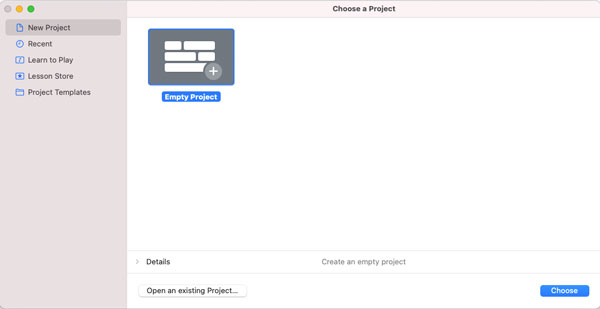 GarageBand provides 4 ways for you to choose a track type as below. You can plug in a USB MIDI keyboard to play and record, record using microphone or line input, drag-and-drop existing audio files, connect a guitar or bass to Mac to play and record or add a drummer. As we want to create a new song from existing song, so we choose the second option as below.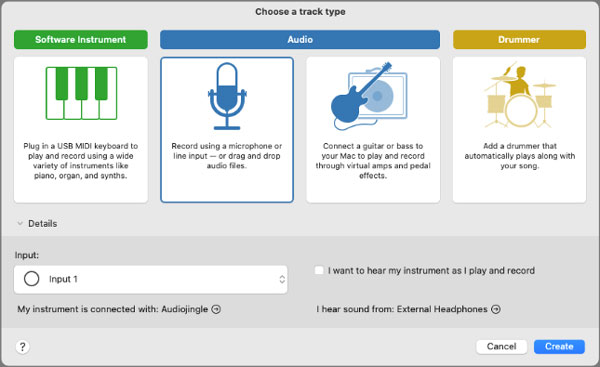 GarageBand now opens its workplace. Now we can directly drag-and-drop MP3, AAC, WAV, AIFF or MIDI files from Finder, or drag-and-drop any songs from Music App to to the workplace for editing. If necessary, you can also drag-and-drop multiple music files to mix and edit. After adding a local song or multiple songs to GarageBand workspace, you can start audio mixing.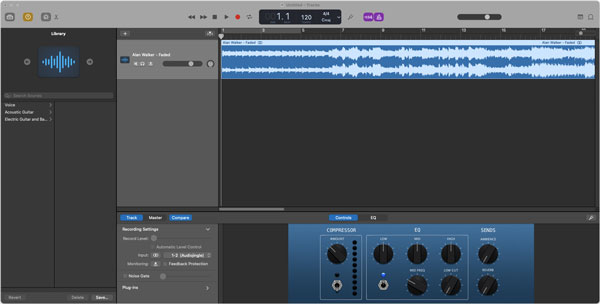 However, if you drag and drop an Apple Music song from Finder or Music app to GarageBand, nothing will happen. The result also tells the truth that Apple Music songs cannot be added to GarageBand directly. That is also why many GarageBand users ask how to import Apple Music songs to GarageBand. As GarageBand supports MP3, M4A, WAV, etc., if you can convert Apple Music songs to one of these formats, the problem can be resolved easily. Luckily, TuneMobie Apple Music Converter is right here to help.
Apple Music Converter: The Solution to Import Apple Music to GarageBand
TuneMobie Apple Music Converter is designed to convert Apple Music songs added or downloaded in iTunes library or Music app. TuneMobie Apple Music Converter can convert Apple Music songs to all-purpose audio formats like MP3, M4A, WAV, etc. with ID3 retained. So you can import the converted Apple Music songs to GarageBand. Let's check the wonderful features of Apple Music Converter and learn why it's the best helper for GarageBand.
Convert Apple Music songs to MP3, M4A, WAV or AIFF which is compatible with GarageBand
AC3, AU, AAC, FLAC output formats are also available for other purpose
Keep ID3 tags like title, album, artist, track number, artwork, genre, etc.
Rename output files in bulk by title, album, artist, track number, etc.
Sort output files into folders by album or artist as you like
Losslessly convert 256kbps Apple Music AAC file to 320kbps MP3 or 256kbps M4A
Losslessly convert Apple Music lossless audio to WAV or AIFF
16X faster conversion speed on Windows and macOS up to 10.12.6, 1X speed on 10.13 or later
Fully compatible with latest Windows OS, macOS, iTunes and Music app
The free trial version of Apple Music Converter can convert first 3 minutes of each Apple Music track. If you need to import Apple Music songs to GarageBand, please do not hesitate to try Apple Music Converter.
Easy Steps to Import Apple Music Songs to GarageBand
Apple Music Converter comes with an easy-to-use interface, it integrates iTunes library or music app and helps you convert Apple Music songs to MP3, M4A or WAV in only a few clicks. After conversion, you can import the output files to GarageBand easily, and create a new song and export to Music app. Check the user guide below.
Step 1: Launch TuneMobie Apple Music Converter
Run Apple Music Converter, iTunes or Music app (on macOS 10.15 Catalina or later) will be automatically opened as well. Please do not operate iTunes or Music app when converting the songs, and do not exit iTunes or Music app before the conversion is done.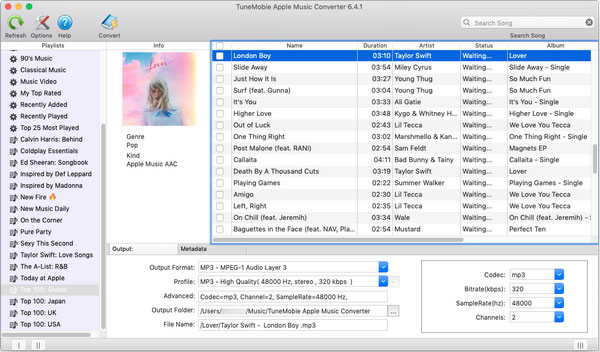 Step 2: Choose Apple Music Songs
Choose your desired Apple Music songs for conversion. You can select a playlist and tick the checkboxes to select your desired songs, or tick the top checkbox to select all the songs in the playlist. If necessary, built-in search box can be your good assistant to search artist, album or song title.
Step 3: Choose GarageBand Supported Format as Output
Apple Music Converter provides MP3, M4A, WAV, FLAC, AIFF, AC3, AAC, AU, etc. as output formats. For GarageBand, you need to choose GarageBand supported file types like MP3, M4A, WAV or AIFF.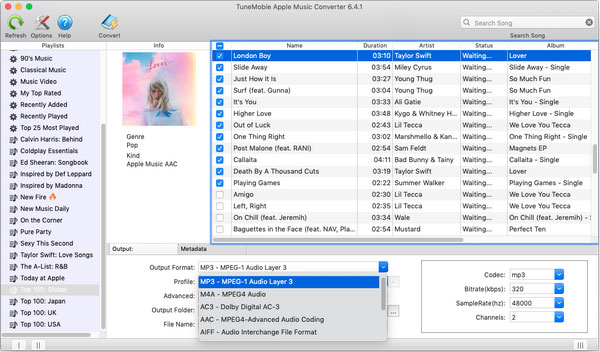 Step 4: Start Converting Apple Music Songs
Now, simply click "Convert" button to start converting Apple Music to MP3, M4A, WAV or AIFF depending on your need. After conversion, you can click "Explore output file" button to open output folder and locate the output files.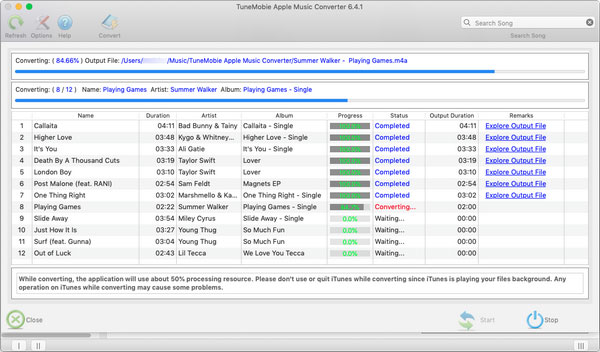 Step 5: Add Output Files to GarageBand & Save the Project
Now, you can launch GarageBand on Mac, then drag-and-drop output files from the output folder of Apple Music Converter to GarageBand workspace. After mixing, you can save the project, and if necessary, you can use menu "Share" > "Project to GarageBand for iOS", this will help to share your GarageBand project to iCloud and open it with GarageBand on iPhone/iPad.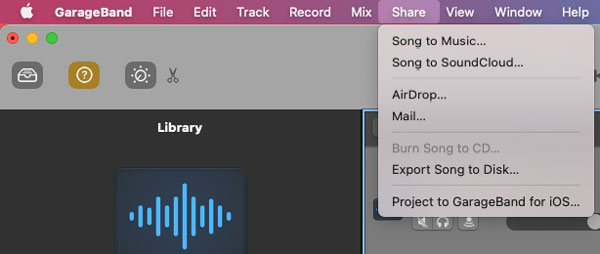 If you want to save the project as a new song and add to Music app, you can click menu "Share" > "Song to Music..." and you will see a dialog as below. Fill in title, album, composer, playlist, etc. and choose output quality, click "Share" button, you will get an M4A file and it will be saved in Music app. Then you can sync the M4A files to your iPhone/iPad via iCloud.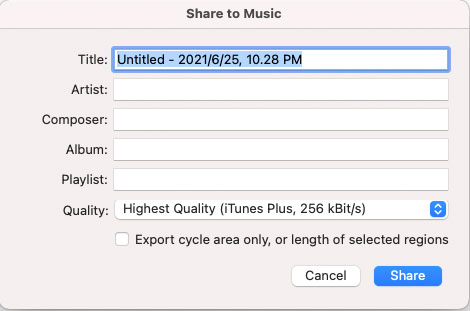 If you are using macOS Mojave 10.14 or below, the menu will be "Share" > "Song to iTunes..." and output will be saved to iTunes library.
In this way, you can easily import Apple Music songs to GarageBand without any hassle. In fact, Apple Music Converter is not only the best helper for GarageBand on macOS, it can also work with other audio editing or audio mixing applications when Apple Music songs can't be added or imported. If you are using Apple Music and GarageBand and want to use Apple Music songs as audio source for GarageBand, please download TuneMobie Apple Music Converter and have a try.