Apple Music Songs Can't Be Added to PowerPoint Directly
Microsoft PowerPoint, a powerful software program that almost everyone in the world needs it to make slideshows and it exists in the computers of people in various industries. In most cases, PowerPoint is used to share and display users' proposals, schemes, plans and other ideas. But because of its powerful and rich features, people have been using PowerPoint to make slideshows and even some video clips over the years. We must admit that the brains of the producers are always full of creativity.
Whether you want to use PowerPoint to create useful, interesting, eye-catching slides, or make creative animations and video clips, it's undeniable that adding the right background music to your PowerPoint work is a great skill to make your slide show even better. Users of Apple Music must know that the most convenient and effective way to find music that you like and that is suitable for your own slides is to look it up on Apple Music. Since Apple Music owns a vast music library and every type of music track can be found, therefore, it is not anything difficult to find a suitable song for adding in your slides as background music.
However, if you want to download and directly add an Apple Music track in your PowerPoint slides as BGM, you will find it impossible. Why? Because Apple Music has encrypted all the tracks in their music library and your downloaded tracks are also in encrypted M4P format, another key fact to remember, PowerPoint supports users to insert files in almost every regular audio format such as MP3, AIFF, FLAC, WAV etc., except for M4P. What does that mean? That means you are not allowed to add any Apple Music tracks in PowerPoint as background music, and that also means you cannot make your slideshows become better in hearing.

Just relax, there is still a chance to let you reverse it all. Please allow us to show you a powerful, practical and easy-to-use converter: TuneMobie Apple Music Converter. We just said that the problems mentioned above have a chance to be reversed. Sure, you can use TuneMobie Apple Music Converter to convert Apple Music tracks from encrypted M4P files to MP3 or other plain files, so that you are able to smoothly add tracks to your PowerPoint slide show as background music. Let's take a look at the advantages of TuneMobie Apple Music Converter.
How Can TuneMobie Apple Music Converter help with This Problem?
Let us show you what are the advantages of this TuneMobie Apple Music Converter and how can it help you to solve the problems we mentioned above and how can it help to make a better PowerPoint slide.
Convert Apple Music's encrypted M4P files to plain MP3, M4A, AAC, FLAC, etc. files for PowerPoint.
Keep all the ID3 tags after conversion to help you locate songs clearly and quickly
Retain 100% original audio quality in converted files to create perfect slideshows
Easily rename tracks with hyphen, underline, space, etc. by title, artist, track number, etc.
Convert in 16X faster conversion speed, the saved time can be used to improve your slides
Allow sorting output songs with slash by folder to help you recognize the best-match background music
Simple User Guide of TuneMobie Apple Music Converter
Step 1: Launch TuneMobie Apple Music Converter
First of all, please launch TuneMobie Apple Music Converter on your computer. Simultaneously, iTunes (on other versions of macOS) or Apple Music Application (on macOS 10.15) will also get launched. Once you launched the converter, all the contents in your iTunes library will be shown as playlists in the left panel soon.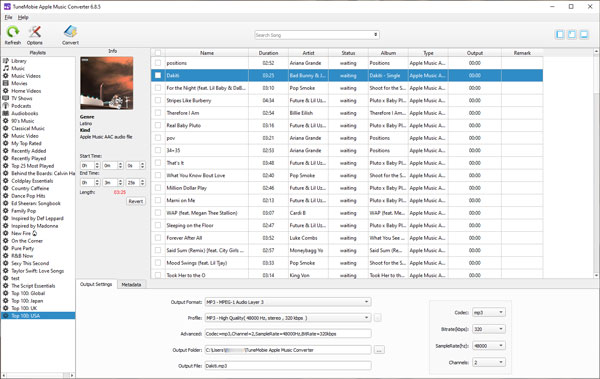 Step 2: Find and Select Apple Music Tracks for Your PowerPoint Slides
You can find your target tracks from the left panel manually or simply use the built-in search box to search them. Don't forget to select them after they are found, just click the checkbox and they would be successfully selected.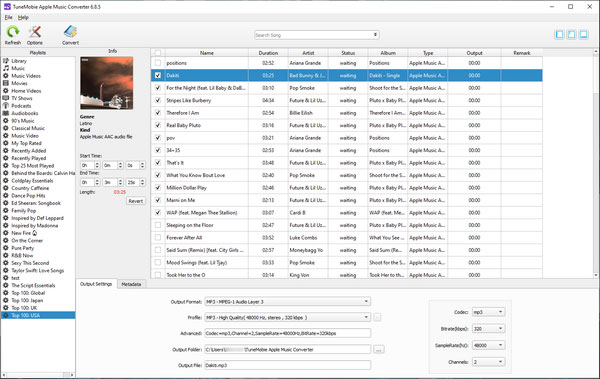 Step 3: Choose Output Format for Tracks
Since PowerPoint supports almost every regular audio files, you can choose each of the formats that Apple Music Converter provides as output format for your Apple Music tracks. You can easily choose and change the output format in the bottom panel. Because TuneMobie Apple Music Converter will choose MP3 as output format by default, actually, you don't need to make any changes unless you want to.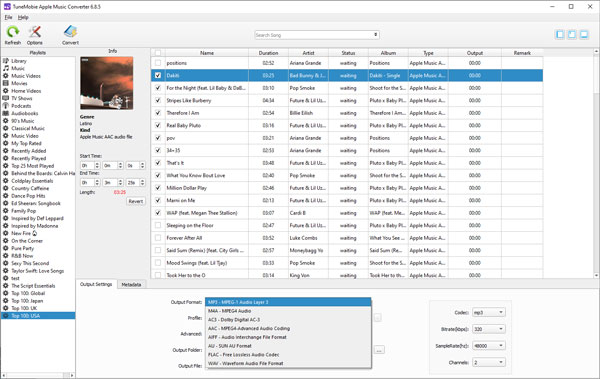 Step 4: Start Converting Apple Music Tracks
You can find a "Convert" button in the top left corner. When everything is set up, you can simply press the button and the conversion will be started immediately. Most importantly, with the 16X faster conversion speed that TuneMobie Apple Music provides, you can get converted tracks in a short time. If you don't want to click for a few times to find your converted track, you just need to click the "Open Output File" button and the converted file will be located automatically.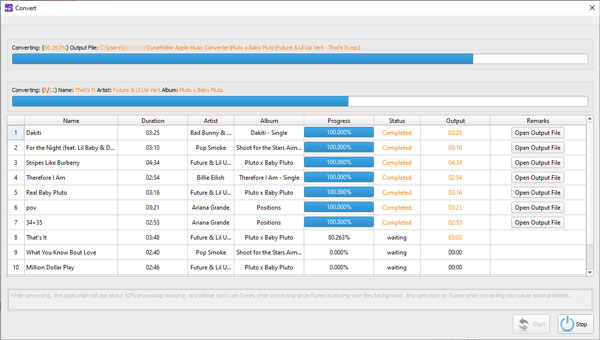 After the conversion, we believe that you've already got your converted Apple Music tracks. Now please launch Microsoft PowerPoint and switch to the "Insert" tab. A menu will show up, you can insert music from your PC or record your own audio track. If you are going to insert the converted tracks, please select "Audio on My PC" and this will pop up a window of your PC's directory. Find the converted Apple Music tracks and you are totally free to insert them.
There is one more easy step you need to follow, please note that the "Playback" tab will appear in the ribbon now, all you need to do is to change the audio style from "No Style" to "Play in Background". Finish this and the Apple Music tracks you just inserted will truly be the background music of your wonderful slideshow.
Video Guide of How to Convert Apple Music to MP3