Create New Video Projects with Final Cut Pro X
As with any modern Mac applications, Final Cut Pro X is obtainable only through the Apple App Store for $299, but you can also download the free trial version on Apple's official website. You'll be able to use the free trial version for an additional 30 days.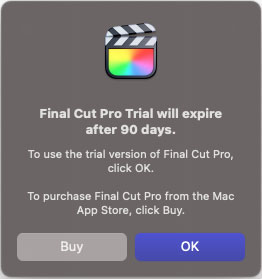 Before you can edit anything, you need to get your video files into Final Cut Pro X. When you open up the File > New menu, you'll see a few things you can create: library, folder, event and project. To import media, click the "Import" button in the media browser or choose "File > Import > Media." You can also start importing by hitting "Command + I" to bring up the import window.
In the import window, you are allowed to import media like video clips and music tracks into the library. Once you've imported your video clips, click "New Project" or simply drag your clips onto the timeline to create a new video project of your own. You can name your video project according to your preferences and select the event you want it to be in, or even use custom settings to change some other parameters.

For now, you are able to make some useful and cool edits like trimming or adding effects on your video clips. In order to make the video more distinctive and popular, you may want to add background music to the video. Using Apple Music songs as background music is a common operation that many video editing enthusiasts will do. However, this operation seems to be difficult to achieve due to the file format limitations of Final Cut Pro X. A prompt box with the words "No importable files" will pop up if you want to import protected audio files in Final Cut Pro X, it will prompt you "None of the srlected files or folders can be imported" and ask you to "change the selection and try again".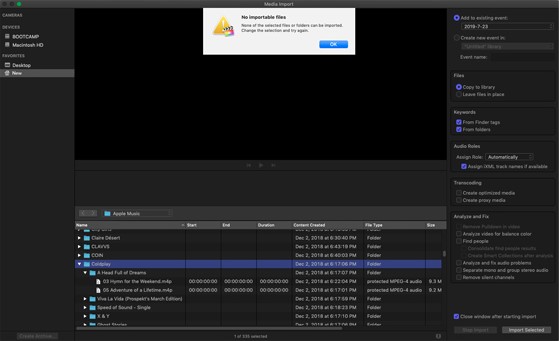 Now this problem can be easily solved with the advent of TuneMobie Apple Music Converter. Read the simple guides below and you'll find how easy and convenient it is to convert Apple Music songs with TuneMobie Apple Music Converter.
Apple Music Converter: Break the limitations of the Apple Music file format
Apple Music Converter is a software program which is designed for the conversion of Apple Music tracks, audiobooks and other iTunes supported file formats. With the help of Apple Music Converter, you can convert any Apple Music files that you have downloaded to iTunes library in restricted formats to MP3, M4A, AIFF files, etc. It can provide you with lossless and high-speed conversion, making you feel easy and convenient while editing videos in Final Cut Pro X. Let's find out why this Apple Music converter is worthy of the word powerful.
Apple Music can be converted to AAV, AIFF, FLAC and other formats
Batch convert Apple Music to MP3 without cumbersome operations
Simple operations to rename songs and sort folders
Keep 100% original audio quality after conversion
Completely retain ID tags including title, artist, album, genre, track number, disc number, etc.
Multi-system compatible, be able to run on latest Windows 10, Catalina and iTunes version
4 simple steps to learn how to convert Apple Music songs
Step 1: Launch TuneMobie Apple Music Converter
Launch the converter and iTunes will be automatically opened at the same time. All the iTunes playlist will put in order in the left panel.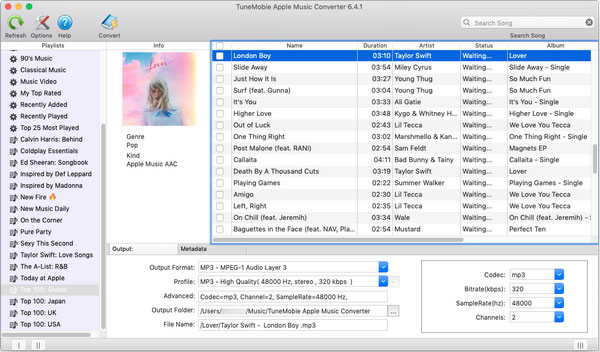 Step 2: Select Apple Music Tracks
Select an Apple Music tracks and then album artwork and genre will be displayed. You can select as many tracks as you want, the batch conversion function is always available.
Step 3: Choose AIFF, MP3, M4A as output format
You can find the output format list in the bottom panel, since Final Cut Pro X supports MP3, M4A, AIFF files, you can choose any of them as output format.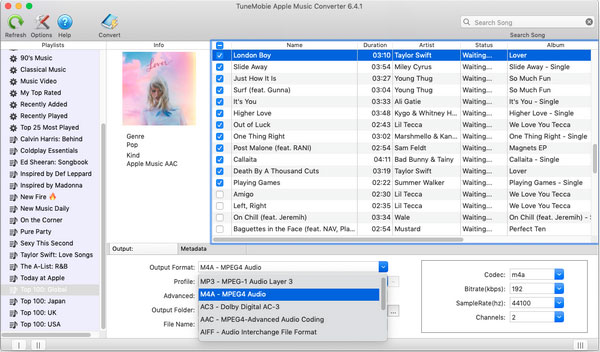 Step 4: Start Conversion
Simply click the "Convert" button to start converting Apple Music tracks to the format you want and then click "Open output file" to display the output Apple Music tracks when the conversion is complete.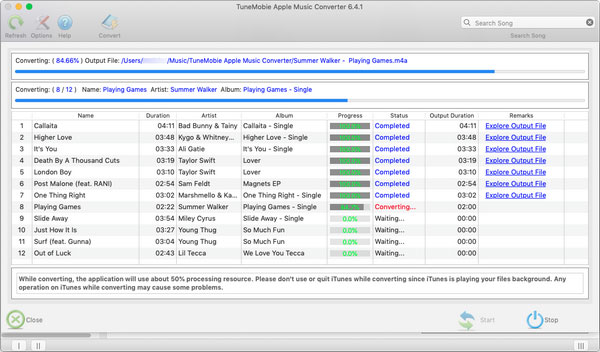 Import Converted Songs as Background Music in Final Cut Pro X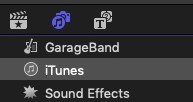 Open up Window > Go To > Photos and Audio, or click the button which was placed in the middle of the three buttons at the top left corner and choose iTunes.In the "Photo & Audio" sidebar, select the sound category you want to view. The "Photo & Audio" sidebar includes a Sound Effects category and a list of music and sound apps, such as iTunes, Library Band, or Logic Pro (the apps you see depend on the apps you use on your Mac).
After importing the audio into Final Cut Pro X, all the audio files in iTunes will be listed in the library. You can drag the available audio files to the timeline. A warning will appear at the bottom of the library that shows "files are protected and unavailable" if there are some unavailable audio files in the library. Therefore, you can't add or drag these audio files to the timeline. In general, these unavailable audio files are protected files such as Apple Music files, music videos and M4V files, etc.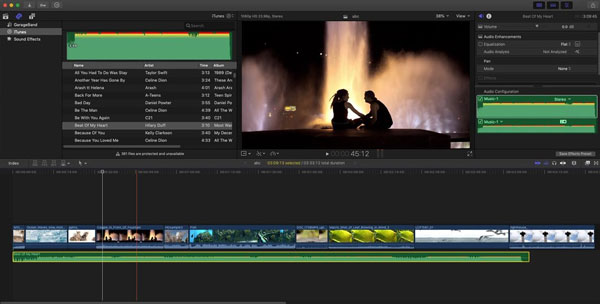 For now, you can make some edits on the audio like set up the starting point and end point as you want. With the help of TuneMobie Apple Music Converter, this operation was realized.
Once you finish your edits, you can export your video to a master file with File > Share > Master File. You can also share directly to many video hosting sites like YouTube, Vimeo, and Facebook.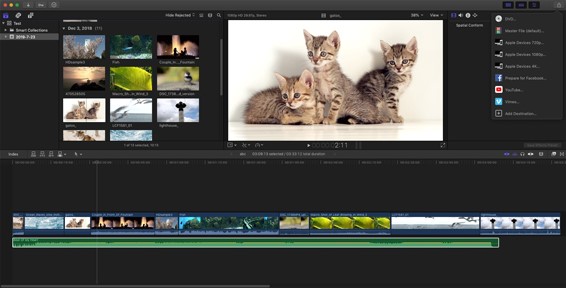 In the sharing interface, you are allowed to change the information like the creator of this video. Video settings and video roles like output format, voice codec and resolution are also allowed to be changed. When you put the mouse on the computer icon in the lower right corner, Final Cut Pro X will show you which devices are supported to play the amazing video you want to share.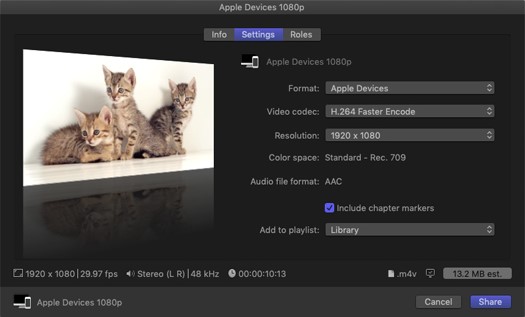 Final Cut Pro X is a software program that is satisfactory for all video editing enthusiasts or professional video editors. With the help of Apple Music Converter, Final Cut Pro X is even more powerful and more suitable for beginners. If you haven't started using Final Cut Pro X yet, try it out now and don't forget that TuneMobie Apple Music Converter can help you take it to the next level in video editing.