The Essential Knowledge of M4P File Format
M4P (*.m4p) is one of the extensions of music formats adopted by Apple. Similar to the widely used M4A (*.m4a) format, M4P file format is also encoded with AAC audio codec. In "M4P", you can think M4 as the abbreviation of MPEG-4 and P refers to protected or protection. That is to say, M4P is encrypted MPEG-4 audio format which may also briefly answer the question regarding the differences between M4P and M4A.
The M4P files downloaded from Apple Music is associated with Apple ID. So it's meaningless to send the M4P files to other people. If you cancel Apple Music subscription and copy the downloaded Apple Music files to USB memory stick, SD card or USB hard drive to make a backup in order to listen to the songs after the subscription expires, all your operations will be in vain because of the encryption on M4P files.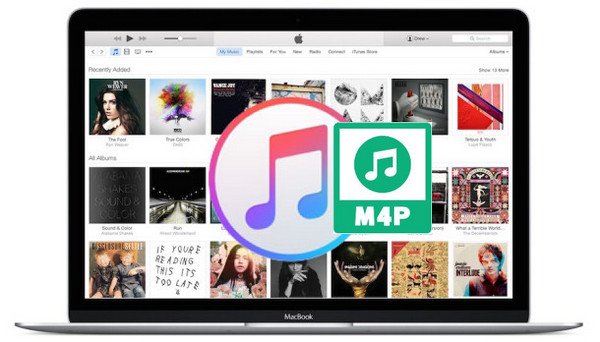 At present, M4P file format is only used in Apple Music and not used by any other apps or software programs. Please note that downloaded Apple Music M4P files on Windows or Mac will be saved in iTunes Media folder. And the file name of the M4P files will be "Tracknumber songname.m4p".
Here is an example in Windows OS. If we set iTunes media folder to "D:\iTunes Library" and download the third track "Passionfruit" in Drake's "More Life" album, then "03 Passionfruit.m4p" will be downloaded and save in the path "D:\iTunes Library\Apple Music\Drake\More Life". Apple Music will automatically create folder using artist name and create sub-folder using album name. If you want to change the iTunes media folder, you can click menu Edit > Preferences > Advanced tab.
However, it's not the first Apple adopts M4P file format. We know that Apple is now selling unprotected M4A songs in iTunes Store, but before March 2009, the songs Apple sold were in M4P format. Though M4P has been adopted twice, there are many differences between iTunes M4P music and Apple Music M4P file.
The Differences between iTunes M4P Music and Apple Music M4P File

The M4P music sold in iTunes Store before March 2009 needs to be purchased based on the song or on the album. It may be cost you from $0.99 to $1.99 for a song. Once you have purchased the song, you have the ownership of the song and you can burn the M4P songs to audio CD. You can sync the songs to iPod Shuffle/Nano/Classic, iPhone and iPad and enjoy on them without limitation. But the M4P songs can't be played on Android mobile phones.
Current Apple Music M4P songs can be downloaded as many as you want if you have a valid subscription, but you don't have the ownership of the songs, you are only authorized to listen to the songs. If you cancel the subscription and the subscription expires, your Apple Music M4P songs will disappear from iTunes library. Apple Music M4P songs can' be burned to audio CD or played on iPod Nano/Shuffle/Classic. However, you can install Apple Music app on Android mobile phones.
There are also some points in common. Both M4P file formats are encoded in AAC codec with 256kbps audio quality, both M4P files can't be played on PSP, Sony Walkman and other MP3 players. But the good news is that both M4P files can be easily converted to MP3 or M4A using Apple Music Converter. Below is a comparison table of iTunes M4P music and Apple Music M4P file.
| | | |
| --- | --- | --- |
| M4P File Format | iTunes Store M4P (before March 2009) | Apple Music M4P (after July 2015) |
| Available now | | |
| Multimedia Encrypted | | |
| 256kbps quality | | |
| AAC codec | | |
| Play on iPhone/iPad/iPod Touch | | |
| Play on iPod Shuffle/Nano/Classic | | |
| Play on Android phones | | |
| Play on Android tablet | | |
| Play on MP3 players | | |
| Burn to CD | | |
| Ownership | | |
| Streaming playback | | |
| Price | $0.99 - $1.99 per song | $9.99 ($4.99 for student) per month |
| Supported by Apple Music Converter | | |
Apple Music Converter: the Easiest Way to Convert M4P to MP3 or M4A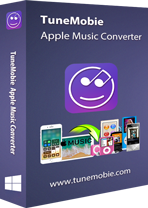 TuneMobie Apple Music Converter is the best M4P converter. It can convert both iTunes M4P music and Apple Music M4P files to MP3 or M4A without any quality loss. And the original metadata of M4P files, including song title, album, artist, artwork, track number, etc. will be preserved. So this M4P converter helps you to enjoy any M4P music on iPod Nano, iPod Shuffle, PSP, Walkman, Android phones & tablets, Kindle Fire tablet and various MP3 players without limitation.
Besides, this M4P converter also comes with many practical functions. It can convert iTunes M4P audiobook as well as Audible AA/AAX audiobooks to MP3/M4A, extract audio from iTunes home videos and music videos, edit music information, rename and sort output files by ID3 tags in bulk, etc.
Apple Music Converter is intuitive and easy-to-use, compatible with latest Windows 10 and Mac OS X. It performs up to 16X faster conversion speed on Windows and Mac 10.9 - 10.12. The Free trial version allows you to convert 3 minutes of each song. Download the free trial version to have a try now.
Below are the steps of using Apple Music Converter to convert M4P to MP3/M4A without quality loss.
Step 1: Launch Apple Music Converter and iTunes or Music app (on macOS 10.15 Catalina or later) will be launched automatically. iTunes library will be loaded and displayed as playlists in the left panel. Please do not close or operate iTunes before the conversion is done.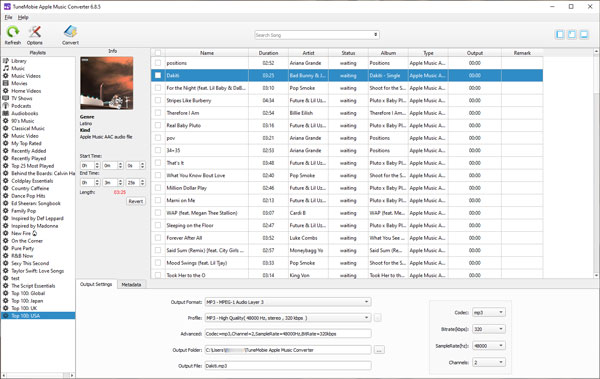 Step 2: Choose any MP4 songs you want to convert. You can use built-in search box to locate songs quickly.
Step 3: Choose MP3 or M4A from the profile list. If you need lossless conversion, you can use 320kbps MP3 or 256kbps M4A as output because M4P songs are protected 256kbps AAC audio files.
Step 4: Simply click Convert button to start conversion and click "Open output file" button after conversion to open output folder.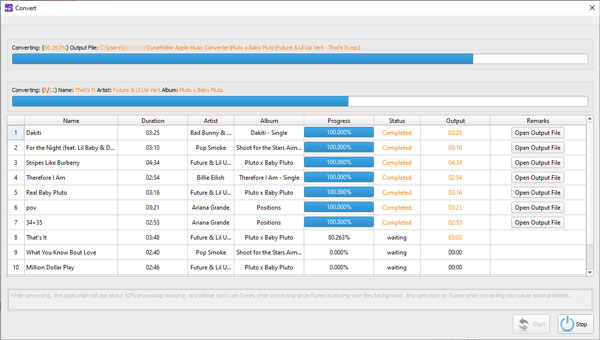 In this way, you can convert any M4P files to plain MP3 or M4A and enjoy them on all your owned devices without limitation. Download Apple Music to have a try now.