Using Photos to Create and Edit A New Video
First of all, search and open "Photos" or "Video Editor" through Start Menu or you can also right click the video file, click "Open with" and choose "Photos". Then you will see a few tabs at the top, click "Video projects" to open the video projects interface, where you can create a new video project or edit existed video projects.
After creating a new video project, you are able to add videos from your PC or your collection to the project library on the left, and then you can drag and drop them into the storyboard below.
In the storyboard, many cool functions are provided for you to edit your video. You are able to trim, split or resize your video easily, and other functions like adding filters, adding texts, adding motions and 3D effects are directly listed in the storyboard. You can also click the "Background music" or "Custom audio" button at the top of the interface to make an interesting edit.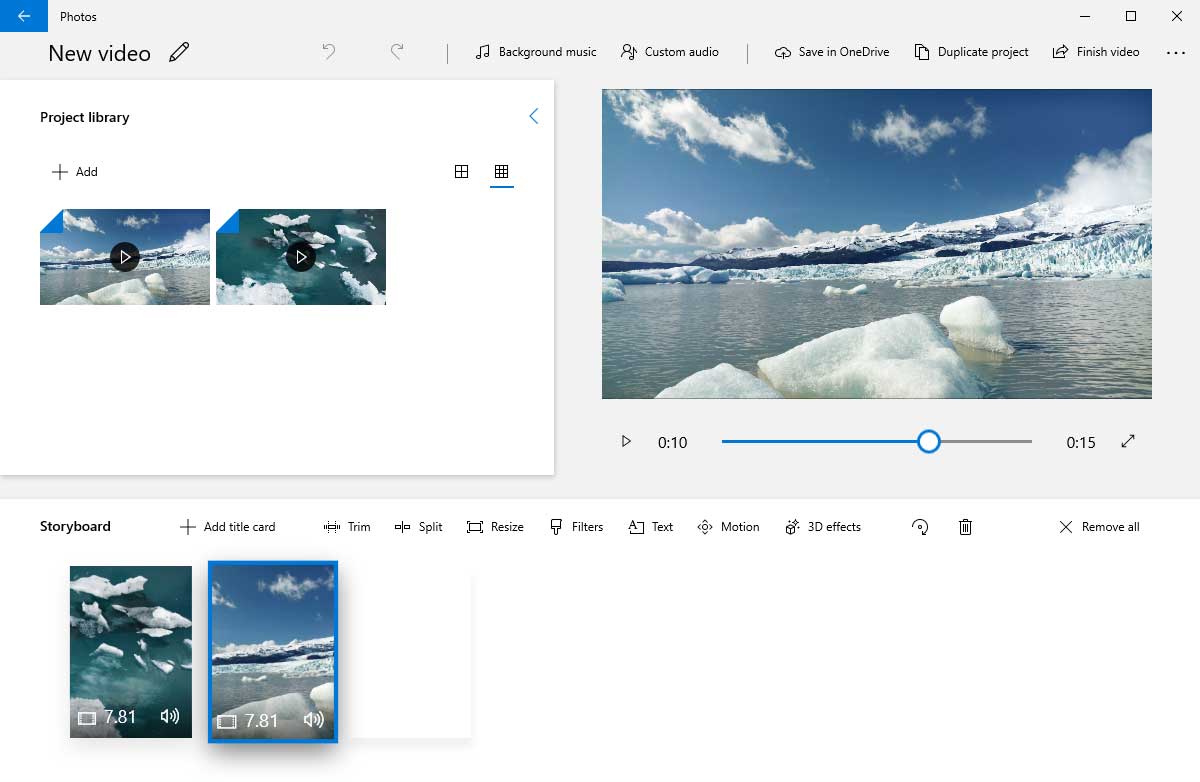 Add Texts
You can add texts by clicking the "Text" button. On the right side of the text adding interface, you can enter the texts you want to add, select the animated style of the texts, and choose the layout to decide where you want the texts to be placed in the video.
Add 3D Effects
Click the button "3D effects" and you will see your video on the left, a timeline below and three tabs with its own panels on the right. Choose a 3D effect from effects panel or add some from the 3D library. Moving slider on the timeline decides when the 3D effect appears. And moving the two blue buttons on the timeline decides the starting point and end point of the 3D effect. The edit panel allows you to edit the 3D effects that you have chosen for the video. Once you finish your operations, click "Done" to save them.
Add Background Music in Your Video
To add background music into the video, all you have to do is to click "Background music" or "Custom audios" at the top. Clicking the "Background music" button allows you to add some built-in music to the video, but you can only click "Custom audio" button to import your own audio tracks and control the length and starting point of it.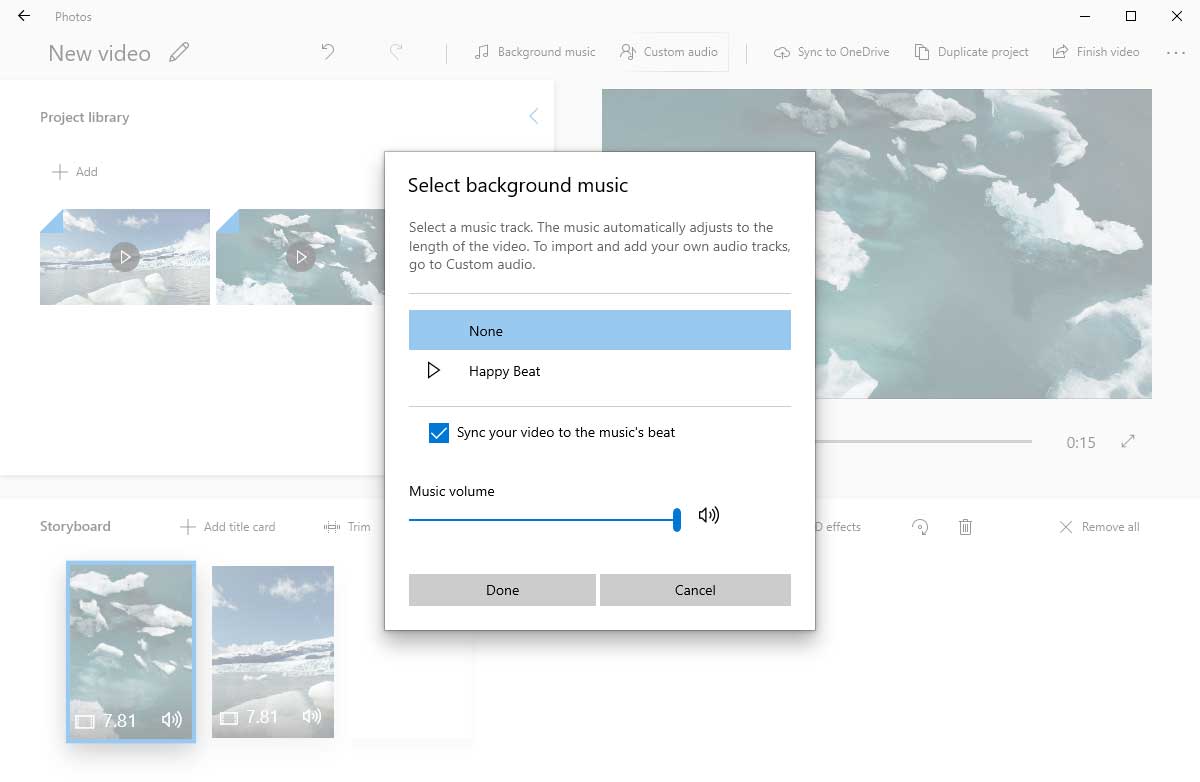 If you want to make your video more attractive, you may need to add an appropriate background music to it. The audio file formats that can be used with Photos are AAC, ADTS, MP3, M4A, WAV, WMA. But unfortunately, Apple Music songs are encrypted M4P files and therefore they cannot be used before conversion.
Such a pity, isn't it? Don't worry, TuneMobie Apple Music Converter can help you with this problem perfectly.
Convert Apple Music Tracks with TuneMobie Apple Music Converter
Converting Apple Music to Photos' video project supported audio formats like MP3, M4A or WAV is the best solution to solve this problem, and TuneMobie Apple Music Converter is definitely your perfect choice. Here are the reasons of why TuneMobie Apple Music Converter is the best choice.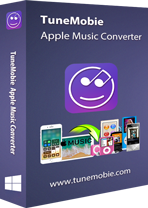 Convert Apple Music songs to MP3, M4A, WAV, etc. which are compatible with Photos
Convert Apple Music songs to AIFF, FLAC, AC3, AU, etc. when necessary
Keep ID3 tags like title, album, artist, track number, artwork, genre, etc.
Rename output files in bulk by title, album, artist, track number, etc.
Sort output files into folders by album or artist as you like
Losslessly convert 256kbps Apple Music AAC file to 320kbps MP3 or 256kbps M4A
Losslessly convert Apple Music lossless audio to WAV or AIFF
16X faster conversion speed on Windows and macOS up to 10.12.6, 1X speed on 10.13 or later
Fully compatible with latest Windows OS, macOS, iTunes and Music app
If you are using Windows 10 and using Photos to make a simple video, and want to add Apple Music songs to Photos as background music, please download Apple Music Converter to have a try first.
Read The Simple Steps Below to Learn How to Convert Apple Music Tracks
Apple Music Converter is very intuitive and help you convert Apple Music songs to MP3, M4A, WAV, etc. in only a few clicks.
Step 1: Launch TuneMobie Apple Music Converter
Launch TuneMobie Apple Music Converter and iTunes or Music app (on macOS 10.15 Catalina or later) launched as well. The whole iTunes playlist will be listed in the left panel. There are three panels you will see: left panel, right panel and bottom panel. On the upper right, there are three buttons for you to hide or display panels.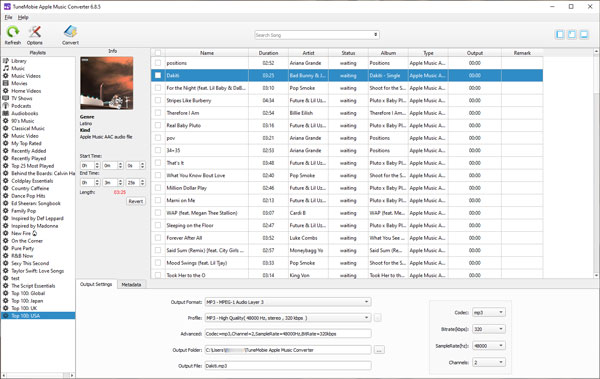 Step 2: Select Apple Music Tracks
Select a playlist in the left panel, all the tracks in the playlist will be listed, if you want to locate songs quickly, search box is available.
Step 3: Choose MP3/M4A/AIFF for Photos
Apple Music Converter supports several output formats. You can choose MP3, M4A and WAV as output so that the music files can be supported by Photos after conversion.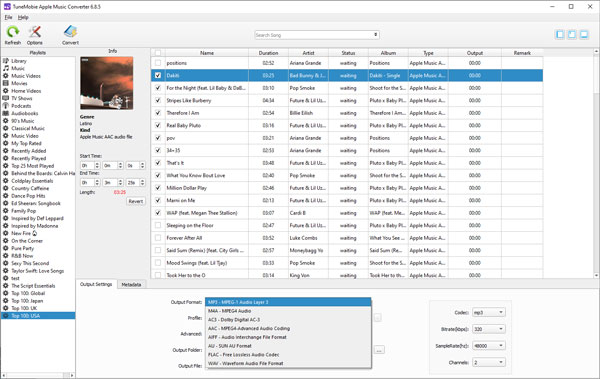 Step 4: Start Conversion
Click the Convert button to start converting your Apple Music songs to the specified output and then click "Open output file" to display the output Apple Music tracks when the conversion is complete.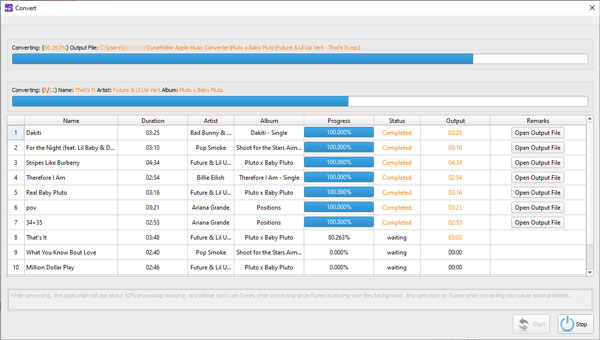 Part 3: Use Converted Songs as Background Music in Videos
Step 1: Add Converted Music to Video
Click "Custom audio" at the top and you will find "Add audio file" button on the right top corner and choose the Apple Music tracks you just converted from the output folder you set.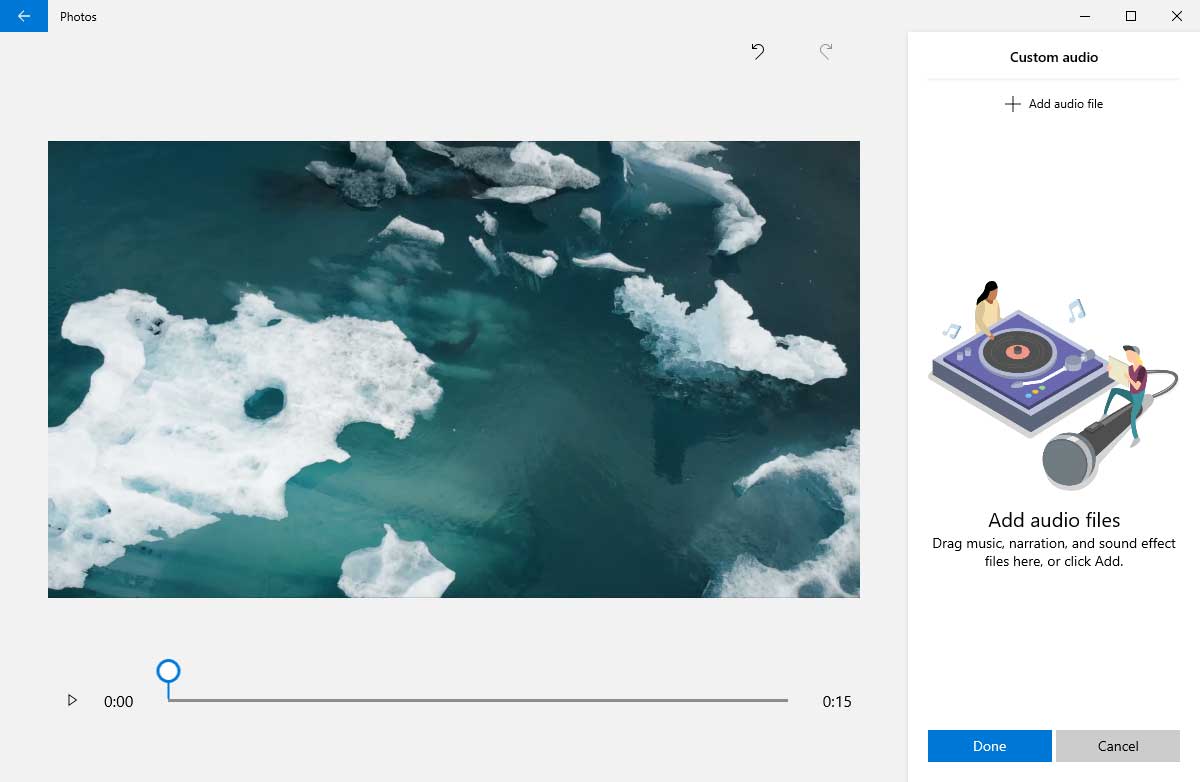 Step 2: Set Start Point and End Point of Background Music
Move the slider to control when to start the music and when to end it, and you can also click the button on the right to adjust the volume. When you finished editing, click "Done" to save your edits.
Step 3: Save Your Video
Find and click the button "Finish video" on the top right corner and select a file size. Photos provide three file sizes for users which are "S", "M" and "L", you can choose the size according to your needs.
Converting Apple Music songs allows you to liberate from the various limitations mentioned in the article. With TuneMobie Apple Music Converter, breaking the usage limitations of Apple Music songs become simple and fast.
You can now use Apple Music songs as Windows 10 Photos' background music, and if you want to add background music in a video which you are editing on other video editing software programs like Adobe Premiere and PowerDirector, TuneMobie Apple Music Converter is also helpful and useful.