Many Apple Music Subscribers Want an Apple Music Web Player
Many Apple Music subscribers would like to work with Apple Music on. However, it's known to all, many companies do not allow to install irrelevant software on working computer because it may bring unnecessary trouble. Overstaffed as iTunes on Windows may be in the block list as well. Using a smart phone or tablet may also distract them from work. So many Apple Music subscribers want an Apple Music web player or they are looking for a way to enjoy Apple Music songs using a web browser instead of iTunes. You may Apple Music web player is a demand of small crowd, but in fact, you can count it as a public demand as we show you some evidence below.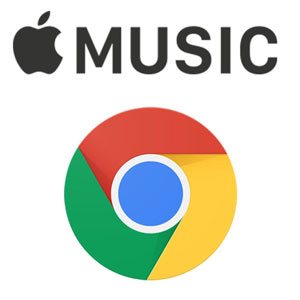 "How can I listen to Apple music through a browser without iTunes?" -- Quora
"How do I listen to Apple Music via my web browser?
I have a trial subscription to Apple Music and would like to listen to it on my web browser on my Windows PC, but I don't see a way to log in to my account. When I load up iTunes, I see my music there with all my Playlists even though I typically don't use iTunes. Is iTunes the way you listen to Apple Music when you're not on a mobile device?" -- Rick7, Apple Music Communities
"Will they ever release a Web Player?
The only thing keeping me from ditching spotify completely is their web player feature. I use it every day at work and since I can't install programs on my work computer I can't use Apple Music. It would make sense for them to do this and they could easily implement it into www.icloud.com and have a music tab there." -- Sharkey311, Reddit
"Will Apple Music ever get a Spotify-style web interface?
I love Apple Music but I think it would be super helpful to be able to log in on someone else's computer using a browser and be able to play your library from that. There are plenty of times where one simply cannot access their account for whatever reason, and being able to just log in from the internet on any computer and play all your music from there would be super convenient." -- llevey23, Reddit
Some Apple Music subscribers also plan to give up Apple Music and switch to Spotify as Spotify provides a Spotify web player to help their users to enjoy Spotify music via a web browser.
Here we provide a solution for you to enjoy Apple music using a web browser like Chrome. All we need is TuneMobie Apple Music Converter you can use to convert Apple Music songs to MP3 or M4A which can be played without iTunes as well as supported by most modern web browsers. After converting Apple Music to MP3 or M4A, we have several ways to enjoy the tracks using a web browser like Chrome, Firefox, Microsoft Edge, Safari, Opera, etc.
TuneMobie Apple Music Converter - Enjoy Apple Music without iTunes
TuneMobie Apple Music Converter is the best solution to help you enjoy your favorite Apple Music songs without using iTunes on PC or Mac, it can also help you enjoy them on iPod Nano, iPod Shuffle, PSP or any other MP3 players as well as web browsers. Below are the wonderful features of TuneMobie Apple Music Converter.
Convert Apple Music to MP3 or M4A with 100% quality retained
Preserve ID3 tags and metadata including title, artist, album, genre, artwork, etc.
Support fast conversion speed up to 16X faster
Allow to custom output file name and sort the output files by ID3 tags
Convert audiobooks and other iTunes supported audio formats
Extract audio from iTunes movies, TV shows and music videos
Fully compatible with latest Windows 10, macOS Mojave and iTunes
The premise of enjoying Apple Music songs using a web browser is to convert Apple Music songs to MP3 or M4A, so you may be interested in the following guides.
Now, let's see how to use web browsers to enjoy Apple Music songs after conversion.
Enjoy Apple Music Songs with Google Chrome
To use Google Chrome to enjoy the MP3 or M4A songs converted from Apple Music, you can take advantage of Chrome apps or extensions. You can search music player or some other keywords in Chrome Web Store. Here we use app "Enjoy Music Player" as example.

Once installed, you can open chrome://apps/ and click Enjoy Music Player to launch the app. Then click "Add Music" button and click "Add/Edit location" button to set your music folders. "Enjoy Music Player" also allows you to play music by artist and album, create playlists and use Sequence, Repeat One and Shuffle playback modes.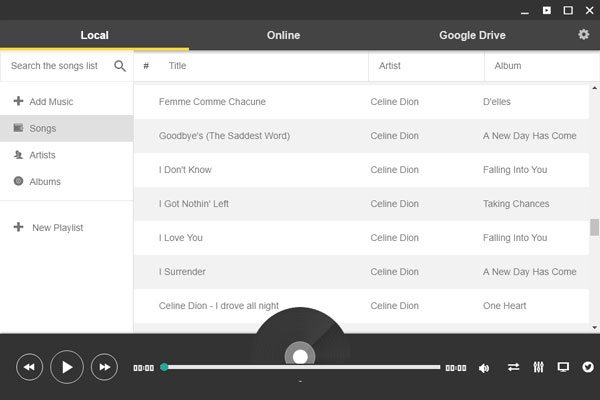 If you prefer Chrome extension, you may try "Local Media Player", but it only provides a Choose button for you to select a local song.
Some Other Ways to Enjoy Apple Music Songs with Web Browser
Actually, you can also directly drag and drop a song to Google Chrome or other web browser, however, it's inconvenient and costs more time on operation, and won't never help you concentrate on working. You need to click Play button again to repeat. You can't play multiple songs or create a playlist in this way.

"Local Music Player" add-on for Firefox used to be a good choice, however, it hasn't been updated for some time and isn't compatible with latest Firefox. However, if you are using an old version of Firefox, you may still try it.
You can also create a photo slideshow with your favorite songs as background music, then upload to YouTube or other video sharing websites. However, YouTube or similar websites may detect copyright problems and won't allow you to upload.
If you are familiar with HTML5 and CSS3 and running an independent website, you can upload the songs and use HTML5 codes to build a web page including a playlist of your songs converted from Apple Music.
Final Words
In our opinion, Apple will never release a web player for Apple Music because they do think iTunes can do everything for you. Anyway, after converting Apple Music songs to MP3 or M4A, you can avoid using overstaffed iTunes and use Windows Media Player, VLC Media Player, KMPlayer, Winamp or any other media players you like.