How to Sign in and Use Apple Music Web Player

In the field of streaming music service, competition is getting fiercer and fiercer. Some time ago, some users chose Spotify instead of Apple Music because Spotify provides a web player. We know, some companies don't allow to install iTunes or some similar software programs on working computers, but the need of enjoying songs won't be gone. Some users dislike iTunes because it has too many features as a media player, what is more, iTunes may consume a lot of memory on some old machines.
Apple got lots of complaints on lacking of Apple Music web player and also noticed that some users switch to Spotify because of this. Even haughty as Apple can't sit still and watch the user loss. Finally, in 2019 September, Apple released beta version of Apple Music web player and turned it an official service in 2020 April after 7-month running, continual user feedback collection and bug improvements.
Using Apple Music web player is quite easy. All you need are a valid Apple Music subscription, a modern web browser like Chrome, Firefox, Sarari and Microsoft Edge and a stable internet connection.
Open https://music.apple.com/ in your favorite web browser and you will see a "Sign in" button in the upper right. Click the button, a dialog will pop up and you can enter your Apple ID and password.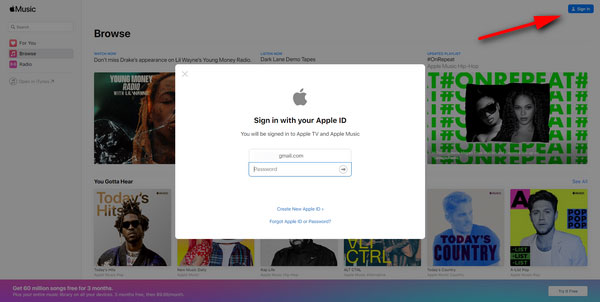 If you have enabled two-factor authentication, you will also need to enter the authentication code. After that, you will be asked whether to trust this browser. If you click Trust button, then you won't be asked for a verification code next time you use the same browser to sign in.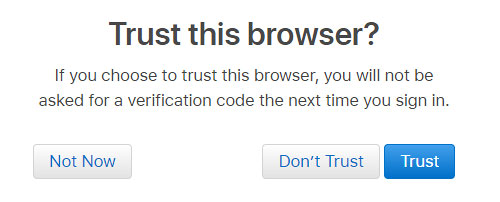 After signing in Apple Music web player, you will be able to do the following things.
Access to your music library and play the songs.
Browse Apple Music categories and choose favorite songs to play.
Check your replay mix which includes the most played songs, albums and artists of previous year.
The interface of Apple Music web player is similar to iTunes or Music app. Even if you haven't used iTunes or Music app before, using Apple Music web player is as easy as a breeze and you should get used to the interface in a few minutes. If you are not satisfied with Apple Music web player, you can always find "Open in iTunes" in the bottom of left panel to launch iTunes instead.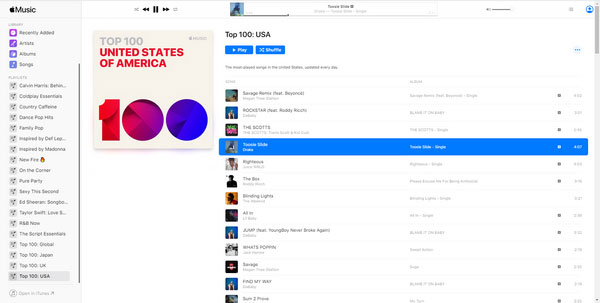 The Advantages and Disadvantages of Apple Music Web Player
The appearance of Apple Music web player is long-time expected for some users. However, Apple Music web player is not perfect, there are some advantages and disavantages you may need to know. Anyway, one more choice is always a good thing.
The Advantages of Apple Music Web Player
You have one more choice of web player for streaming music service when you don't like Spotify web player
You don't have to install iTunes to enjoy Apple Music
Now you can listen to Apple Music with web browsers on ChromeOS or Linux
Apple Music web player doesn't cost much memory which is good for computer performance especially for old PCs
Its interface is similar to iTunes or Music appilication and you don't spend much time to learn how to use
The Disadvantages of Apple Music Web Player
Apple Music web player doesn't allow you to download songs for offline listening
The user experience of listening to music could be very bad when your internet connection is unstable or lag
You may accidentally close the tab of Apple Music web player when there are multipe tabs opened in your browser
The best way to enjoy Apple Music is depending on your need and internet environment. However, Apple Music web player is obviously not a good choice if you need to enjoy Apple Music songs offline. You can download Apple Music songs to your PC, Mac, iPhone, iPad, iPod Touch or Android devices under WIFI and then take the devices outside for offline listening. But what if you want to enjoy the songs on iPod Nano/Shuffle, Walkman or MP3 players where Apple Music doesn't support? The solution is TuneMobie Apple Music Converter.
TuneMobie Apple Music Converter: The Best Way to Enjoy Apple Music Offline
TuneMobie Apple Music Converter, as its name indicates, is used to convert Apple Music songs. The program can easily convert Apple Music songs to MP3, M4A, AIFF or other audio formats with all music information retained. After that, you can transfer to various devices and play them offline without limitation.
Offline listening is not the only benefit of converting Apple Music to MP3/M4A. After conversion, you can also burn them to CD, use as background music in video editing programs/apps like iMovie, Final Cut and more, copy to USB flash drives or SD cards, upload to online storages like Google Driver, One Drive, Dropbox or more.
Let's check the wonderful features of Apple Music Converter.
Convert encrypted Apple Music tracks to plain MP3, M4A, AIFF, FLAC, WAV, etc. for different needs.
Pull out audio from iTunes purchased movies, TV shows, Music videos and your own home videos
Retain 100% original audio quality in output tracks
Keep all ID3 tags including song title, artist, album, track & disc numbers, genre, etc.
Rename and classify output tracks easily and automatically in a few clicks
Convert Apple Music songs online directly without downloading to iTunes/Music app
Convert a bunch of songs at 16X faster speed on Windows or Mac 10.9.5 - 10.12.6 (only 1x on Mac 10.13 or later)
Fully compatible with latest Windows 10, Mac OS X, iTunes and Music app
How to Use TuneMobie Apple Music Converter to Convert Apple Music to MP3/M4A
Step 1: Launch TuneMobie Apple Music Converter
When you launch TuneMobie Apple Music Converter, you need to be aware that iTunes or Music app (on macOS Catalina 10.15 or later) will also get launched automatically. If it is your first time to launch the converter, it may take a few seconds to load the entire music library to its interface. After loading, the converter will list your music library as playlists in the left panel. Please do not operate or close iTunes / Music app before the conversion is done.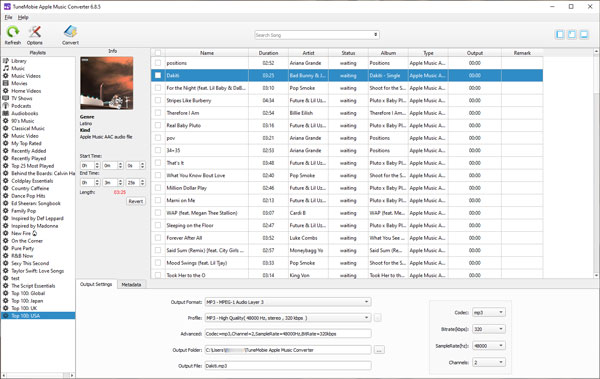 Step 2: Choose your Apple Music tracks
You can tick the checkbox to select the songs you want ot convert. By clicking the top checkbox in the information bar, you can choose all tracks in a playlist. There is a built-in search box in the middle top and you can use it to locate a song, an album or an aritst quickly.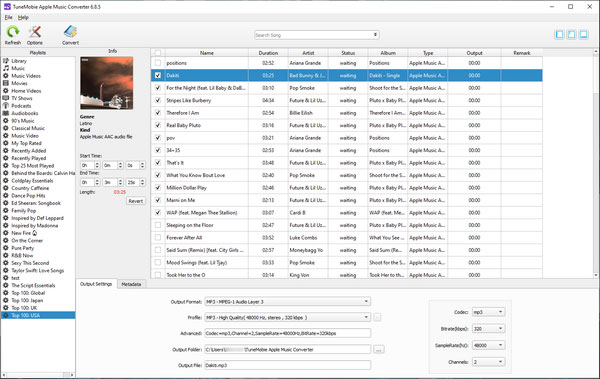 Step 3: Set output format and options
At the bottom of TuneMobie Apple Music Converter, you will see a settings panel that allows you to set output format, change codec, bitrate, etc., in the metadata tab, you can also rename and change information of output tracks. You can use MP3, M4A, FLAC, AIFF, WAV, etc. 320bps MP3 or 256kbps is best for lossless conversion.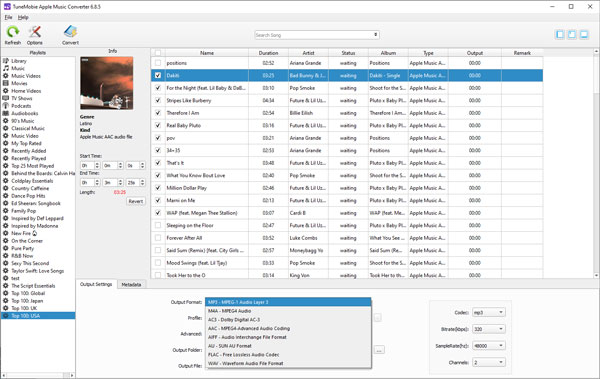 If necessary, click the "Options" button in the toolbar and you will see the options dialog. Here you can change the conversion speed, sort output files or make some other changes.
Step 4: Begin Apple Music conversion
Now simply click the "Convert" button and wait for the conversion to be finished. The whole process will not take you long because TuneMobie Apple Music Converter owns the best decryption and conversion technology. Once the conversion is done, you can click "Open output files" button to get your plain output tracks.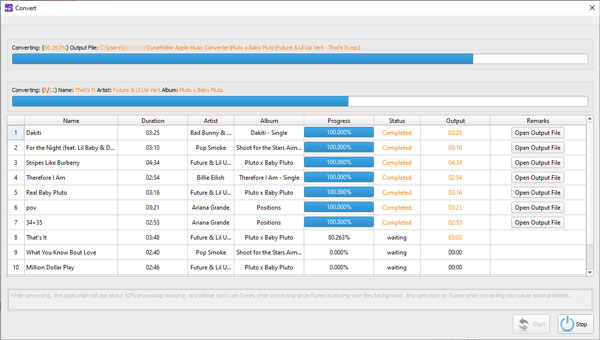 Compare to the new web player of Apple Music, it is obviously that TuneMobie Apple Music Converter can help more Apple Music subscribers to enjoy Apple Music in more ways. No matter you want to play Apple Music songs on web players or multimedia devices, TuneMobie Apple Music Converter is always your best helper and it will never make you down. If you are still incredulous about TuneMobie Apple Music Converter's abilities, we recommend that you download to try it now, and we have confidence that TuneMobie Apple Music Converter can make you feel satisfied with the process of converting Apple Music songs.
Video Guide of TuneMobie Apple Music Converter