Advantages and Disadvantages of Apple Music's Web Player
Although Apple has launched the web version of Apple Music quite a long time ago, the experience of it is too simple and inconvenient. The new web player of Apple Music brings users a consistent experience with other platforms. If you are a subscriber, the new interface will be very easy to get started. You will also experience all the core features of the service, including Library, Search Box, Browse, For You, Radio, etc., and it also supports dark mode.
Extending Apple Music to the Web platform is a great significance to Apple. It not only meets the access needs of users who cannot install iTunes on their devices but also lowers the threshold for expanding new users. But in fact, Apple is more concerned about the latter, this time launched a new and complete web player (beta version), more like Apple's business strategy to attract users and get more paid subscriptions. And yes, since Apple launched the Apple Music web player on September 6, the web player has been a beta version, and the update is not obvious. This seems a bit slow and unsatisfactory for users who are eager to enjoy the Apple Music web player.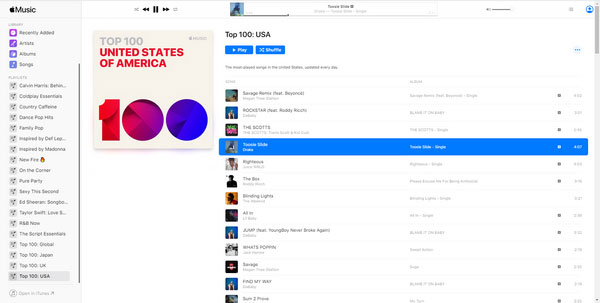 Now let's get back to the basics of Apple's music web player: Apple Music itself or iTunes. Apple Music's web player is actually not as practical and convenient as most Apple music subscribers are thinking. For those who need to use the web player of Apple Music, they can totally use other methods to stream Apple Music on a third-party web player. Imagine when you are hanging out with your friends and you want to share your favorite Apple Music tracks to them, you are not going to share tracks with them through an Apple Music web player, right?
Here comes with the problems, what if there are users who are using other devices like iPod Nano, iPod Shuffle, Sony Walkman or even PSP? They don't really need a web player of Apple Music, what they really need is a professional and useful converter which can help them to convert encrypted Apple Music tracks to all-purpose MP3, M4A, FLAC, AAC, etc. files. This can help them truly player Apple Music on any music devices or players, including any music web players at any time.
Let TuneMobie Apple Music Converter Free You from Problems
As we mentioned above, TuneMobie Apple Music Converter can solve different problems like "cannot play Apple Music on an MP3 player", "cannot use Apple Music tracks as background music in Adobe Premiere" or other problems like these. Let's take a look at the wonderful features and services TuneMobie Apple Music Converter now.
Convert encrypted Apple Music tracks to plain MP3, FLAC, M4A, etc. for different needs.
Pull out audio from iTunes purchased movies, TV shows, MV and home videos
Retain 100% original audio quality in output Apple Music tracks
Keep all ID3 tags including song title, artist, album, track & disc numbers, genre, etc.
Rename and classify output tracks easily and automatically in a few clicks
Extremely simple operations can finish the whole conversion process
Quick Guide of TuneMobie Apple Music Converter
Step 1: Launch TuneMobie Apple Music Converter
When you launch TuneMobie Apple Music Converter, you need to be aware that iTunes will also get launched automatically. If it is your first time launching the converter, it may take a few seconds to load the entire iTunes library and in the left panel, the converter will list your iTunes library as playlists.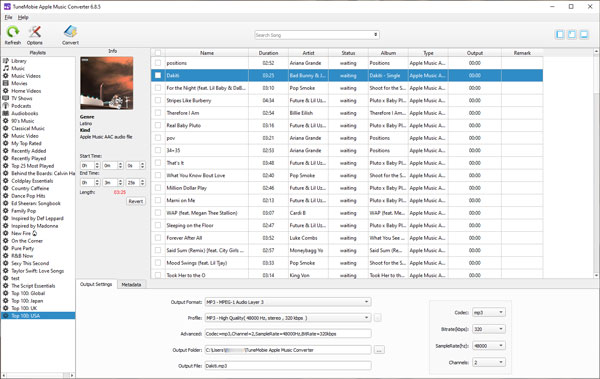 Step 2: Choose your Apple Music tracks
In this step, you will need to choose those Apple Music tracks you want to convert. By clicking the top checkbox, you can choose the whole tracks in a playlist, you can also uncheck the tracks that you don't want them to be converted. To locate a specific song, there is a built-in search box at the top. Please make sure you have added the tracks to the playlist if you want to convert them.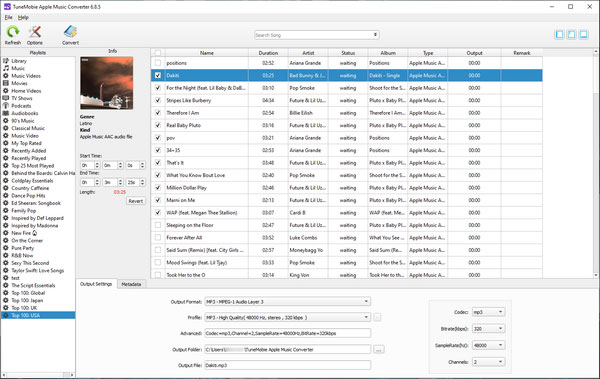 Step 3: Set output format and options
At the bottom of TuneMobie Apple Music Converter, you will see a settings panel that allows you to set output format, change codec, bitrate, etc., in the metadata tab, you can also rename and change information of output tracks.
Click the "Options" button in the toolbar and you will see the options dialog. Here you can change the conversion speed, sort output files or make some other changes. All the settings are quite simple and intuitive.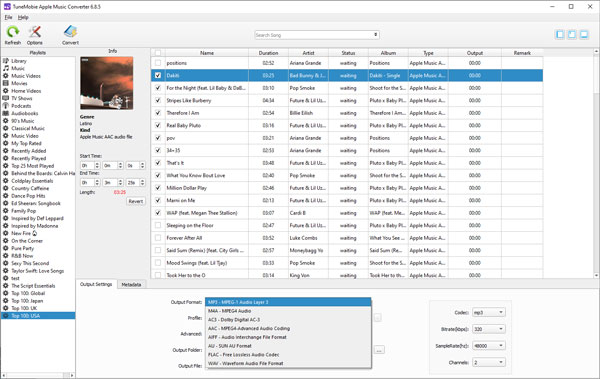 Step 4: Begin the amazing conversion
Okay here we are at the last step, now all you need to do is simply click the "Convert" button and wait for the conversion to be finished. The whole process will not take you long because TuneMobie Apple Music Converter owns the best decryption and conversion technology. Once the conversion is done, you can click "Open output files" button to get your plain output tracks.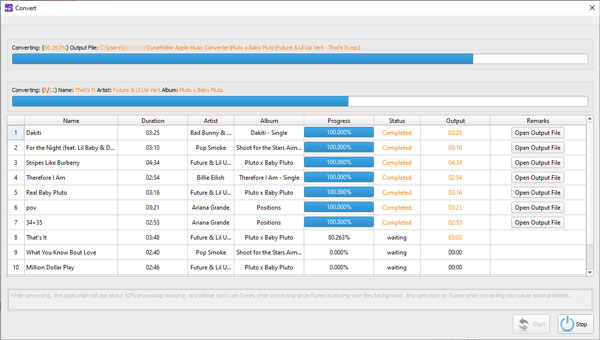 Compare to the new web player of Apple Music, it is obviously that TuneMobie Apple Music Converter can help more Apple Music subscribers to enjoy Apple Music in more ways. No matter you want to play Apple Music songs on web players or multimedia devices, TuneMobie Apple Music Converter is always your best helper and it will never make you down. If you are still incredulous about TuneMobie Apple Music Converter's abilities, we recommend that you download to try it now, and we have confidence that TuneMobie Apple Music Converter can make you feel satisfied with the process of converting Apple Music songs.
Video Guide of How to Convert Apple Music to MP3