What Devices Can Be Used to Listen to Audible AA/AAX Audiobooks?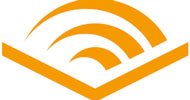 According to Audible support center, Audible is compatible across hundreds of different devices, including but not limited to: iOS devices – iPhones, iPods (Touch and Classic), iPads, Android devices – phones and tablets, Windows Phone, Kindle Fire tablets, Kindle Oasis (9th Gen), Kindle Keyboard & Kindle Touch, Sandisk MP3 players, Creative MP3 players, VictorReader Stream, BrailleNote & Apex BrailleNote, Garmin & Tom Tom GPS devices, Mac and Windows computers.
However, still there are many MP3 players you can't use to enjoy purchased Audible audiobooks, because Audible AA/AAX audiobooks are encrypted and there is no way for you to authorize the device with your Audible username and password. Besides, MP3 is more convenient for sharing and playback. That's why more and more listeners are looking for an Audible audiobook converter to help them convert AA/AAX to MP3.
Here we introduce two ways for AA/AAX to MP3 conversion. The first is to burn Audible audiobooks onto a CD then use a CD ripper to convert the CD to MP3, the second is to convert Audible AA/AAX to MP3 directly with the professional audiobook converter called TuneMobie Apple Music Converter. Please note that though many audiobooks in Germany are marked as "AAX+", there is nothing different from AAX in the actual file format. Converting AAX+ to MP3 is just as same as converting AA/AAX to MP3.
For both ways, you need to import your AA/AAX audiobooks to iTunes library first. For Windows users, you can either click File > Add File to manually import AA/AAX files, or use Audible Download Manager and set your Audible content to automatically import into iTunes. For Mac users, downloaded audiobooks will be automatically added to Audiobooks section in iTunes.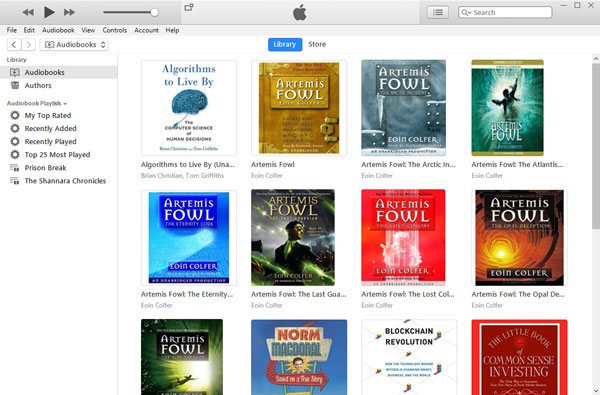 Convert Audible AA/AAX to MP3 by Burning Audiobooks to CD with iTunes & CD Ripping
iTunes is the only software you can use to burn AA or AAX audiobooks to a CD. Follow the steps below.
Step 1: Open iTunes, click the menu box at the upper left corner of iTunes and click Audiobooks.
Step 2: In Audiobooks section, right-click on the title you want to burn.
Step 3: Click "Add to Playlist" and "New Playlist". You must create a new playlist for each title you burn.
Step 4: Right click on the playlist you have just created and select "Burn Playlist to Disc".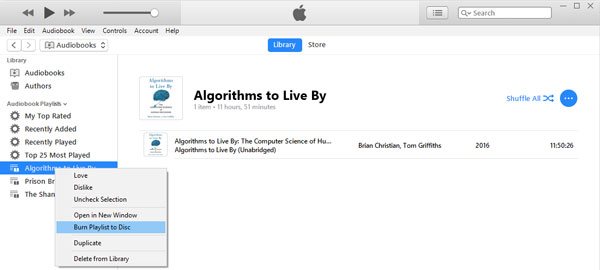 Step 5: Adjust your Burn Settings, set Preferred Speed to 8x, set Disc Format to Audio CD and set Gap Between Songs to None. This will lead to best results.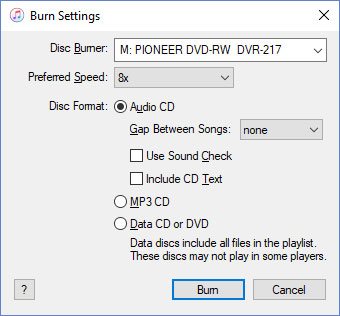 Step 6: Click Burn to start burning audiobooks to CD.
Please note that, a CD can only hold up to 80 minutes. If your audiobook is longer than 80 minutes, iTunes will prompt when you need to insert a new disc. Follow the instructions as they appear to finish burning the audiobook.
Now, you can find a free CD ripper to convert the Audio CD to MP3. There are many free CD rippers available to download from the internet. Here we recommend 5 best free CD rippers which are Exact Audio Copy, FreeRIP 3, Koyotesoft Free CD Ripper, foobar2000 and FairStairs CD Ripper. Audio CD rippers are very easy-to-use and you can rip CD to MP3 with only a few clicks. Below is a screenshot of Exact Audio Copy.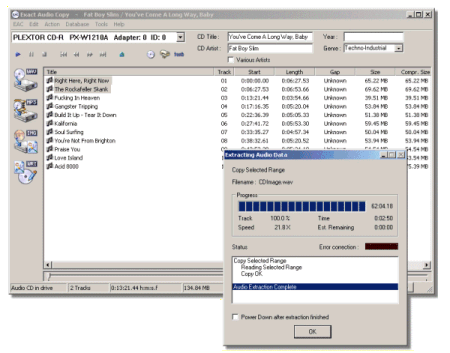 Some AA/AAX audiobooks last tens of hours and you have to prepare dozens of CD discs. Besides, you will also get multiple MP3 files from a single audiobook which is not convenient for listening and management. However, you don't have to do this, we have a perfect solution below.
Convert Audible AA/AAX Audiobooks to MP3 with TuneMobie Apple Music Converter
TuneMobie Apple Music Converter is a professional audiobook converter which you can use to convert both iTunes M4B audiobooks and Audible AA/AAX audiobooks to MP3, M4A, FLAC, etc. directly. You can also use to convert Apple Music tracks, M4P and other iTunes audio files. Besides, this AA/AAX to MP3 converter supports batch conversion to save you a lot of time. The Audible converter is fully compatible with Windows 10, macOS Catalina and latest iTunes.
Step 1: Launch Audible AA/AAX to MP3 Converter
Launch TuneMobie Apple Music Converter and iTunes or Music app (on macOS 10.15 Catalina or later) launched as well. All your Audible AA/AAX audiobooks will be listed in Audiobooks playlist in the left panel.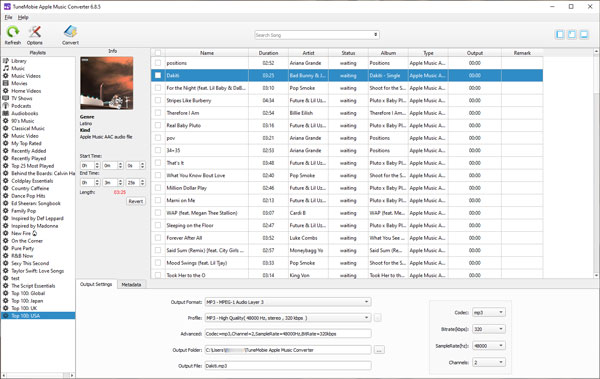 Step 2: Select Favorite Audiobooks
Click Audiobooks playlist and choose your favorite Audible AA/AAX audiobooks by ticking the checkbox. If you have lots of audiobooks in library, you can also use built-in search box to locate quickly. Tick the top checkbox if you want to convert all your audiobooks.
Step 3: Choose MP3 as Output Format
In the Output Settings tab of bottom panel, choose MP3 in Output Format list. Since most AA audiobooks are encoded at 32kbps or lower, and AAX audiobooks are encoded at 32kbps – 128kbps, so 128kbps MP3 is enough to keep output audio quality. Additionally, you can customize bitrate and audio channels.
This Audible converter can perform up to 16X faster conversion speed. But we recommend that you slow down conversion speed to 8X or less in options for best results when converting long AA/AAX audiobooks.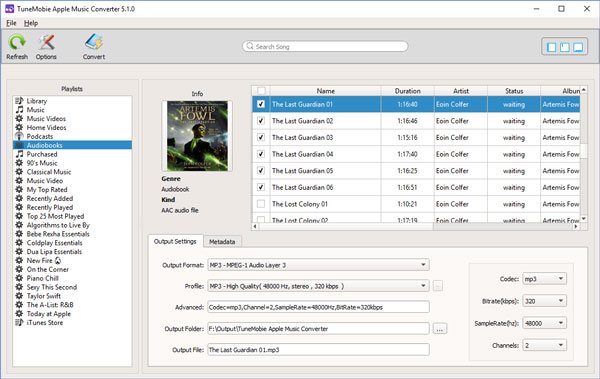 Step 4: Start AA/AAX to MP3 Conversion
Now you can simply click the Convert button to start AA/AAX to MP3 conversion. The conversion may cost some time depending on the total duration of your selected AA/AAX audiobooks. So you can go off for a cup of coffee and come back later. When the conversion is done, you can click "Open Output File" to locate the MP3 files.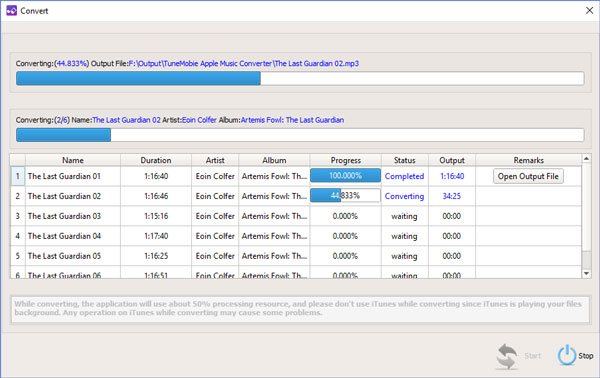 Now, you can copy output MP3 files to any MP3 players and enjoy happy listening.
Additional Tips
Burning AA/AAX to CD with iTunes and ripping the CD to MP3 is a free method of converting AA/AAX audiobooks to MP3 if you don't take CD disc cost into consideration. However, the process is also time-consuming and you will get multiple 80-minute MP3 files from a single long audiobook. However, TuneMobie Apple Music Converter only costs $24.95 for one year license or $49.95 for lifetime license, which can save you lots of CD discs and precious time. Besides, there are some ways you can get free lifetime license from TuneMobie. Check how to get free license from TuneMobie.