Free M4B Audiobook VS iTunes M4B Audiobook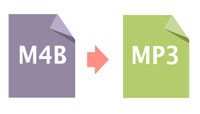 Both M4B and M4A are MPEG-4 audio file types, or you can call them AAC audio files. Any music lovers should be familiar with M4A file extension as it's the most popular audio format, while M4B is not as common as M4A because M4B is often used as file extension for audiobooks. M4B is similar to M4A, but M4B format can store digital bookmarks along with the audio while M4A format can't. Bookmarks help users to pause playback and resume whenever they want to continue and this is the main reason to use M4B as audiobook format instead of using M4A.
Some websites provide free M4B audiobooks for download, and those M4B audiobooks are plain and can be directly listened on M4B supported players. However, most MP3 players can not recognize M4B file extension, if you want to listen to those M4B audiobooks on MP3 players, you need to get an audiobook converter to convert M4B to MP3 first. There are many free audio converters which can handle M4B to MP3 conversion. Actually, you can also use VLC Media Player to convert M4B to MP3.
However, most M4B audiobooks come from iTunes Store and you need to pay for download. iTunes M4B audiobooks are encrypted and associated with your Apple ID, you can only listen on authorized devices. If you want to listen to iTunes M4B audiobooks on MP3 players, you need to convert M4B to MP3 as well. But compared to converting free M4B audiobooks, you need to decrypt iTunes M4B audiobooks first. In this case, TuneMobie Apple Music Converter could be the best choice, and it can convert both free M4B audiobooks and encrypted iTunes M4B audiobooks to MP3 without quality loss.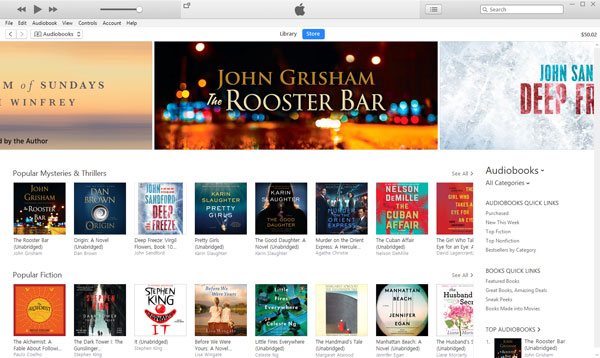 In this article, we will show you how to convert free M4B audiobooks with VLC Media Player and how to convert iTunes M4B audiobooks with TuneMobie Apple Music Converter.
Convert Free M4B Audiobook to MP3 with VLC Media Player
VLC Media Player is renowned as the best free media player software to play audio, video, DVD disc and Blu-ray disc on both Windows and Mac. Actually, you can also use it as free audio converter and free video converter. As free audio converter, VLC Media Player can easily help to convert free M4B audiobook to MP3 with simple steps.
Launch VLC Media Player and click menu Media > Convert / Save …, or hold Ctrl key and press R on the keyboard, and "Open Media" dialog will be opened. Click Add button to add the M4B audiobooks. You can add multiple M4B audiobooks at a time.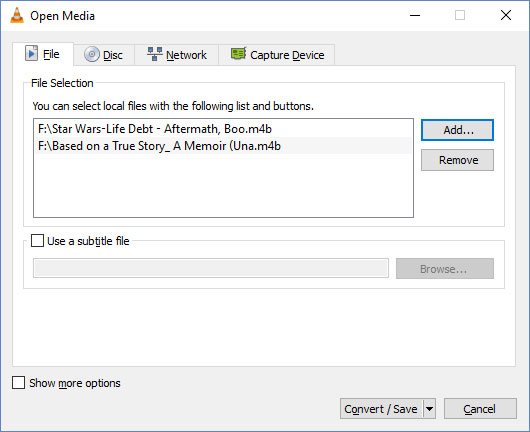 Click "Convert / Save" button, and choose MP3 in the profile list. Click Browse button to set destination file name and output path.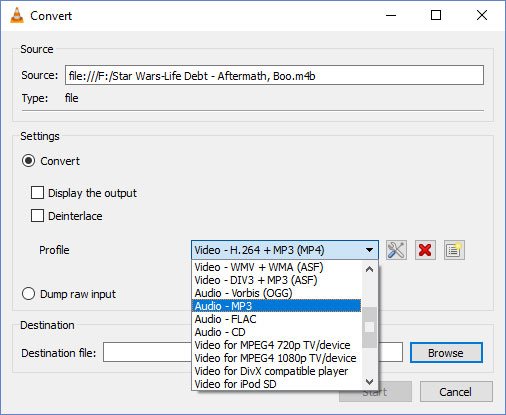 Then click Start button and VLC Media Player will convert M4B to MP3 and save in on your PC. Just be patient because this conversion may take a long time.
Convert iTunes M4B Audiobook to MP3 with TuneMobie Apple Music Converter
M4B audiobooks purchased from iTunes Store are encrypted and can't be converted with VLC Media Player and other normal audio converters. TuneMobie Apple Music Converter, which also works as a professional and powerful M4B audiobook converter, can help you convert both plain and protected M4B to MP3 without any quality loss.
Here we will show you how to use TuneMobie Apple Music Converter to convert purchased iTunes M4B audiobooks in simple steps.
Step 1: Launch the M4B to MP3 Converter
Launch TuneMobie Apple Music Converter and iTunes or Music app (on macOS 10.15 Catalina or later) launched as well. Apple Music tracks, M4B audiobooks and other media files in iTunes library will be listed as playlists in the left panel. You may need to exit iTunes if you are running it before launching the audiobook converter.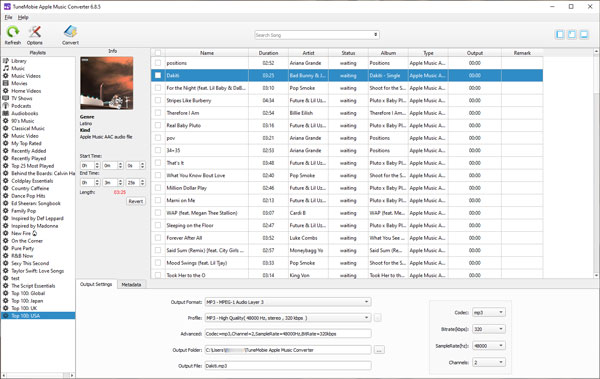 Step 2: Select iTunes M4B Audiobooks
In the left panel, click Audiobooks playlist and choose the M4B audiobooks by ticking the checkbox. If you have lots of audiobooks in library, you can also use built-in search box to find out desired M4B audiobooks quickly.
Step 3: Choose MP3 as Output Format
In the Output Settings tab, choose MP3 in Output Format list. Actually, MP3 is also default output format. In case that you have used the program to convert Apple Music tracks to M4A or other format before, the program remembered the last used format, you will need to choose MP3 as output format.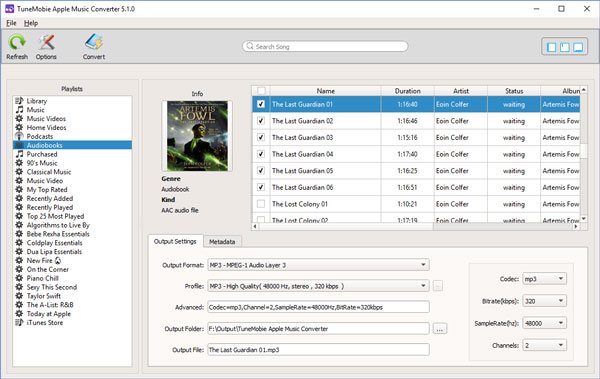 In the profile list, you can select preset MP3 quality. Or adjust bitrate, sample rate manually. You can set output folder here as well.
Step 4: Adjust M4B to MP3 conversion speed
This audiobook converter supports up to 16X faster conversion speed. However, to make M4B to MP3 conversion work properly, we recommend you slow down the conversion speed because most iTunes M4B audiobooks are quite long and may last tens of hours. Click Options button and you can adjust audio conversion speed.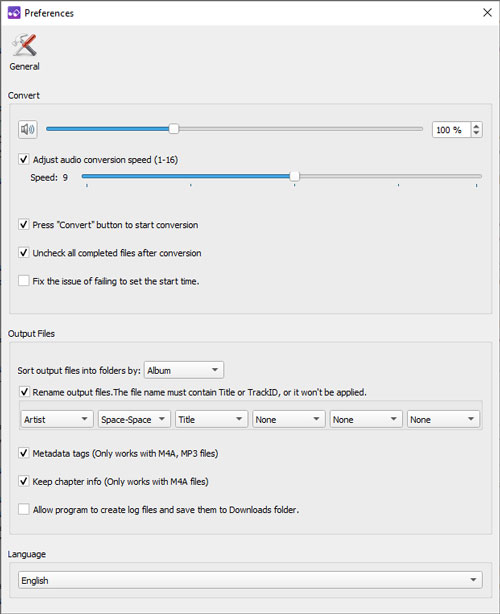 Step 5: Start converting M4B to MP3
When everything is ready, simply click the Convert button to start converting M4B to MP3. Just be patient and wait some time, when it's done, you can click "Open Output File" to get output MP3 files.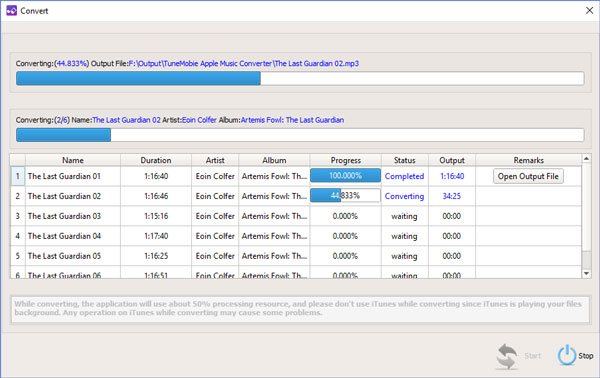 Now, you can simply copy output MP3 files to your MP3 player and start enjoying the story.
Additional Tips
To convert free M4B to MP3 with TuneMobie Apple Music Converter, you need to add the M4B audiobooks to library first. Open iTunes, click menu File & Add File to Library… to add. The simply follow the steps above for converting M4B to MP3.
If there is no artwork in your downloaded M4B audiobook, you can click Metadata tab to add artwork manually before clicking Convert button.
Please note that MP3 file doesn't support bookmark, so you can't resume playback next time if you have exited the playback. You may need to remember the time point manually. Anyway, after converting M4B to MP3, enjoying M4B audiobooks could be much more convenient as there is no device limitation.